By Jim Kates
Flame in a Stable admits the reader into the committed life of a literate, far-reaching, colloquial, passionate, playful, and witty poetic voice.
Flame in a Stable by Martin Edmunds. Arrowsmith Press, 114 pages, $20.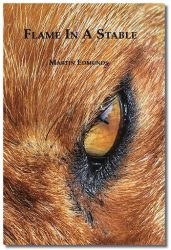 Several of Martin Edmunds's poems in Flame in a Stable remind me perhaps too closely of those of Tatiana Shcherbina, the first Russian poet I ever translated: not so much word-driven as word-whipped, with associations of sound tumbling one over another in their attempt to be moved along, and to move the reader along:
Poor morpho, your jacket's in tatters — or is that
the sky shedding its skin over Manhattan,
waiting for the Götterdämmerung to begin?
(Martin Edmunds, "Morpho")
Buon giorno and more now — a flagon I tag on the case:
There porno's no porno, but pore over what's in the spyglass
(Tatiana Shcherbina, "Thallus," my translation)
So, of course, I like them. I want to spout them out loud, the way we spout Dylan Thomas before we have any idea what he's really talking about. But there's a caution here: word-whipped can also be word-drunk, even — maybe especially — in poems we like. The sheer exuberance of it all can divert the urgency of the content into somersaults. A first reading of Flame in a Stable put my guard up. A second reading overwhelmed all my defenses. These are poems I will come back to, more and more vulnerable each time.
Edmunds's words and lines are indeed "safe / as a flame in a stable," capable of flaring into a conflagration that turns the fodder explosive and sends the horses stampeding. But then, among them, there are more reflective, gentler pieces, those that quiet the horses and lead them safely through the smoke:
Eye of the thistle,
frozen open. Rice
grass. Winterfat
thins to a whisper.
Bare volts crackle
in the hair of the tamarack.
Each stone grips
a star in its fist.
The life I loved
didn't love me back.
("Ice")
Here, where the compulsions of sound ("Winterfat thins to a whisper") draw less attention to themselves and more to the poem as a whole, the reader is invited deeper into reflection, to draw back from spectacular admiration. There are many of these, and they often end with the same kind of back-stitch as "Ice's"  "The life I loved / didn't love me back," which might sound facile in less controlled hands, but which are well earned here. If I could, I would quote in its entirety the list-poem "Chez Nous," ending on lines that turn pop-song facility into a quiet triumph:
Sweetheart, it is really up to you —
a willow cabin or a tent would do:
Home is anyplace my heart lies down with you.
The flames that burn most intensely in this stable rage against the dying of the light in the first section — "Talk about boring! I don't want to die." They scorch the personal with the political in the second:
Global warming? It's the dogdays, Eugenio. Ratchet the heat!
We've closed down the Colosseum — can't sell a seat
with white cops offing black teens for free in the street.
("The D.T.'s")
and illuminate love in the third:
Everything we say
Will be swallowed by silence.
My silence lied.
("Aubade")
The controlled passion of this domesticated voice culminates in Part V, a long elegy "For Johnny"  (echoing a briefer funeral poem, "The Twenty-Twentieth Year of Our Lord" early in the book) which could never have been written by a Russian, steeped as it is in an American history that threads through Vietnam to Covid.
Ten years ago, shooting
the shit in a duck blind
on a salt marsh at first light,
you said when you died
you wanted your casket to match
the gunmental skies.
"Ah, Johnny. Noon or midnight?" I asked.
"Blue? Or Parkerize?"
("For Johnny")
One of the advantages of a mannered language like Edmunds's is that it guards the writer (and the reader) from both the dangers of discursively confessional journalism passing itself off as verse and a prissy attitude of form for form's sake. These poems are different. Flame in a Stable admits me into the committed life of a literate, far-reaching, colloquial, passionate, playful, and witty poetic voice — what more can we ask?
---
J. Kates is a poet, feature journalist and reviewer, literary translator, and the president and co-director of Zephyr Press, a nonprofit press that focuses on contemporary works in translation from Russia, Eastern Europe, and Asia. His latest book is Paper-thin Skin (Zephyr Press), a translation of the Kazakhstani poet Aigerim Tazhi.