By Jonathan Blumhofer
A surprisingly moving collection, all of it mightily played and sung by musicians who clearly intuit John Harbison's musical language.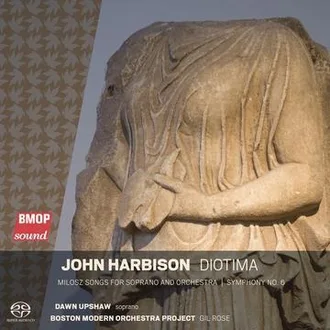 John Harbison has become such a local musical fixture that the idea of the man winding down his compositional career is a hard one to fathom. Yet here we are: in an introductory note to the Boston Modern Orchestra Project's (BMOP) superb new recording of his orchestral music, Harbison admires the symmetry of the album's program, which, he notes, features his first and (in the composer's words) likely last symphonic scores.
The pieces in question are 1976's Diotima and the enigmatic Symphony no. 6 (from 2011). Both were commissioned and premiered by the Boston Symphony Orchestra; here they're given bracing new life by BMOP and conductor Gil Rose.
Diotima, which Harbison wrote in his late 30s, boasts many of the same qualities his later music possesses: soaring lyrical ideas, vigorous counterpoint, a strong feel for dramatic musical structures, and an ear for freshly idiomatic instrumental combinations. A reflection, of sorts, on Friedrich Hölderlin's eponymous poem, the score contrasts two types of music, one reflective and lyrical, the other turbulent and bristly.
BMOP's performance, mightily secure in terms of rhythm and color in those latter parts, proves conspicuously touching and focused in the gently shimmering former ones. Surely this is a work that the BSO — which hasn't touched Diotima since 1977 — should one day soon resurrect.
They might do the same with the Sixth Symphony, which hasn't been heard at Symphony Hall since its premiere in 2012. Commissioned by James Levine but completed after his departure from the BSO's music directorship, the Symphony's an unsettled, sometimes decidedly spiky piece.
Its form is peculiar: the first movement features a setting of James Wright's "Entering the Temple in Nimes" for soprano, while the three remaining movements are purely instrumental. The scoring, too, includes the twanging sonority of a cimbalom.
BMOP's is the Symphony's second recording. The first, featuring the BSO led by David Zinman, is, generally, broader in tempo and more elegiac in tone. Rose and his forces, on the other hand, take a more assertive approach to the piece.
On the whole, it's a successful interpretation. The instrumental movements, especially the second and third, snap. If the finale lacks some of the wistfulness and melancholy of Zinman's reading, it doesn't want for textural clarity or a compelling sense of shape.
Best, though, is Dawn Upshaw's radiant account of Wright's poem. Not quite 60 as of this recording (from 2019), her voice still has it: yes, the tone is a bit burnished, but, for pitch, diction, evenness of projection, and sheer style, Upshaw owns this music.
She's also terrific in Harbison's Milosz Songs, a 2006 commission from the New York Philharmonic. Setting 11 texts by the Lithuania-born poet Czeslaw Milosz, the Songs traverse a range of experiences and emotions, from mysterious and brooding to violent and triumphant.
Upshaw sings them all with a commanding rightness of feeling and technical security. She navigates the bravura elements in Harbison's writing — the sudden arpeggios at the end of "A Task," the leaping figures in "What Once Was Great" — with surety. But the atmosphere she conjures in each short movement, like the luminous "Encounter" or the ominous "You Who Wronged," is just as impressive.
For their part, Rose and BMOP deliver incandescent accounts of Harbison's discreet instrumental accompaniments. "When the Moon" dances beguilingly. The brass-led orchestral refrains in "What Once Was Great" blaze. "So Little's" syncopations bite crisply, while the Berg-like closing bars in the "Epilogue from Winter" float and the tonal contrasts between resonant percussion and warm flute trio in the concluding "Rays of Dazzling Light" simply glow.
It adds up to a surprisingly moving collection, all of it mightily played and sung by musicians who clearly intuit Harbison's musical language.
---
Jonathan Blumhofer is a composer and violist who has been active in the greater Boston area since 2004. His music has received numerous awards and been performed by various ensembles, including the American Composers Orchestra, Kiev Philharmonic, Camerata Chicago, Xanthos Ensemble, and Juventas New Music Group. Since receiving his doctorate from Boston University in 2010, Jon has taught at Clark University, Worcester Polytechnic Institute, and online for the University of Phoenix, in addition to writing music criticism for the Worcester Telegram & Gazette.