By Michael Ullman
Soprano saxophonist Emile Parisien's new disc is deliberately, and satisfyingly, international. 
Emile Parisien Sextet, Louise (ACT)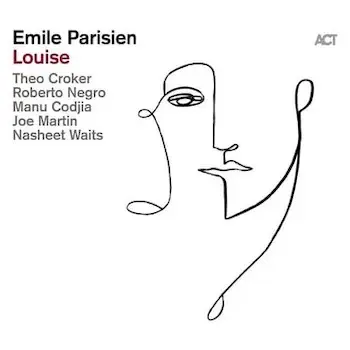 The one time I saw the French soprano saxophonist Emile Parisien, he was playing duets with accordionist Vincent Peirani. They couldn't have sounded more French, or what I heard as French. They were performing a kind of hip Gallic folk music that hewed closer to the legacy of Django Reinhardt than Charlie Parker's. (It helped that they were in Montreal.) But Louise, Parisien's new disc, is deliberately, and satisfyingly, international. It features three Americans: trumpeter Theo Croker, bassist Joe Martin, and drummer Nasheet Waits. (Croker is the grandson of the legendary trumpeter Doc Cheatham and Waits the son of another esteemed musician, drummer Freddie Waits.) Parisien and guitarist Manu Codjia are French while pianist Roberto Negro, now a Parisian, was born in Turin, grew up in Kinshasa, and was educated in Chambery before he moved to Paris. Parisien wrote six of the numbers on the album; among the exceptions is Manu Codjia's "Jungle Jig," a raucous piece whose boppish lines frame group improvisations energized by the strutting drumming of Waits.
The session begins solemnly with a note deep in the bass of the piano echoed by the trumpet. It's the title cut, "Louise," which is dedicated to sculptor Louise Bourgeois, whose spidery creations, large and small, made her world famous. There's nothing spidery about this mostly somber composition.We hear a bit of the guitar, but the background remains almost motionless as Parisien states his written melody: everything seems to float serenely in this introduction, whether its played by the saxophone or when Croker takes it over. Then the rhythm section kicks in and the two horns play the haunting main melody together. The improvisations that follow, by Croker and guitarist Codjia, maintain the opening's unruffled lyricism, except along comes an ending characteristic of Parisien: the horns start repeating a part of the theme with increasing intensity until the piece expires. He likes to end things in a burst.
Theo Croker's 2018 recording Star People Nation was widely praised, and for good reason. His playing as a sideman here should also be praised for his beautiful tone, and for what I'll call his tact, his skill at always making the appropriate move. That's the sensitivity I hear in his subtle entrance behind Parisien's solo on Joe Zawinul's "Madagascar," which was first recorded on Weather Report's Night Passage. Parisien is an ardent admirer of Zawinul. In 2008, the saxophonist played in a band called Syndicate, which was designed to preserve the legacy of the Austrian pianist, who died in Vienna in 2007. On their version of "Madagascar," the careful entwining of the lines of Parisien and Croker works well in the improvised introduction, with Croker, at one moment, almost spitting out a low note. Then the piece gathers force and the familiar melody emerges. The fastest, wildest piece here is Parisien's neo-boppish line in "Jojo," which is dedicated to the German pianist Joachim Kühn. Parisien plays an appealingly furious solo and he remains an eloquent voice throughout. At one point, Croker suddenly takes the piece out of tempo. The contrast is startling — and the gradual return of the original tempo is exciting. Probably best known for his work on Don Cherry's Eternal Rhythm, and for his own Impressions of New York (on Impulse!), Kühn, now 77, undoubtedly welcomes such a splendid homage.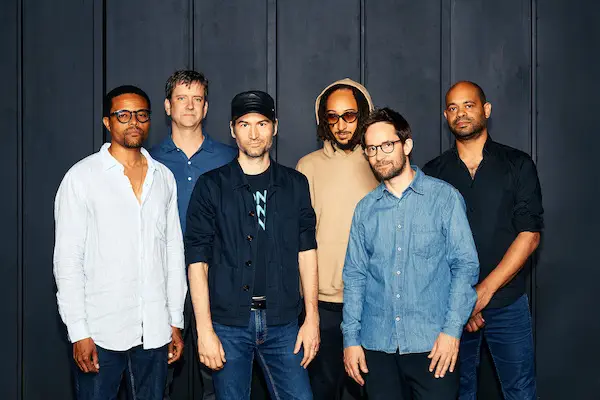 Parisien's writing is frequently wistful, as in the melody for the first of the three parts of "Memento," dedicated to the saxophonist's mother. The first sounds we hear are high metallic strikes by, I am guessing, the pianist. Then Waits enters on brushes and with subdued cymbal strikes with Parisien playing his gently falling melody. It's a haunting piece, simple in design and yet it proffers what seems to be a striking characteristic of Parisien's writing — a gathering intensity. The tune breaks open when guitarist Codjia solos. Part two of "Momento" features, at first, the Negro's solo piano. His memory is playful … Negro almost comes to a stop just before Waits enters with a wacky beat and the band proceeds to make all sorts of squeaks, thumps, bumps, and grinds around him before the written melody emerges. Part III is more fervent, with an obsessively repeated chord. Croker growls threateningly — he's interrupted by a written couple of bars. It's a dark-sounding piece. The disc finishes, though, with the billowing phrases of Croker's sweetly meditative "Prayer 4 Peace." Parisien and Croker sound as if they were made to play with each other. On Louise, the saxophonist has assembled a superb group that's both disciplined and free — and dedicated to preserving the composer's deeply lyrical sound.
---
Michael Ullman studied classical clarinet and was educated at Harvard, the University of Chicago, and the U. of Michigan, from which he received a PhD in English. The author or co-author of two books on jazz, he has written on jazz and classical music for the Atlantic Monthly, New Republic, High Fidelity, Stereophile, Boston Phoenix, Boston Globe, and other venues. His articles on Dickens, Joyce, Kipling, and others have appeared in academic journals. For over 20 years, he has written a bi-monthly jazz column for Fanfare Magazine, for which he also reviews classical music. At Tufts University, he teaches mostly modernist writers in the English Department and jazz and blues history in the Music Department. He plays piano badly.