By Thomas Filbin
Writer Jacqueline Gay Walley has become adept at probing the unpredictable interaction of self and others, transformations that imprison as well as liberate.
Magnetism by Jacqueline Gay Walley. IML Press, 227 pp. $16.75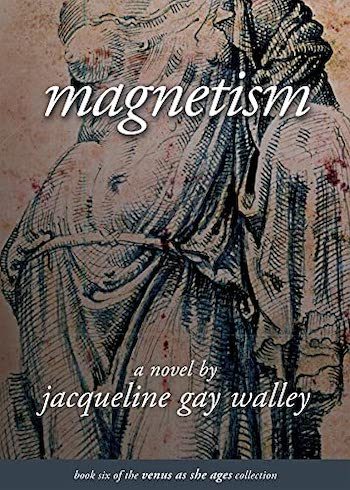 Painters are sometimes given retrospective exhibits, an assemblage of their paintings that might explore a theme or perhaps display how an artist's style evolved over time. Writers seldom are given that opportunity, a chance to have a group of books published or republished together in a way that gives readers a chance to engage their overarching themes. Jacqueline Gay Walley, a novelist, playwright, and screenwriter, has written a new novel, Magnetism, which is being included in a six-volume collection of her work called Venus As She Ages. The stories vary, but the common thread is a loneliness that struggles to make itself heard by others — and itself. Walley's strong gifts as a dramatist — she has an ear for sharp dialogue and values ambiguity — guarantee that her often erotic narratives move along pleasurably. Years ago, when she lived in Boston, her play North China Bar won a Boston Globe Festival award. She wrote the screenplay based on her own novel, The Unattainable Story, which was made into a film in 2016.
Magnetism's protagonist is a writer, Mira, a woman of a certain age, as they say, whose relationships with men have not brought enduring satisfaction. She has attained the perspective to reflect on the past's wrong turns and misjudgments. She reads, takes long walks, and is a devoted admirer of Mahler, whose artistic and personal struggles, which he poured into his music, resonate for her deeply. She has a lover, a wealthy and solitary man named Kurt, who resists marriage or cohabitation, arguing with Mira that change brings uncertainty. In his view, the pair cannot hope for better than what they already have between them. Kurt is a pessimist whose cup is not only half empty, but too cold for his own hands. He does not like to hold Mira's hand, either, or kiss. Sexual contact is all he seems to desire and even that is undertaken in an impersonal fashion. He has a live-in chef, a young woman to feed him, money to support himself, and Mira to attend to what minimal human interaction he requires. "In bed, they have their rituals. She searched for a movie that they watched for 15 minutes and then he wanted her to make love with him. His eyes were closed but she studied his face as she was on top of him, and she saw joy, at being provided for…."
Kurt is clever and witty and this is enough to keep Mira amused — or at least keeps her from becoming bored, even if his wit is often cruel. Her friends do not understand the connection and urge her to break off with him. She understands their concern, but knows herself well enough to see that solace is more important than reasoned arguments. We can be propelled to do things that only leave us in worse situations.
Mira was married before and now feels she was at fault for its failure. She was restless, eager for adventures. Perhaps this is what keeps her with Kurt, a wish not to repeat a mistake — even though she might be making one of a different kind. Years before she had a liaison with a man who had served time in prison for drug smuggling. The relationship was symptomatic of her love for outlaws, rebels, people without an anchor. It could be that she sees Kurt as an antidote to that recklessness. Then she meets another wealthy man named Mark who is quite eager to be with her. But she cannot match his passion. Life would be easier with an adoring partner — he says he needs to get married — but she cannot reciprocate.
With men she does not care about, Mira is treated as a goddess — but she resists the adoration. She seeks Kurt's attention, but still "often sloughed off compliments."  She sees them as men's ways of  "seducing, claiming. Even with Kurt, she was sure. She had seen him do it before. Mostly to other women."
Mira is given a writing assignment that takes her to Uruguay where the sea and its atmosphere calm her. She sees a friend in a loving relationship with a man and it arouses in her a sense of possibility, perhaps with Kurt. Though she is open to other possibilities. Mira's introspection makes this more than a novel about an older woman finding love. Magnetism and the other five books in the series focus on desire, but as a means to explore a woman's search for personal identity beyond the borders of self: how being with others changes who we are. Walley has become adept at probing the endless puzzle generated by the unpredictable interaction of self and others, transformations that imprison as well as liberate.
---
Thomas Filbin is freelance book critic whose work has appeared in the Boston Globe, New York Times Book Review, and Hudson Review.