By Michael Ullman
This session should appeal most to those who love the crashing, intemperate sound of a brass big band.
 A Prayer for Lester Bowie, David Sanford Big Band Featuring Hugh Ragin (Greenleaf)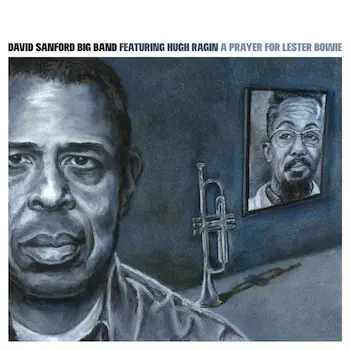 A Professor of Music at Mt. Holyoke College, composer David Sanford has led a slam-bang big band for 18 years. In the notes for A Prayer for Lester Bowie, he says that he doesn't find contemporary pop music all that exciting. "The adrenaline rush I get from a jazz combo playing an up-tempo burner is similar to that of a good launch on a rollercoaster. When they're done well, thrill rides are crafted like the music I love most: tension, release, surprise. It's what I aspire to." There are eight such thrill rides on this album. Six are by Sanford: the oddballs are Dizzy Gillespie's bop anthem, "Dizzy Atmosphere" and the title tune, written by trumpeter Hugh Ragin in honor of the late trumpeter with the Art Ensemble of Chicago, Lester Bowie.
Bowie was a dramatic musician and a funny one as well. In his performances with the Art Ensemble, he often wore a white lab coat. He would sometimes bang on a big bass drum. At one show I heard in Detroit, the other members of the group started to whack away at various percussion instruments. Dissatisfied, perhaps with the theatrical possibilities of his bass drum, perhaps jealous of the others, he grabbed a broom and started frantically sweeping the floor and the feet of various patrons. He was a serious musician, but, like Sanford, had broad tastes. He recorded a wonderfully amusing (and musical) version of the hit by the Platters, "The Great Pretender." The narrator pretended, tongue in cheek, that "you're still around."
Ragin studied with Bowie. (I'd have liked to have sat in on those lessons.) By the late '70s and early '80s, Ragin was recording with various Chicagoans, including Roscoe Mitchell (also of the Art Ensemble), Anthony Braxton, and Wadada Leo Smith. He must have felt the loss when Bowie passed away in 1999. The thirteen minute "A Prayer for Lester Bowie" begins with a sober yet bold solo trumpet statement, his held notes accompanied by a long lazy vibrato. Then Ragin turns to conducting. The band enters en masse, then suddenly breaks up into what sounds like a dozen instruments freely improvising together. Ragin exerts control through what jazz people call "conduction." Probably, through the use of hand gestures, he thins out the improvising group as he prepares for the return of the band and the major theme. There's another shift: the bass and drums begin playing a quick four/four under Ragin's solo. He's joined by alto and tenor saxophones and soon there's a crowd of improvisers who, miraculously, are still doing the conductor's will. The assemblage seems to be carrying on where Lester Bowie left off.
There are two Sanford compositions dedicated to (and partly derived from) roller coasters, surely an odd source of inspiration. "Popit" is designed to be as thrilling as a ride called Volcano: The Blast Coaster. It is as frantic as its energetic source, a ride that must have gone as fast as 70 miles an hour. The theme is introduced briefly by trombone: it's an insistent riff that everyone gets a chance at playing over a slamming back beat. Ragin is the most exhilarating soloist of the lot. "V-Reel" is trickier, with a kind of start and stop theme stated first by the brass before pianist Geoff Burleson solos. The disc begins with "Full Immersion" eventually becoming a duet between conga and trombone. It's notable for the rhythmically lively solo supplied by tenor saxophonist Anna Webber. "Woman in Shadows" is the dramatic ballad of the set: the tune is played with a kind of boppish tenderness by saxophonist Ted Levine. Sanford tells us that he had a number of muses: a fountain in Rome, various old movies, some rock and at least one New Orleans funk band. Yes, the music is impressively varied: its barely accompanied solos lead into free group improvisations and dense, discordant passages from the entire band. Still, this session should appeal most to those who love the crashing, intemperate sound of a brass big band.
---
Michael Ullman studied classical clarinet and was educated at Harvard, the University of Chicago, and the U. of Michigan, from which he received a PhD in English. The author or co-author of two books on jazz, he has written on jazz and classical music for the Atlantic Monthly, New Republic, High Fidelity, Stereophile, Boston Phoenix, Boston Globe, and other venues. His articles on Dickens, Joyce, Kipling, and others have appeared in academic journals. For over 20 years, he has written a bi-monthly jazz column for Fanfare Magazine, for which he also reviews classical music. At Tufts University, he teaches mostly modernist writers in the English Department and jazz and blues history in the Music Department. He plays piano badly.