By Sarah Osman
If dancing around as a giant CGI monster makes someone happy, then that is enough to make me happy. Let's embrace what makes us different and do what we love.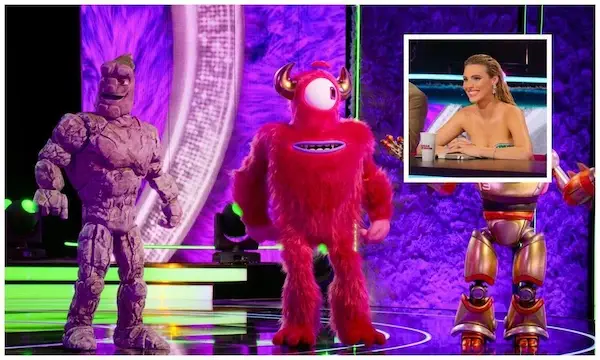 The premise of Netflix's latest competition series, Dance Monsters, sounds as though one of the producers had a cannabis-inspired dream and decided to pitch it. Aspiring dancers don motion capture suits and transform into CGI "monsters." The judges and audience only see the dancers in "monster form" — they critique them solely on their dancing abilities. Seeing a hammerhead shark and mummy shake it on stage is jarring. But, weirdly, the hoofing cartoon theatricality of it all works. Dance Monsters is an amusing reality series that entertains as it focuses on the talent of its competitors.
Part of the joke is that viewers only see the show's competitors in monster form until their elimination. I giggled while watching a dance monster being interviewed about their personal life, but I guffawed when photoshopped pictures of a monster wearing a hardhat or posing with their family popped up on screen. Dance Monsters knows how absurd it is; thankfully, they have the smarts to lean into it. The strategy to what is used on the series Dragula: we never see the participating queens out of drag. Just as many of those queens draw confidence from their drag persona, the dancers in Dance Monsters feel more self-assured when masked in the persona of a monster. Multiple dance monsters comment on how they appreciate the fact that they will be judged solely on their talent rather than their looks. That confession is a poignant (and pointed) jab at the toxicity of the dance world, where oftentimes specific body types reign. In the same way that Dragula is the antithesis to RuPaul's Drag Race, Dance Monsters is an oddball critique of dance shows like So You Think You Can Dance.
After a while, the novelty of the CGI wore off and I became accustomed to seeing the dancer behind the monster. It's clear that the producers tried to pick contestants from a variety of backgrounds: we're introduced to a Tik-Tok dancer, a former professional backup dancer for Britney Spears, a mom with her own dance studio, and a farmer in North Carolina. None of the dancers offer up sob stories; they are people who hoped to become professional dancers but life got in the way. They had children, got day jobs, or sustained injuries. Due to the diversity of contestants, the variety of dance styles vary. As a dancer myself (albeit very far from professional) I was impressed with the technique of some of the contestants, though I was bored by some of the formulaic high stepping.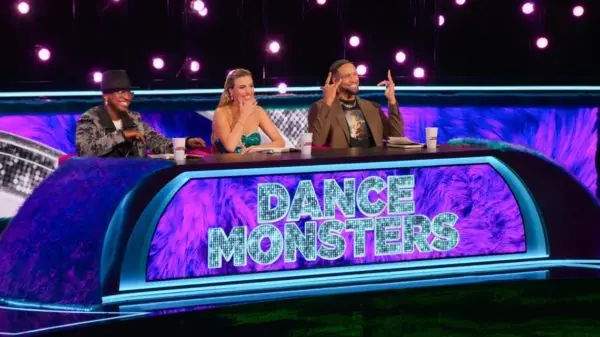 The judges themselves are dancers, including Ne-Yo, Ashley Banjo from Diversity, and social media dancer Lele Pons. None of the judges play the harsh role of Simon Cowell; their feedback is positive. When they do provide criticism, it's constructive. It's clear that all three judges sincerely want these dancers to succeed and are happy to provide pointers to help them do so. Whenever a dancer leaves the competition and we see their real human self, the judges encourage them to keep dancing. It's rare to see such positivity and joy in a reality competition. It's a welcome change from the usual "survival of the fittest."
I have no idea what the judges see when the monsters come out to dance. Is it a recording? A hologram? The world may never know, but it's not a question that should keep anyone up at night. Dance Monsters is a goofy and sweet show that is a perfect guilty pleasure. It's the perfect series to put on while you wrap any last-minute holiday gifts or clean your home. The series' innocence means that kids can watch it too.
Today's world is increasingly filled with toxicity, so why not embrace a bit of the feelgood? If dancing around as a giant CGI monster makes someone happy, then that is enough to make me happy. Let's embrace what makes us different and do what we love. Perhaps we would all benefit from letting our inner dance monster out and about.
---
Sarah Mina Osman is a writer residing in Wilmington, NC. In addition to writing for the Arts Fuse, she has written for Watercooler HQ, Huffington Post, HelloGiggles, Young Hollywood, and Matador Network, among other sites. Her work was included in the anthology Fury: Women's Lived Experiences in the Trump Era. She is currently a first year fiction MFA candidate at the University of North Carolina Wilmington. When she's not writing, she's dancing, watching movies, traveling, or eating. She has a deep appreciation for sloths and tacos. You can keep up with her on Twitter and Instagram: @SarahMinaOsman