By Scott McLennan
Regardless of what the future holds, Derek Trucks said that he and his bandmates are grateful for every opportunity to get back in front of live audiences.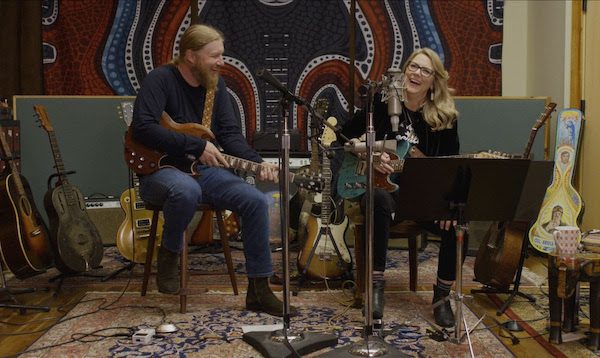 Guitarist Derek Trucks says, "A good song never loses its power."
The same can be said about a good band.
Trucks and his spouse Susan Tedeschi happen to lead a ridiculously good band, which even when slimmed down to accommodate COVID-related health and safety protocols generates as much power as it does when operating at full force.
We first learned this back in February and March, when Tedeschi and Trucks cooked up the Fireside Sessions (Arts Fuse review), in which they reconfigured the 12-piece Tedeschi Trucks Band into smaller units for filmed performances. The series drew its name from the setting: a large lodge-style living room with an oversized fireplace that held a blaze to match the intensity of the music being made.
The concept was ultimately developed into a touring version because of the uncertainty regarding how live concerts would be presented this summer as COVID restrictions began to lift. The full-sized group's annual multiband Wheels of Soul tour has been put on hold for the second summer in a row, but this year it has been replaced with Fireside Live, which is hitting outdoor venues hosting socially distanced concerts.
The scaled-down TTB began its hot weather trek last month in the couple's home state of Florida. The tour is now buzzing the Northeast with shows set for July 16 and 17 in Gilford, NH; July 23 in Shelburne VT; July 24 and 25 on Martha's Vineyard; and August 16 in Northampton.
The concerts thus far have been featuring Tedeschi and Trucks along with vocalist Mike Mattison, drummer Tyler Greenwell, bass player Brandon Boone, and keyboard player Gabe Dixon.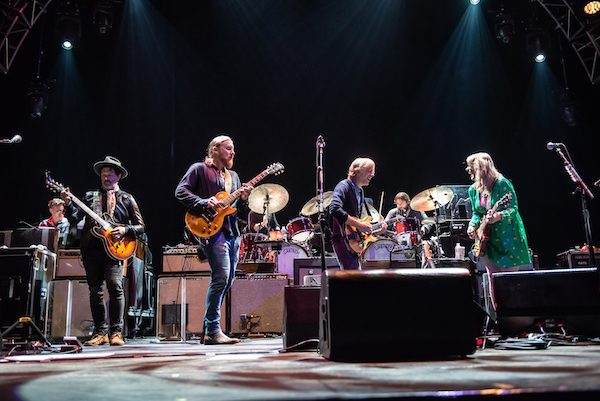 Trucks was reached by phone during a tour stop in South Carolina and said this has been an inspiring way to get back into "fighting shape."
"Smaller makes us all work harder. We're not passing solos around to as many people," explained Trucks, who, when the band is in full flight ,has three horn players, a second drummer, and two other vocalists to work with.
Trucks said it has been really enjoyable to turn to a format closer to the way he and Tedeschi previously worked with their respective solo bands before they joined forces professionally in 2010 (the original plan for 2020 was to spend a few months on hiatus, then come out with a big 10th anniversary celebration of the Tedeschi Trucks Band).
Not only is the current format reminiscent of earlier days, but the repertoire is also resurfacing gems that have been buried for years, especially from Tedeschi's catalog. Songs from her solo career, such as "Just Won't Burn," "The Feeling Music Brings," and "Looking for Answers," have been routinely played at Fireside Live concerts. Shows have likewise dusted off such Derek Trucks Band cuts as "I Know" and "Down Don't Bother Me."
"It's been a revelation hearing Sue do these songs again," Trucks said. "When I met her, she was playing these songs. Those tunes really hold up."
Tedeschi and Trucks met in 1999 when her band was opening shows for the Allman Brothers Band, which Trucks had joined that year. The pair married in 2001.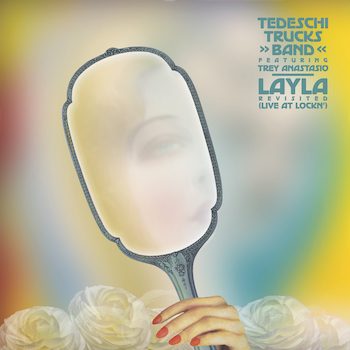 Just how deeply conversant Tedeschi and Trucks are as musicians comes through in the Fireside version of their group. The essence of their lively guitar interplay is perhaps best captured in the two episodes of the filmed Fireside series that featured the couple performing as a duo. For example, when they tackle the Elmore James standard "It Hurts Me Too," they so smoothly swap who is playing lead and who is playing rhythm that the trade-off could easily go unnoticed. The duo format also drove them back to some beloved shared interests, such as Nina Simone's arrangement of Leonard Cohen's "Suzanne" and covering Paul Pena's "Gonna Move," a song that both of their solo bands would routinely do.
Trucks said that the ensemble on the road is feeling really good about the way it sounds.
"In some ways it feels a lot like the shows before we formed the big band. Except back then, we were out there trying to win over audiences. Now crowds are coming out that are excited to see us. So rather than worrying about fight or flight, we get to really get into it every night. We do two sets, so we have a half-time to make adjustments. The second set is when we are all really dialed in," he said.
Those pining for the big band, don't fret; TTB also has an oversized version of itself to enjoy this month as well.
Tedeschi Trucks Band's transcendent 2019 LOCKN' Festival performance of the entire Layla and Other Assorted Love Songs album will receive its commercial release on July 16. This one-time-only set added guitarists Trey Anastasio from Phish and Doyle Bramhall III to the TTB lineup for a deeply exploratory and highly celebratory reading of the classic Derek and the Dominos album.
Trucks said that the pandemic lockdown gave him time to revisit the recordings of the concert. He and sound engineers Bobby Tis and Brian Speiser worked on a mix to capture the full expanse of the event as well as retain the vintage sound of the original masterpiece.
The historical (and spiritual) ties to the album are plentiful: Tedeschi was born on November 9, 1970 — the day the album came out; the record provided the inspiration for Trucks's parents to name him Derek; Eric Clapton recruited slide guitar master and Allman Brothers Band co-founder Duane Allman to be on the album and then 36 years later recruited slide guitar master and Allman Brothers Band member Trucks (a nephew of founding ABB drummer Butch Trucks) to join him for a tour in which many of the Layla songs were brought to life.
But the ensemble was not content to simply reproduce Clapton's blues-rock tour de force inspired by his falling in love with his best friend's wife. Tedeschi added a female narrative voice to the mix — especially on such cuts as "Have You Ever Loved a Woman" and "Why Does Love Got to Be So Sad."
"Our band is true to the Dominos-era rowdiness. Doyle is right at home in that and brought a particular feeling to the project," said Trucks; it's worth noting that Bramhall was also in that 2006-07 touring band Clapton assembled with Trucks to revive Layla material.
As for Anastasio, who made a memorable guest appearance with the TTB at one of its annual Beacon Theatre concerts in 2017, he fit right into the mix, adding another layer of guitar and vocal tones.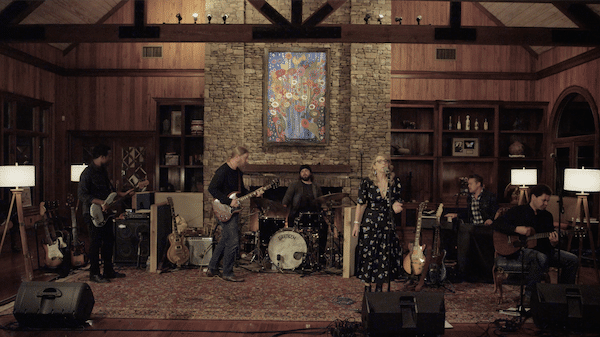 "We brought the idea to Trey, and he just lit up," Trucks recalled. "I could tell that that record was a huge part of his musical life."
The expanded group rehearsed for a day and a half with the hopes of just getting through the songs without any musical mishaps."We thought it would be fun," Trucks confessed. "But it ended up being revelatory."
The TTB has long played select cuts from the Layla album in its working repertoire, and plenty have been showing up in Fireside concerts.
Trucks said he is considering doing some scaled-down Fireside-style shows annually or every other year alongside the tours of the full TTB.
As for the full TTB, the group is scheduled to make its return during the Beacon residency in New York City, which starts on September 30 and extends for seven shows. The full return will introduce the replacement for drummer J.J. Johnson, who announced his departure from the band in November.
Trucks said he is "close to knowing" whether the TTB's annual trip to the Orpheum Theater in Boston around early December will be happening this year.
Regardless of what the future holds, Trucks said that he and his bandmates are grateful for every opportunity to get back in front live audiences.
"It just feels so good to be out here," Trucks said. "I'll tell you right now that no one is bitching about catering."
---
Scott McLennan covered music for the Worcester Telegram & Gazette from 1993 to 2008. He then contributed music reviews and features to the Boston Globe, Providence Journal, Portland Press Herald, and WGBH, as well as to the Arts Fuse. He also operated the NE Metal blog to provide in-depth coverage of the region's heavy metal scene.