By Scott McLennan
With the "Fireside Sessions," Tedeschi and Trucks have found the perfect online format for showcasing their attention to detail, nuance, and craft.
There's no substitute for a Tedeschi Trucks Band concert. So, for a series of performances the band is airing online, Derek Trucks and Susan Tedeschi don't even try to replicate what they do with their namesake 11-piece band.
Instead of setting up the entire band in an empty concert hall, Tedeschi and Trucks have decided to invite viewers into their home where each episode will feature a different configuration of the group.
The series made its debut on February 18 with guitarists Trucks and Tedeschi accompanied by TTB rhythm section members drummer Tyler Greenwell and bassist Brandon Boone. Though pared down, this combo did not come off as a discount version of TTB. The hour-and-20-minute performance sizzled with fresh arrangements of familiar tunes and a deep dive into the songbook.
The shows are appropriately dubbed the Fireside Sessions: a fireplace roars in the background as the musicians set up in a finely appointed great room of a barn-style home in Georgia.
The performances are filmed, but proceedings don't appear to have been heavily edited. The result resonates with the spontaneity the band feeds off of on stage, though it is presented via a nicely shot concert-film format.
Tedeschi and Trucks take advantage of the technological intimacy at every turn. We actually hear the typically stoic Trucks count off the beat to the opening tune, "Statesboro Blues."
TTB carried over "Statesboro Blues" from the repertoire of the Allman Brothers Band. Trucks was a member of the legendary group for its high-flying final decade and a half. But the quartet version of the song offered up in the "Fireside Sessions" was unlike what we have become accustomed to hearing. The churning organ tones bubbling through both the ABB and TTB versions of Blind Willie McTell's blues staple were absent here. In its place, Trucks and Tedeschi inserted incendiary guitar work. Greenwell and Boone likewise flexed more musical muscle than we would have noticed had the whole band been part of the performance. What's more, Greenwell put to rest any concerns arising from the recent departure of co-drummer J.J. Johnson; the Falcon, as he is known, will be able to hold down the beat just fine on his own until the second drum seat is filled.
That opening number set the pace for the night. Tedeschi in particular shined in vocal and guitar parts, perhaps energized by the fact that she didn't need to make room for the group's three harmony singers, three horn players, or keyboard player.
And it was tremendous watching the husband-and-wife guitar hotshots have more opportunities than we normally see to play off of each other. On "Statesboro," Tedeschi matched Trucks's cosmic slide guitar work with her own soul-piercing solos.
The quartet followed that cathartic opener with "Simple Things," "Misunderstood," and "It's So Heavy," a trio of songs that showcase the group's knack for writing sophisticated blues in a contemporary voice. And on "Misunderstood" we got yet another inventive solo out of Tedeschi.
In a bit of an unexpected move, the quartet took on the Stevie Wonder-penned Four Tops hit "Loving You Is Sweeter Than Ever." This is the perfect vehicle for the full TTB, tailor-made for the full blast of horns and harmony vocals. But, once again, the guitars' interweaving of tight turns and flamboyant excursions more than ably filled in the contours of this Motown classic.
Trucks channeled the slide maestro he is frequently compared with, Duane Allman, for a searing version of "The Sky is Crying." As an aside, seeing Trucks wander back to feed the fire as Tedeschi was soloing or noticing the band's decision to forgo a recut of "The Sky is Crying" — Tedeschi came in too soon on a vocal line, caught herself, and stepped back — were the kinds of small, offhand details that gave the filmed performance an in-the moment feeling for viewers.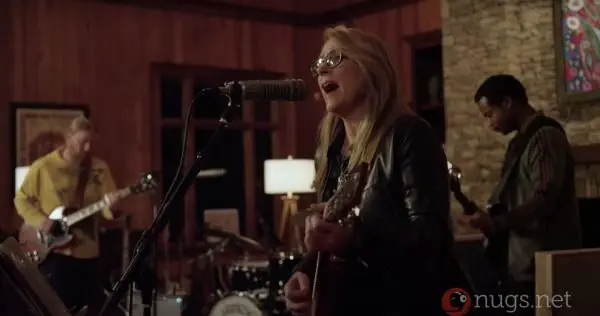 Tedeschi was transcendent in her reading of "Angel From Montgomery," dedicating it to all those who have lost loved ones during the pandemic. She was implicitly paying homage to the song's author, John Prine, who we lost to COVID-19 in April. What made the performance even more unusual was when Trucks brought angelic guitar phrasings to Tedeschi's vocal; he often steps offstage for her signature performance. He reemerges as the band slides into Jerry Garcia's "Sugaree" (part of an outro blended into "Angel from Montgomery"). It was done to fine effect at Fireside.
Hearing "That Did It" was the biggest surprise on the first episode of the "Fireside Sessions." The TTB frequently played this Bobby "Blue" Bland howler in its early days, but dropped it from the set list by 2017. Tedeschi sang and played the bejesus out of it, really laying into the low-down treatment she was getting from her no-good man — Trucks could not contain his grin.
The first Fireside Session ended with "I Want More," a song from the TTB's Let Me Get By album that has grown into a mammoth jam vehicle. The quartet treated it as such, with Trucks roaring off so furiously he busted multiple guitar strings, which necessitated a couple of mid-song instrument swaps (without missing a beat, even when wandering to a back door for tech assistance). The combo drove "I Want More" into a stretch of Carlos Santana's "Soul Sacrifice," a fitting choice because, as Tedeschi pointed out earlier in the broadcast, Trucks was wearing a John Coltrane hoodie gifted to him by Santana.
With the "Fireside Sessions," Tedeschi and Trucks have found the perfect format for showcasing their attention to detail, nuance, and craft.
Episodes of the "Fireside Sessions" are available to stream on nugs.net, with new shows airing each Thursday at 8 p.m. through March 25.
---
Scott McLennan covered music for the Worcester Telegram & Gazette from 1993 to 2008. He then contributed music reviews and features to the Boston Globe, Providence Journal, Portland Press Herald, and WGBH, as well as to the Arts Fuse. He also operated the NE Metal blog to provide in-depth coverage of the region's heavy metal scene.