By David Greenham
The show is made all the more powerful by the fact that we've now spent 12 months enduring COVID and four years of science denial and "alternative facts."
Solitaire Suite by Trent England. Directed by Daniel Bourque. Stage management by Madeline Hartrich and Kelsey Whipple. Sound design by Kyle Lampe. ​Digital design by Justin Lahue. Produced by Lauren Elias. Livestreamed by Hub Theatre Company of Boston on February 26 and 27. All tickets are "Pay What You Can."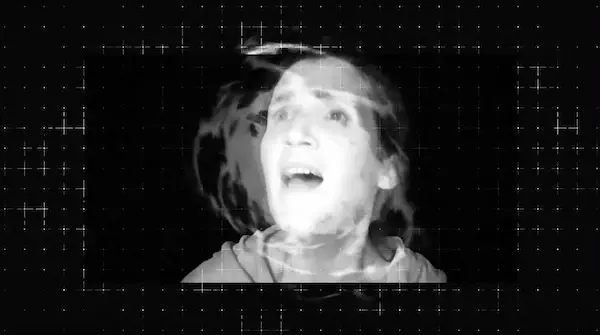 Every so often there comes a time when a critical decision changes the rest of your life. In playwright and author Trent England's new play, Solitaire Suite, that moment arrives in silence. Celeste (Marty Mason) and her husband Pete (Cristhian Mancinas Garcia) have been called in the middle of the night to pick up their 10-year-old son Tiger (Michael Lin), who has been at a sleepover at the home of Lucas Conroy, the most popular kid in his class. The family of three is still settling into their rural suburban life after relocating from Brooklyn, the end of a quest for more space and breathing room.
On the way home, along unfamiliar dark roads, Celeste, who narrates the story, worries about Tiger's nonstop connection with his phone. (Lin's Tiger is heard but never seen.) He doesn't talk about his reasons for bailing on the sleepover, but sits quietly in the back seat, bathed in the glow of his phone. Any parent knows Celeste's frustration: curiosity about "what's my kid thinking?" is tamped down by a fear of prying, which risks rejection or at the very least a freeze out. Pete spies an unusual glowing light in the sky and points it out. Suddenly, Tiger abandons his phone to focus on the mysterious apparition in the sky.
England has based his new play on his own 2020 short story, "It Could Happen to You." He has partnered with director Daniel Bourque and producer Lauren Elias for this 60-minute world premiere online production staged by Boston's Hub Theatre Company.
The life changing moment? That comes when the inexplicable light drops out of sight and into a nearby field. Tiger's parents want to drive on, but Tiger pleads that they explore the light further. A decision is made: idling on the side of the road, Celeste and Pete share a look, and quietly nod. "This is how most of parenting happens," Celeste tells us. Pete turns the car around, drives into the dark field, and their lives will never be the same.
The writer and performers have just begun to hook us. It isn't long before we are also wondering what this flying thing is, and with childlike glee we want to make sense of it. English does an effective job of dramatizing this young/old contradiction: Celeste and Pete are cautious parents who also feel the wonder of their inner kids. When the family finally comes face to face with the unknown object in the field, it's clear that the enigma will continue, probably for a very long time.
As Celeste, Mason keeps us engaged and off-balance as she describes how father and son are grappling with the puzzle in the field. Cristhian Mancinas Garcia's Pete is less developed as a character, but that actually adds another layer of uncertainty. Lin's Tiger is appropriately kidlike: he is obsessed with what's directly in front of him. Director Bourque does a fine job at managing the three voices, each separated in the viewer's Zoom-shaped experience. He is especially adept in balancing Celeste's dual role — she is at once telling the story and living it.
Hub's production relies heavily on Justin Lahue's digital design and Kyle Lampe's sound. On opening night there seemed to be a few glitches, but the overall effort was successful in keeping viewers (at least this one) wondering what was going to happen next.
Solitaire Suite is a modern "fantasy" that contains plenty that parents past and present can relate to. The show is made all the more powerful by the fact that we've now spent 12 months enduring COVIS and four years of science denial and "alternative facts." Last February, many thought life couldn't become any more bizarre. Those concerns seem quaint now. Given all we have been through, the notion of a house of endless horrors and a mysterious dronelike machine that might possibly be extraterrestrial not only seems possible, but somehow probable. We all have gone through a traumatic and life-altering experience. What will the future be? How different will existence be post-pandemic? Solitaire Suite suggests that we really don't have any idea until we reach the end of the games.
---
David Greenham is an adjunct professor of Drama at the University of Maine at Augusta, and is the associate director for the Holocaust and Human Rights Center of Maine. He is the current chair of the Maine Arts Commission, and has been a theater artist and arts administrator in Maine for more than 25 years.