By Chloe Pingeon
"Figures of Speech" is a kind of aesthetic/political injection: its messages are put across by pieces that seamlessly blend a number of genres, including sculpture, music, graphics, and film.
Virgil Abloh: Figures of Speech at the ICA, Boston, MA, through September 26.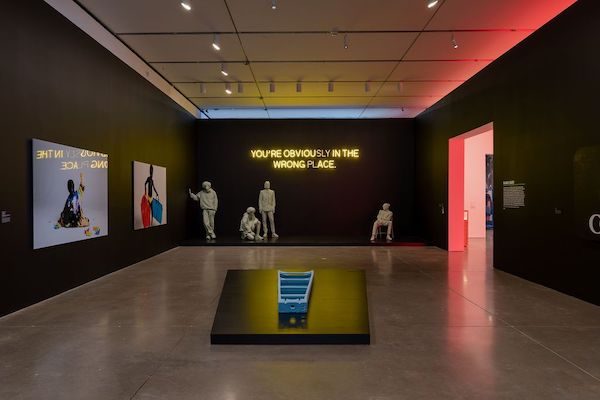 Throughout his career, Virgil Abloh has never confined his work to one medium or one space. He is an architect, a DJ, a fashion designer, an activist, and a visual artist. Above all, he is about resisting labels — Abloh seamlessly fuses mediums and practices. The power of Figures of Speech reflects this agile dedication to fluidity.
Divided into six halls, with names such as "music," "design," and "black gaze," the installation is bifurcated: it looks inward, reflecting Abloh's past and process, and looks outward, critiquing capitalist and racist traditions and institutions. Abloh is most widely known as the founder of his label Off-White and as the artistic director of Louis Vuitton's menswear. But the concerns of the images in Figures of Speech extend far beyond fashion, embracing issues raised by culture, music, and politics. What runs through it all is a subtly cynical (borderline sarcastic) sense of humor. At the exhibition's opening last week, Abloh told the crowd that "fashion is like the vaccine. It goes into the vein of culture." Figures of Speech is also a kind of aesthetic/political injection: its messages of dissent are put across by pieces that seamlessly blend a number of genres, including sculpture, music, graphics, and film.
This is not to say that his blend of genres is static. Abloh believes in the fluidity of art and the artist. In his latest Louis Vuitton show, Abloh had models carry paintings under their arms in order to make the point that fashion should not be isolated from the Fine Arts. He also wants to bring the streets into art. Gallery walls have traditionally been reserved for finished products and polished masterpieces. But Abloh is concerned with flexibly addressing the challenges of the present. He put unfinished works in the thick blue book that accompanies the show. In his talk at the ICA, he described the volume as a manual for young creatives rather than a traditional catalogue, which he characterized as a "stake in the ground."
Abloh has been about opening doors for young Black artists since the beginning of his career. Unsurprisingly, Figures of Speech does not hide its cultural and political intent; it serves up commentary on social conditions, especially in the era of Black Lives Matter. For example, the hall entitled "Black Gaze" contains a neon yellow sign reading "YOU'RE OBVIOUSLY IN THE WRONG PLACE." It is set against a black wall and hangs over sculptures clothed in Abloh's designs. The scene is a seriocomic nod to the worlds of high fashion and art — both of which have historically barred Black voices. (In his talk, Abloh mentioned that at times he has been stopped by security when he was trying to get into his own stores, presumably because of the color of his skin.) Abloh's art is about making us self-conscious about the roadblocks created by society: the obstacles for him as an artist and designer and for current young Black artists. The first hall of the installation is titled "early work." A rug on the floor of this room quotes the first bit of negative press Abloh received for his first label, Pyrex Vision. At his talk at the ICA, Abloh noted how this criticism threw him at the time — but then he smirked and added that "now it's on a rug that people walk over." Beyond the rug hangs a black and yellow painted metal and vinyl sign titled "BARRIER TO ENTRY" that visitors must walk under in order to enter the rest of the installation. "CAUTION" reads another sign, "YOUR PERCEPTIONS."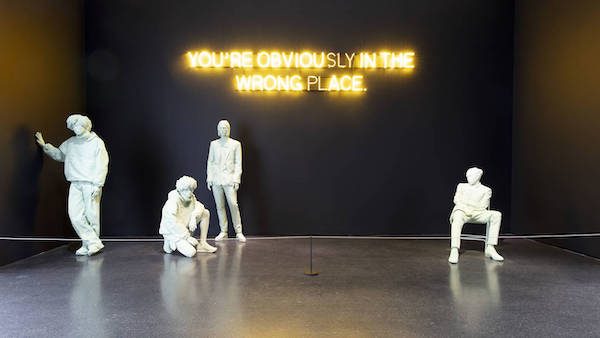 Of course, there is a contradiction in Abloh's dedication to inclusivity. He wants to open industry doors to all, but the artist/designer is selling $2500 jackets and $500 sweatshirts in the ICA gift shop. But you get the impression that Abloh is not bothered by the juxtaposition — he figures that the culture will grow beyond it. For example, in-person events disappeared during the pandemic and inspired the rise of the fashion film. Abloh said he approved of the fashion film because it erases the exclusivity that was an elemental part of the traditional fashion event. It makes art accessible to anyone. In the "fashion" section of the installation, Abloh has placed a film, Peculiar Contrast, Perfect Light. (It is Louis Vuitton Men's FW21 show and available for free viewing online.) Visitors get a look at a relatively new genre: a fashion show shaped to tell a visual story that ventures beyond the conventional runway. And there are no exclusive tickets, aside from the necessary technology. On screen, male models move intentionally, often in slow motion, through a landscape that begins in ice and snow before it shifts to a cavernous room peppered with green marble blocks. The narrative features activist, poet, and model Kai Isiah Jamal, the first Black trans model to walk for Louis Vuitton.
For Abloh, accessibility rather than price tag is the point. His work is not designed to sit — finished and stagnant — on elite stages or in privileged galleries or grand institutions. Figures of Speech is rooted in Abloh's desire to keep up with the furious motion of the world around us and to make art that speaks to that change available to all. "The word contemporary leads us to what is happening now," Abloh proclaimed at the ICA. "It's all an effort to make the inside look like the outside."
---
Chloe Pingeon is a rising senior at Boston College studying film and journalism. She has written regularly for the features and arts section of Boston College's Independent Student Newspaper The Heights, and has also written for the culture section of Lithium Magazine. She is currently a creative development intern at Foundation Films.