By Jonathan Blumhofer
Americans is a winningly-programmed, strongly-realized effort.
Leave it to James Gaffigan and his Luzerner Sinfonieorchester (LSO) to celebrate a sliver of the stylistic diversity of 20th-century American symphonic music. Their album, Americans, is not, of course, a comprehensive survey. But it covers the principal musical touchstones of the place and times, particularly its blend of high- and popular-art, experimentalism, and traditionalism.
The latter is best represented in a pair of pieces by Samuel Barber: the vigorous Overture to "The School for Scandal" and the grand Toccata Festiva for organ and orchestra.
Barber wrote the Toccata in 1960 to inaugurate Philadelphia's Academy of Music's new organ. It's a magnificent score, marked by bold fanfares, agile rhythmic episodes, soaring lyrical lines, and — at its climax — a stunning pedal cadenza.
As played here by Paul Jacobs, the Toccata's virtuosic solo demands sound, if not exactly easy, then at least perfectly natural. Indeed, Jacobs brings terrific purpose and style to his performance.
So do Gaffigan and his ensemble, which plays with rich tone and a winning sense of dialogue: articulations and timbres between organ and orchestra throughout are conspicuously well-matched.
The orchestra brings strong stylistic sensibilities, too, to Leonard Bernstein's Symphonic Dances from "West Side Story." Granted, nobody's going to top Bernstein's own 1963 recording of the piece with the New York Philharmonic (even the composer couldn't manage that feat in 1982 with the Los Angeles Philharmonic).
But Gaffigan and the LSO do themselves proud. The "Prologue" simmers, "Cool" brims with color, the "Rumble" is taut and lively, the "Finale" texturally clean. Character and subtlety are watchwords, as in the execution of "Somewhere's" discreet harp harmonics and horn solo or, more generally, in the "Cha-cha's" graceful turns of phrase.
Between the Bernstein and Barber selections comes Charles Ives' Symphony no. 3 and Ruth Crawford Seeger's "Andante for Strings."
The latter is a short piece, only running about four minutes, that's essentially a study in pulsing dissonances. Gaffigan draws a bracing, well-shaped reading from the LSO strings.
His account of the Ives is similarly directed. This is a performance that really moves: clocking in at about twenty minutes flat, Gaffigan's take is about three minutes faster than either of Michael Tilson Thomas's.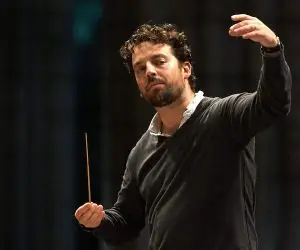 In the first two movements, this isn't an issue. The opening one, "The Old Folks Gathering," is lean and flowing, the bass line is perfectly weighted, and its hymn tunes unfold with bewitching clarity. Likewise, the second, "Children's Day," offers more of the same qualities – plus moments of real whimsy (like the iterations of the music's halting, march-like figures).
The finale, "Communion," continues much in the same vein: tempos flow, the thick chords speak pungently, the lyrical line is always front-and-center, and there's a lovely dissolve into the chiming church bells at movement's end.
However, the dramatic context of this movement is different and, here, Gaffigan's (relatively) speedy tempos rob the music of some sense of mystery and devotion; Bernstein and MTT are, emotionally, at least, more persuasive in their respective recordings of this movement.
That said, Gaffigan's larger approach to the Symphony is rooted in its lyricism, and that aspect of Ives' writing comes out with urgency.
In all, then, Americans is a winningly-programmed, strongly-realized effort. Gaffigan's interpretations are decidedly unsentimental but they never miss the essence of the music at hand. The LSO's playing is technically accomplished and stylistically right. HM's engineering ensures that everything shines.
---
Jonathan Blumhofer is a composer and violist who has been active in the greater Boston area since 2004. His music has received numerous awards and been performed by various ensembles, including the American Composers Orchestra, Kiev Philharmonic, Camerata Chicago, Xanthos Ensemble, and Juventas New Music Group. Since receiving his doctorate from Boston University in 2010, Jon has taught at Clark University, Worcester Polytechnic Institute, and online for the University of Phoenix, in addition to writing music criticism for the Worcester Telegram & Gazette.