As the age of COVID-19 wanes, Arts Fuse critics have come up with a guide to film, dance, visual art, theater, and music. Please check with venues about whether the event is available by streaming or is in person. More offerings will be added as they come in.
Film
Maine International Film Festival
July 9-18
The Maine Film Center presents 10 days of nearly 100 films representing the best of American independent and international cinema with a spotlight on some of Maine and New England's most exciting and innovative filmmakers. The festival films are organized via live screenings and online offerings. There are three venues: Railroad Square Cinema and Waterville Opera House in Waterville and the Skowhegan Drive-In Theatre. Venue Directions — Live Schedule and passes — Virtual Schedule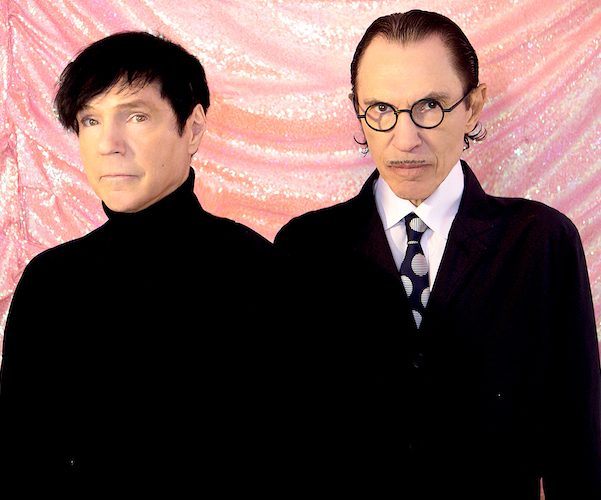 The Sparks Brothers
Now Playing at the Kendall Square Cinema
Rock fans of a certain age may recall the name of this particular band. And will be surprised that the brothers have diligently been pumping out albums for 50 years. The documentary gives them long overdue credit for a career of distinctive songwriting; their tunes always sounded like quasi–musical theater numbers. Ron Mael, the scowling one at the keyboard with a Hitler mustache, and Russell Mael, the pretty boy singer with an operatic voice, were always more than a gimmick. Their prolific output of songs never settled into one genre. One of their efforts may soon grace Annette, a film by Leos Carax, the French enfant terrible director who used a Sparks song in his film Holy Motors. They are currently on tour in Europe, where they were always well received. There will be one date in their home turf of Los Angeles.
The documentary is directed by Edgar Wright, who has a taste for quirky subjects (Shaun of the Dead, Scott Pilgrim vs. the World, Baby Driver). He has been a fan of the duo since seeing them on Top Of the Pops in 1979. The film starts with an excessive amount of archival footage, but settles down into an entertaining history of two consummate professional artists, filled with testimonials, performances, and animations. The world will likely be seeing a lot more of the two in the coming days. (Arts Fuse Review)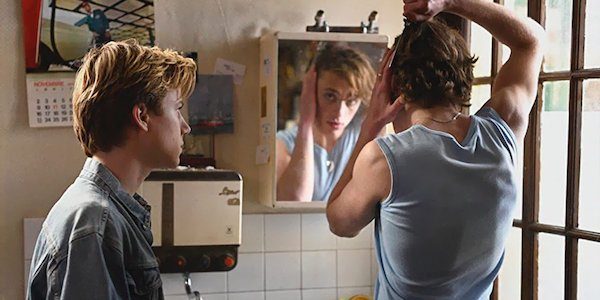 Summer of 85
Kendall Square Cinema
Opens July 9
Prolific French director François Ozon's latest film begins on the French Riviera in 1985 where Alexis, a student and developing writer, capsizes his boat. David, an older teenager, rescues him and tows him to shore. He suggests to David that he warm up at his house and offers him a meal and dry clothes. He is undressed and put into a warm bath — in a highly inappropriate gesture — by David's mother (Valeria Bruni Tedeschi). Soon Alex is offered a job at their family shop and the relationship between the two boys grows increasingly passionate, especially for Alex, who basks in the glory of a first love.
There is a touch of Call Me By Your Name to the narrative. David is experienced; Alex is innocent. David's father has recently passed away, a fact that he dismisses casually. Alex is obsessed with the death rituals of the ancient Egyptians while David asks one thing of Alex: when I die, he says, I want you to dance on my grave. The film is loosely based on the 1982 young adult novel Dance on My Grave by Aidan Chambers.
The film moves beyond the confines of a gay love story. The relationship between the teens is not discussed at all. It is 1985, and the parents willfully ignore what is going on. As in an Eric Rohmer film, "Love" is in the air. The movie is beautifully shot and exceptionally well acted by Félix Lefebvre (who resembles a young River Phoenix) and Benjamin Voisin (a ringer for Stewart Copeland, drummer for the Police). We know at the start that David will die: the narration is shaped by Alex, who is creating a short story (together with his writing teacher) that will provide evidence for a court case. We're not certain what the charges are, and answering that question, heightened by the themes of Eros and Thanatos, make for a poignant coming-of-age love story.
— Tim Jackson
---
Jazz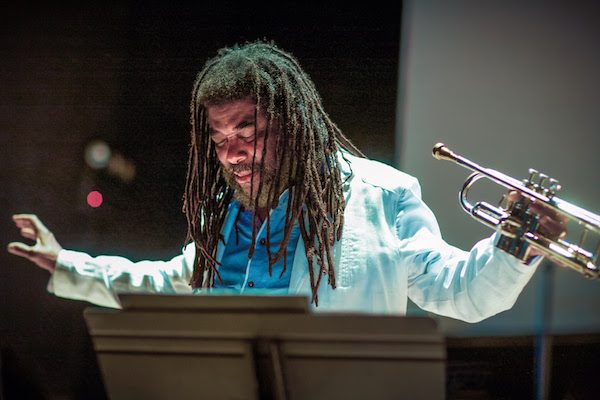 CSO Sessions Episode 21: Cult of Electromagnetic Connectivity, available for streaming through July 9 at cso.org/tv. Access to the episode is $15.
Groundbreaking composer and trumpeter Wadada Leo Smith celebrates his 80th birthday with a year of special events including the world premiere of a new work performed by Chicago Symphony Orchestra musicians. Delta Blues is scored for violin, flute, clarinet, bass clarinet, and piano.
— Bill Marx
Gil Aharon Trio
June 30 at 8 p.m.
Lilypad, Cambridge
As we've pointed out before, music has returned to essential venue the Lilypad, in Cambridge's Inman Square. And so Lily owner and booker Gil Aharon has returned to fronting his jazz trio (in this case, a quartet) at the venue's highly prized piano. It's a stellar band: bassist Jef Charland, guitarist Andrew Stern, and drummer Mike Connors. Aharon describes his music as "inspired by the cartoon music of the '50s and '60s, the drive of Led Zeppelin, the genius and humor of Frank Zappa, the perfection of Bach, the relentlessness of Ligeti, the courage of Medeski, Martin and Wood, the jam of Phish live."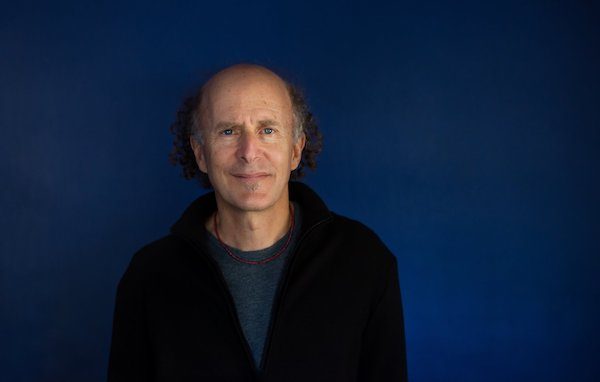 Bert Seager Quartet
July 7 at 6:30 p.m.
Lilypad, Cambridge
Adventurous pianist Bert Seager returns to his monthly Lilypad residency with a quartet: tenor saxophonist Rick DiMuzio, bassist Andrew Schiller, and drummer Dor Herskovits. Using jazz as his lingua franca, Seager likes to draw on cross-cultural dance rhythms and forms in creating transparent ensemble textures that emphasize free interplay. The musical conversations in Seager's bands are always compelling, unfailingly swinging, and beautiful.
Yoko Miwa Trio
July 9 at 8:45 and 9:45 p.m.
Mad Monkfish, Central Square, Cambridge, Mass.
Among the first Boston-area jazz venues to return to live jazz is restaurant the Mad Monkfish, celebrating the return of pianist Yoko Miwa, one of the most reliably exciting performers in town, with her mix of inventive originals, jazz standards, and surprising jazz covers of '60s pop covers (Led Zeppelin, Richie Havens). She's joined here by her right-hand man, drummer Scott Goulding, and bassist Matt Stavrakas. Reservations are recommended.
John Dalton's Spheres of Influence
July 15 at 6:30 p.m.
Eustis Estate, Milton, MA
Free
Drummer and composer Dalton convenes guitarist Jim Robitaille and bassist Sean Farias for this Mandorla Music show at the Eustis Estates. On Dalton's Indigo Skyline, the trio showed themselves pushing post-bop progressive harmonies and grooves with a light touch, attentive to group dynamics, detail, tunefulness, and a personal sense of swing. This outdoor show is free, but ticket reservations are required. And donations are encouraged with those reservations.
— Jon Garelick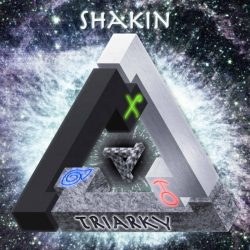 Triarky ( Mimi Rabson, violin; David Harris, tuba; Phil Neighbors, drums)
August 7 at 2 p.m.
Outdoors at the Watertown Veterans' Memorial, on the southwest side of Watertown Square, near the corner of Galen Street and Charles River Road
This show is a reschedule, making up for its rainout on July 3.
Triarky makes infectious, exciting music, with an instrumentation that is probably unique – and has to be heard to be believed. Rabson's amplified violin can wail like Jimi Hendrix and reach back into violin history for hot playing a la Stuff Smith and Sugar Cane Harris. Harris may be better known as a trombonist, but his astonishing chops are applied to amplified tuba in this trio to give it bottom – and then some. Neighbors is a powerful drummer who roots the music in funk, but does a lot more when he gets his solo spots. They'll no doubt do tunes from their 2015 digital album, but new repertoire is promised — a tune inspired by Ethiopian music (a passion of Harris's) and some new Rabson compositions, which never fail to delight. Bring something to sit on, but be warned — the music will make you want to get up and dance.
— Steve Elman
Tim Ray Trio, with Terri Lyne Carrington and John Lockwood
July 10 at 6:30 p.m., Starlight Square, Central Square, Cambridge
Although the Cambridge Jazz Festival will skip this summer, the Cambridge Jazz Foundation, along with Cambridge Arts and producer/creative director Shelley Neill, will present a one-night event featuring the stellar pianist/composer Tim Ray, along with NEA Jazz Master Terri Lyne Carrington and longtime Boston-area bass ace John Lockwood. It all happens at Starlight Square, the outdoor venue — born in COVID times, carved out of a parking lot (at 84 Bishop Allen Drive) — that hosts everything from music, dance, and theater to the Central Square Farmer's Market and services by the nearby St. Paul AME Church. The show will feature music from Ray's 2020 trio release Excursions and Adventures, which featured Carrington along with John Patitucci on bass.
— Evelyn Rosenthal
---
Dance
FilmFest by Rogue Dancer: Dance 101
Viewable now through June
Online viewing
Rogue Dancer has just launched its latest online screendance film festival, Dance 101. This month's festival celebrates films created by student screendance filmmakers in honor of graduation month and the challenges faced by many young artists during this pandemic. Enjoy a variety of new films hailing from the US, Japan, Serbia, UK, and Russian Federation.
— Merli V Guerra
---
Theater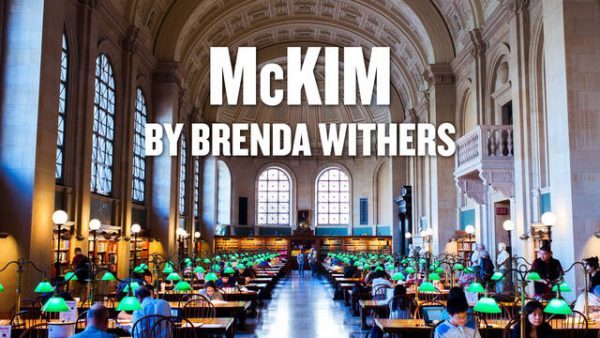 Dream Boston Plays, a new series of short audio plays (15 in number at the moment) produced by the Huntington Theatre Company. Each drama is set at a specific local landmark with one to three characters, and is about six minutes in length. All the productions are available on the Huntington's website, as well as on Apple, Spotify, Google Podcasts, and Stitcher.
The first four entries were By the Rude Bridge by Melinda Lopez; Overture by Kate Snodgrass; McKim by Brenda Withers; and The 54th in '22 by Kirsten Greenidge. "Conceived and commissioned by the Huntington artistic department, the company asked Huntington Playwriting Fellow alumni Greenidge, Snodgrass, Withers, and Lopez to imagine their favorite locations, landmarks, and friends in a future Boston, when people can once again meet and thrive in the city — a vision of a future Boston that is somewhere between dream and reality." Arts Fuse review of Episodes 1 through 5.
Seven additional titles were added to the lineup in July, which included works by local artists John Oluwole ADEkoje, Miranda ADEkoje, J. Sebastián Alberdi, Rosanna Yamagiwa Alfaro, Elle Borders, Patrick Gabridge, and John Kuntz. The local landmarks that serve as settings for this round of audio plays include Franklin Park, Harvard's Memorial Church, the Harvard Art Museums, the Old State House, the Fenway nightclub Machine, Harrison Avenue, and Malcolm X Boulevard.
The new quartet includes works by Pulitzer Prize winner David Lindsay-Abaire, Huntington Playwriting Fellows Masha Obolensky and Jacqui Parker, and writer and actor Kadahj Bennett. The settings for this round include Dorchester Heights in South Boston, Wally's Cafe Jazz Club on Massachusetts Avenue in the South End, Nantasket Beach, and the Minuteman Trail in Concord.
"These four plays think about the future from different vantage points than the previous Dream Boston plays," says Charles Haugland, the Huntington's Director of New Work, "amid the vaccine rollout, the return to in-person school, a rapid housing market, and the return to places in our city we haven't been in a long time."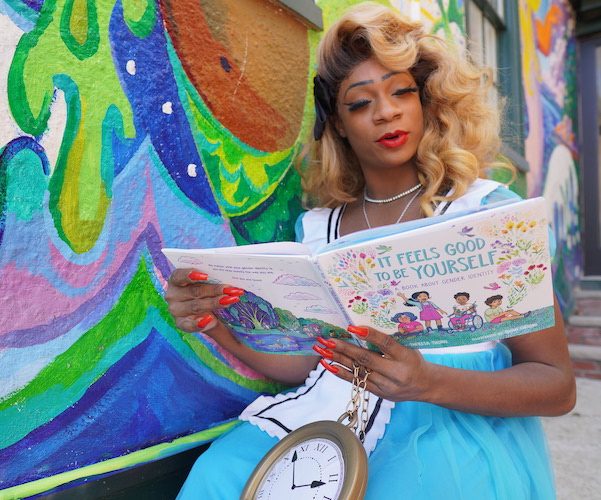 Alice in Rainbowland, a virtual production produced and curated by Ana Masacote through her Queer Bodies in Motion project. Pay-what-you-can tickets with a recommended household price of $15 are available. A virtual premiere celebration featuring a DJ, streaming on demand through June 30.

"Queer Bodies in Motion is a dance project aiming to build awareness of LGBTQ discrimination and celebrate queer identity. This is its debut artistic endeavor, a re-imagining of Alice in Wonderland told through dance, music, and LGBTQ pride. This collaborative show is devised by and highlights queer artists and allies — including dancers, musicians, and the creative community from MA, NY, and RI. This is dedicated to queer youth and community, for the courage to show up."
Who Could Ask for Anything More? The Music of George Gershwin. Music by George Gershwin. Lyrics by Ira Gershwin and DuBose Heyward. Additional lyrics by Ballard MacDonald, Buddy DeSylva, and Gus Kahn. Conceived by Julianne Boyd and Darren R. Cohen. Musical direction by Darren R. Cohen Choreographed by Jeffrey L. Page. Directed by Julianne Boyd. Staged by Barrington Stage at its outdoor production center tent, through July 3.
"Join us in celebrating one of the greatest composers of the 20th century, George Gershwin. Featuring a cast of stellar Broadway singers, this concert will have you asking yourself 'Who Could Ask for Anything More?'"
The Boston Project: Project Resilience, six World Premiere, site-specific, 10-minute plays (monologues) written by local playwrights Fabiola R. Decius, Hortense Gerardo, Paige Monopoli, Nico Pang, Adriana RoCale, and Magda Romanska. Streamed by SpeakEasy Stage Company through June 30.
"The plays were filmed live throughout the city, in such locations as the East Boston waterfront, outside the Hyde Park branch of the Boston Public Library, and at the Ether Statue in the Boston Public Garden. They were then assembled into one cohesive film."
King Lear by William Shakespeare. Directed by Nicole Ricciardi. Staged by Shakespeare & Company at the (outdoor) New Spruce Theatre, from July 2 through August 29.
Christopher Lloyd stars as the monarch who goes mad. W.H. Auden on the Bard's masterpiece: "King Lear, like Hamlet, is peculiarly modern because in both, nature is no longer a home. The sensuous visual world is realized in Aristotle as a universe of things in which man is only one more thing. Augustine's new insight was that man was despairing as just one more thing. The next seven centuries depicted man and nature in the familiar Augustinian Christian tradition. Copernicus set the walls of the house crumbling with a new realization of man's limitations. Pascal's thought is opposed to the early enthusiasm of scientific figures like Bruno and Kepler. There is no new house for man. Infinity must enter the image. In the nineteenth century, man's last home is music." It should be added that, now, via the climate crisis, we are poisoning what is "no longer a home."
Walking Plays: The Greenway Series. an audio play series presented by the Lyric Stage Company of Boston in collaboration with the Rose Kennedy Greenway Conservancy. The Greenway Series begins in July.
The new Greenway Series of Walking Plays will feature three 10-15 minute dramas. The first play, Rosanna Yamagiwa Alfaro's Walking It Off, will premiere in early July. It was directed by Michelle Aguillon. That will be joined mid-month by Hummingbird, written by Kirsten Greenidge and directed by Aguillon.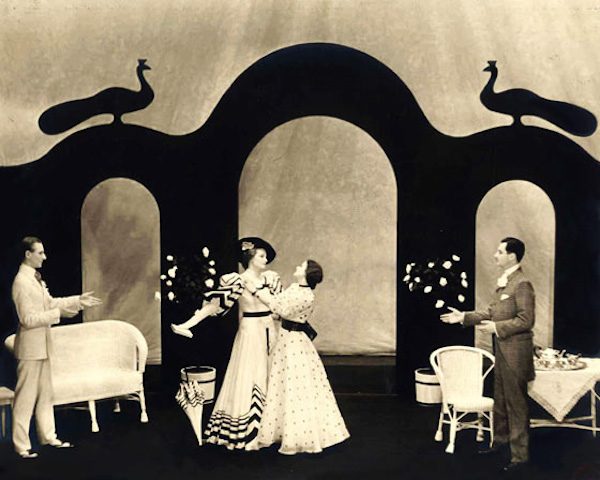 The Importance of Being Earnest by Oscar Wilde. Directed by David Auburn. Staged by the Berkshire Theatre Festival at The Unicorn Theatre, 6 East Street, Stockbridge, MA, through July 10.
A revival of Wilde's comic masterpiece. A theater critic who reviewed the script at its premiere in 1895 put it this way: "All the dramatis personae, from the heroes down to their butlers, talk pure and undiluted Wildese."
Outside on Main: Nine Solo Plays by Black Playwrights. Directed by Wardell Julius Clark, Candis C. Jones, and Awoye Timpo. Featuring plays by Ngozi Anyanwu, France‑Luce Benson, J. Nicole Brooks, Guadalís Del Carmen, Terry Guest, Ike Holter, Zora Howard, NSangou Njikam, and Charly Evon Simpson. Staged by the Williamstown Theater Festival on the Front Lawn of the '62 Center, Williamstown, MA, July 6 through 25.
A world premiere production: "Discover the power and intimacy of the solo play with this series of three shows centering and celebrating Black artists and their voices through theatrical storytelling. Each show consists of three, 30-minute world premieres, created by Black writers and written for actors of color." Guest curated by Tony Award–nominated director and playwright Robert O'Hara.
— Bill Marx
---
Roots and World Music
July is normally a busy time for local salsa music fans thanks to events like the Festival Betances, Tito Puente Music Festival, and the Lowell Folk Festival. None of those are happening in person this year (although the first two have announced plans for virtual editions), which is all the more reason to savor the live sounds of salsero and conguero via the Manolo Mairena y su Pura Vida Banda in the intimate backyard confines of the Reggae Takeova in Dorchester on July 3.
Also helping to fill the outside Latin music void will be a trio of free concerts presented by the Celebrity Series and Nuestra Comunidad at Bartlett Station near Nubian Square. Cuatro master Fabiola Mendez kicks things off with her trio on July 10 at 3 p.m.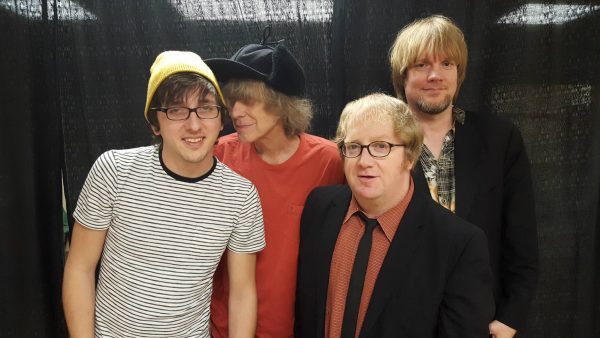 A comic book convention would not normally be high on anyone's list of noteworthy music venues, but the NorthEast ComicCon and Collectibles Extravaganza has often had interesting live entertainment complementing the expected autograph sessions and merch sales. The July 2-4 edition has scored a major coup by booking the first post-lockdown performance by NRBQ, long one of the most wild and eclectic combos around. The band is still anchored by pianist Terry Adams, who is joined by a roster of younger musicians who are more than adept at carrying on the Q's legacy of unpredictability. Making the July 4 noontime outdoor show even sweeter will be opener Barrence Whitfield. Also on hand all weekend at the Boxborough Regency Hotel and Conference Center will be the 86-year old mentalist known as the Amazing Kreskin.
There couldn't be any better news for the local folk scene than this: Club Passim is resuming in-person performances. The intimate venue is understandably taking things slow and safe with limited capacity shows that include a summer edition of the Boston Celtic Music Festival on July 4. Another highlight later in July will likely be The Men From Out of Town, an all-star tribute to Bill Morrissey on July 23. Most shows will continue to be streamed as well. City Winery has shows by veteran songwriters Willie Nile on July 2 and Loudon Wainwright III July 9.
— Noah Schaffer
---
Visual Art
In 1620, on a voyage to what became Plymouth, MA, an ancestor of mine was briefly waylaid when he fell off the Mayflower into the middle of the Atlantic Ocean. Fortunately for the subsequent history of my family, he survived and completed his journey to America. Similarly, the 400th anniversary of his Mayflower voyage was interrupted by the COVID-19 pandemic. But at the Fuller Museum of Crafts, at least, the commemoration resumes.
"Another Crossing: Artists Revisit the Mayflower Voyage opens, slightly off the correct year, on July 2. Like the voyage itself, the exhibition is a transatlantic project, organized by the Fuller in conjunction with two institutions in Plymouth, England: the Plymouth College of Art and The Box. Guest curator Glenn Adamson chose 10 artists to participate. Only 17th-century technology could be used in the art they created.
Two research trips in 2019 brought the artists to Plymouth, England, and Plymouth, Massachusetts, and helped to bond them for the project. The reactions of the artists to the 1620 voyage ranged (on both sides) from determined revisionism to visions of imperialist disaster. The diverse participants include (from the UK) David Clarke, Jasleen Kaur, and Katie Schwab; (from the US) Annette Bellamy, Sonya Clark, Michelle Erickson, Jeffrey Gibson, Jonathan James-Perry (Aquinnah Wampanoag), and Allison Smith. They are joined by the Dutch artist Christine Meinderisma.
Formally trained as a civil engineer and an architect, Virgil Abloh is probably best known as the first American of African descent to be artistic director at a French luxury fashion house. Long known for his development of street wear into high fashion, Abloh became director of Louis Vuitton's menswear collection in 2018. He is also the chief executive officer of Off-White, the Milan-based label he founded in 2012 with rapper Kanye West, whom he met during an internship at Fendi.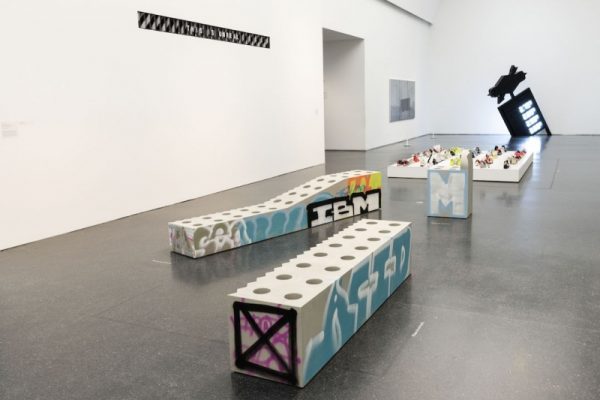 On July 3, Boston's Institute of Contemporary Art opens the first museum exhibition devoted to Abloh's work across many media: fashion, furniture design, graphic work, including album covers and concert designs, and collaborations with contemporary artists and designers, among them celebrated Dutch architect and theorist Rem Koolhaas, whose firm, OMA*AMO, designed the exhibition installation. Booked as a summer blockbuster, the show's Boston run will be complemented by a rack of programs illuminating Abloh's cross-disciplinary interests across visual design and music and a pop-up store called "Church & State" featuring a line of Abloh-ICA products and selections from Abloh's Off-White brand.
After use during the pandemic as a food distribution site, the ICA's East Boston facility, Watershed, opens its 2021 season on July 3 with an installation by Dominican-born artist Firelei Baez, best known for her works exploring how diaspora societies form identity. Baez has reconfigured the Watershed's gallery space into a space that evokes an ancient ruin, as if the place had been flooded by the sea. The installation presents a reconstructed archaeological history of the Caribbean. A project by artist Stephen Hamilton, designed for the Watershed's Harbor Room, explores the uses of indigo, the ancient dye that played an important role in the colonial economy of the region,
Presented as a dialogue between new and old works from the Museum of Fine Arts collection, the MFA's exhibition New Light: Encounters and Connections (opens on July 3) links up 60 pieces, many exhibited for the first time, in 21 "conversations," each with an old and new work. For example, a portrait by Stephen Hamilton using weaving and dying techniques he learned in Nigeria "speaks" with 20th-century textiles from Nigeria and Gee's Bend, AL. Among the contemporary artists on view are Bostonians Dana C. Chandler, Jr., Tomashi Jackson, Eben Haines, and Lavaughn Jenkins.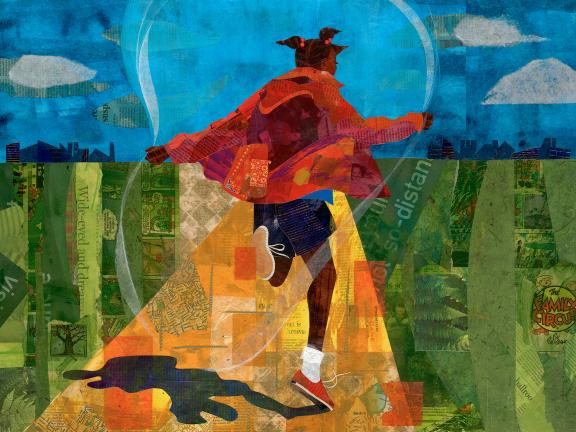 Paper Stories, Layered Dreams: The Art of Ekua Holmes (opens on July 17) focuses on artist Holmes's award-winning children's book illustrations, whose colorful collages draw on the Roxbury-raised artist's own history as a community activist and her interest in Black imagery and representation. The MFA show includes more than 40 works, original illustrations from a number of books on Black history and experience. Free admission to the Museum during the opening weekend of the Holmes show, thanks to Citizens Bank. More details about securing those tickets here.
— Peter Walsh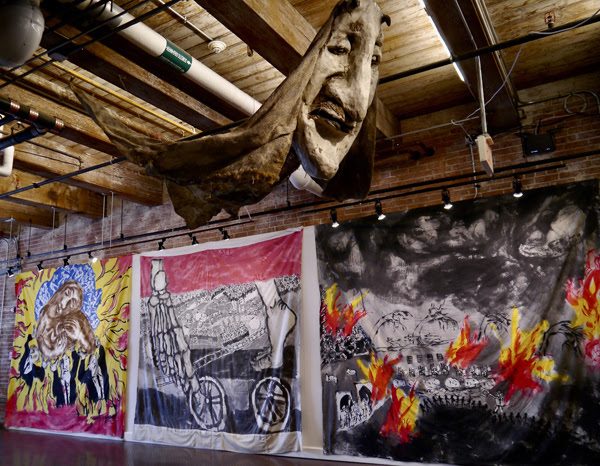 Peter Schumann's Bedsheet Mitigations: paintings on discarded bedsheets, created by the founder of Bread & Puppet Theater. Co-hosted by Midway Gallery and ARTSPEECH. Held at Midway Gallery, Fort Point, Boston. July 1 through August 31.
"Dumpster-retrieved bedsheets contain quantities of secret life, sweet dreams and nightmares of anonymous sleepers' lives in relation to their history and planet." (Peter Schumann, 2021)
During this Covid-era "pause," the Vermont-based Bread & Puppet Theater was gifted a large pile of king-sized bedsheets, discarded by a hotel. Renowned visual and performing artist Peter Schumann, the political puppet theater's founder and artistic director, immediately seized upon this as an opportunity. Not only to paint a scene per day, on a dumped clean slate canvas, but also to take this on as a daily exercise, of freely slapping paint around while grappling with all the issues that have made the world a sh*tty mess."
The selections from Schumann's "Bedsheet Mitigations" series, specifically chosen for this exhibit at Midway, were first revealed at Bread & Puppet's "Insurrection — Lamentation — Resurrection Service" performances, held up in Vermont during their socially distant contact-traced 2020-21 season. Combined with these "mitigation" images will be several other bedsheet pieces on display at Midway, gleaned from Schumann's new "Crucifixion" series, which he started generating in earnest this past February-March.
— Bill Marx
---
Author Events
Virtual Event: Grubbie Debuts: Hanna Halperin with Steve Almond, Something Wild – Porter Square Books
Something Wild: A Novel
June 29 at 7 p.m.
Tickets are Free
"One weekend, sisters Tanya and Nessa Bloom pause their respective adult lives and travel to the Boston suburbs to help their mother pack up and move out of their childhood home. For the first time since they were teenagers sharing a bunk bed over a decade ago, they find themselves in the place where long-kept secrets were born, where jealousy, comfort, anger, forgiveness, and repulsion coexist with the fiercest love and loyalty. What they don't expect is for their visit to expose a new, horrifying truth: their mother, Lorraine, is in a violent relationship."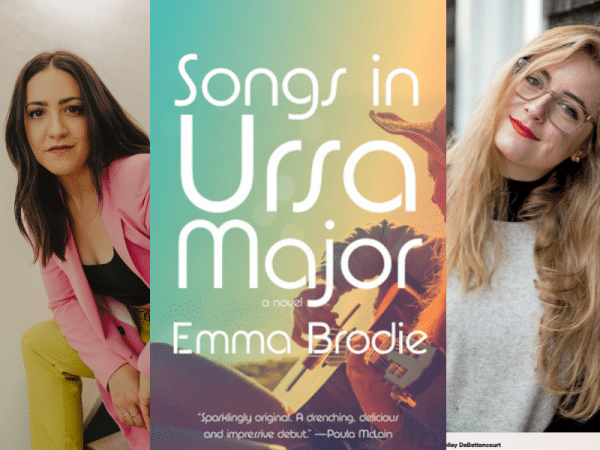 Virtual Event: Emma Brodie with Emma Gray, Songs in Ursa Major — brookline booksmith
June 30 at 7 p.m.
Free
"Shot through with the lyrics, the icons, the lore, the adrenaline of the early 70s music scene, Songs in Ursa Major pulses with romantic longing and asks the question so many female artists must face: What are we willing to sacrifice for our dreams?"
Virtual Event: Francine Prose – Harvard Book Store
The Vixen: A Novel
July 7 at 7 p.m.
Tickets are $31, including copy of book
"At once domestic and political, contemporary and historic, funny and heartbreaking, enlivened by surprising plot turns and passages from Anya's hilariously bad novel, The Vixen illuminates a period of history with eerily striking similarities to the current moment. Meanwhile it asks timeless questions: How do we balance ambition and conscience? What do social mobility and cultural assimilation require us to sacrifice? How do we develop an authentic self, discover a vocation, and learn to live with the mysteries of love, family, art, life and loss?"
An Evening with Boston Poets — brookline booksmith
July 8 at 7 p.m.
Tickets are $19.95 with books, Free without
"Four Boston area poets — Kendra DeColo, Peter Filkins, Danielle Legros Georges, and Peter Shippy — join Brookline Booksmith for an evening of poetry."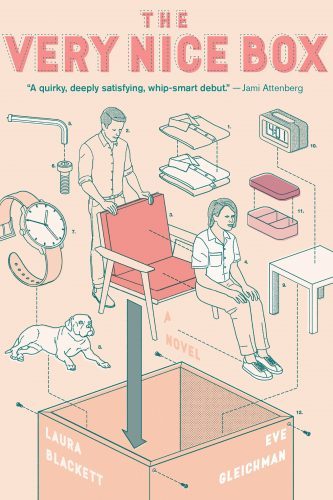 Virtual Event: Laura Blackett and Eve Gleichman with Kristen Arnett, The Very Nice Box — Porter Square Books
July 9 at 7 p.m.
Free, with $5 suggested donation
"The Very Nice Box is a funny, suspenseful debut—with a shocking twist. It's at once a send-up of male entitlement and a big-hearted account of grief, friendship, and trust."
Virtual Event: Kristen Radtke – Harvard Book Store
Seek You: A Journey Through American Loneliness
July 14 at 6 p.m.
Tickets are Free, with $5 suggested donation
"In Seek You, Kristen Radtke's wide-ranging exploration of our inner lives and public selves, Radtke digs into the ways in which we attempt to feel closer to one another, and the distance that remains. Through the lenses of gender and violence, technology and art, Radtke ushers us through a history of loneliness and longing, and shares what feels impossible to share."
— Matt Hanson