By Ed Symkus
Edgar Wright's first documentary looks into why the long-lived, constantly risk-taking, dazzlingly original band Sparks remains relatively unknown.
The Sparks Brothers opens today at the Boston Common 19, Kendall Square, Assembly Row 12 in Somerville, and other cinemas throughout New England.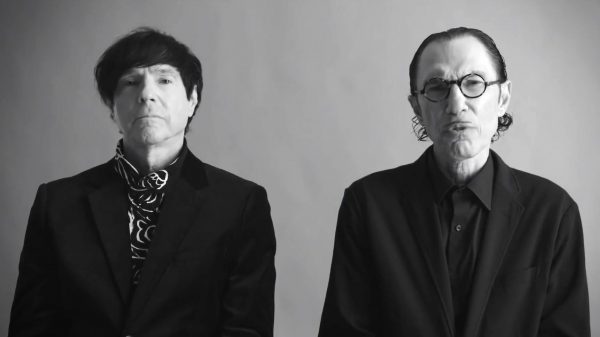 Director Edgar Wright liberally populates his films with his own eclectic musical tastes, with songs that perfectly complement whatever is happening around them. For instance: "Don't Stop Me Now" (Queen) in Shaun of the Dead, "Village Green Preservation Society" (The Kinks) in Hot Fuzz, "Nervous Breakdown" (Eddie Cochran) in Scott Pilgrim vs. the World, "Alabama Song" (The Doors) in The World's End, and "Debora" (T. Rex) in Baby Driver.
No doubt, it was time for Wright to put together a film about music, about eclectic music, about the people who make that eclectic music. And so, we get The Sparks Brothers, a lengthy (135 minutes), fact-packed, eccentric yet accessible documentary about the Mael Brothers — Ron and Russell — who, for the past five decades, have fronted Sparks, a band that evolved and devolved and shape-shifted and changed its style and sound so many times they've inadvertently avoided attracting a mainstream audience.
With 25 studio albums to their credit and a musical road on which they began as a pop band, then became — here's hoping I get the chronology right — a rock band, a dance band, a pop band again, an art-rock band, they are now in the midst of recording album no. 26, a pop band once more.
Told chronologically, but with topics jumping all over the place, the film features a plentiful supply of talking heads — among them, Sparks aficionados Todd Rundgren, Beck, Jane Wiedlin, Weird Al Yankovic, Mike Myers, Patton Oswalt, and Edgar Wright (whose title card reads "fanboy"). But it's all centered around relaxed, casual, sometimes deadpan interviews with the Maels — Russell (now 72), the singer who never stops moving onstage, and his brother Ron (75), the keyboardist who rarely moves (or lets an expression form on his face). These are some of the folks who tell the Sparks story, aided by wild archival concert clips, videos from the early MTV days, and a bit of imaginative animation.
That story starts with them growing up in California — nope, they're not, as so many believe, a British band — playing sports, and grooving to all sorts of rock music (they saw the Beatles perform twice). They started playing in bands in the mid-'60s. An early one was called the Urban Renewal Project, the first to catch some attention was Halfnelson. They couldn't get signed, but they wouldn't give up, and they caught the ear and interest of Rundgren, who would produce their first self-titled album in 1971 on his Bearsville Records. Alas, it was a bust; it led to a name change, first to the Sparks Brothers, then to Sparks, and was reissued with the name Sparks the following year, only to tank again.
There were various radio and TV appearances, a few oddball gigs, but no success. There was another album, A Woofer in Tweeter's Clothing, more experimental in nature, that went nowhere. The band picked up some steam in England, but Bearsville pulled the plug.
A move to London and to Island Records earned them a hit single "This Town Ain't Big Enough for Both of Us" (but only in England), from their superb album Kimono My House. But it seemed that their fate was set. They would start something new, fail commercially, start something different, fail again, then just keep going, wondering why they couldn't crack the American market.
That's the main question of the film. There are some suggestions, many of them by the Maels. Was it because — ensconced within the sizeable output of songs from Ron — there was too much quirky humor? Were the lyrics accompanying his absurdly catchy melodies too opaque? Did the constant switching of musical styles leave listeners expecting one sound but getting another?
At one point, their output of cheery pop turned to angry rock. In short order, they joined forces with disco producer Giorgio Moroder. Then the Go-Go's' Jane Wiedlin joined them on the cheery "Cool Places," which garnered some notice on the fledgling MTV.
Wright catches the Maels talking about their hopes and dreams throughout those days, as well as their disappointments at poor album sales and missed opportunities — they were supposed to be in a film by Jacques Tati, but it never got off the ground (though they did make an uncredited appearance in the preposterous 1977 film Rollercoaster).
But they never stopped trying. Successful, usually wild, big gigs (they played the Hollywood Bowl) begat more albums, but no major sales. Reverting to being a pop band again in 2017, they did reasonably well with the album Hippopotamus, and last year's A Steady Drip, Drip, Drip won critical accolades.
The film doesn't explain how they managed to pay the rent all those lean years, but it strongly suggests that the reason they've persevered is because of their admiration and respect for each other, coupled with their passion for making music. Wright has taken note of that and has fashioned a love letter to and a pop cultural history lesson about the Sparks Brothers … sorry, the Mael Brothers.
---
Ed Symkus has been reviewing films and writing about the arts since 1975. A Boston native and Emerson College graduate, he co-created and co-hosted "Wrestle Radio, USA" on WMSX-AM in Brockton for just shy of five years. He co-wrote the book "Wrestle Radio, USA: Grapplers Speak," went to Woodstock, and has visited the Outer Hebrides, the Lofoten Islands, Anglesey, Mykonos, the Azores, Catalina, Kangaroo Island, and the Isle of Capri with his wife Lisa.
His favorite movie is And Now My Love. His least favorite is Liquid Sky, which he is convinced gave him the flu. He can be seen for five seconds in the film The Witches of Eastwick, staring right at the camera, just like the assistant director told him not to do.