By Sarah Osman
This Italian fairy tale is more whimsical than groundbreaking, but it has all the delights of a day at the beach.
Luca, directed by Enrico Casarosa. Streaming on Disney+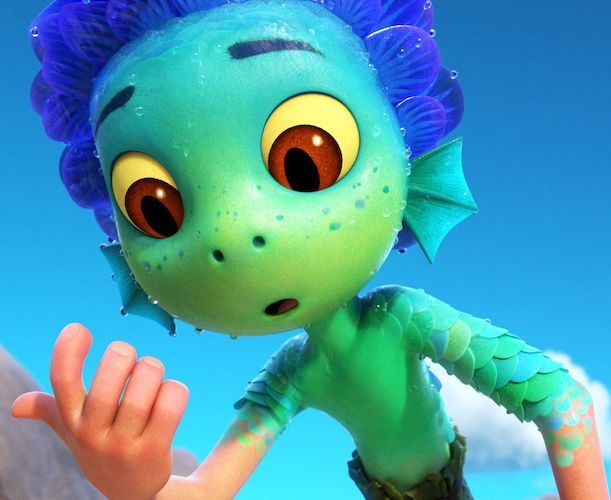 Over the years, Pixar's films have often explored the metaphysics of anthropomorphism. What if things had feelings? What if toys had emotions? (Toy Story) What if fish had passions? (Finding Nemo). Hell, what if feelings had feelings? (Inside Out). At times, the questions were not at all worth asking: what if cars had feelings? Or the company only came up with lackluster answers: what if princesses had feelings? This quest, it could be argued, has divided Pixar's films into two major categories: the great, emotional masterpieces that both parents and their children love (i.e. Coco, Up, Toy Story 3) and the subpar films that are still far better than what most animation studios put out (Monsters University, Onward). Luca, Pixar's latest film, falls into the shallow end of the pool. This Italian fairy tale is more whimsical than groundbreaking. It turns out that the feelings of sea monsters are disappointingly ordinary. What the film has going for it is the beauty and charm of its countryside setting.
Luca follows Luca (Jacob Tremblay), a sea creature of some sort who lives in the Mediterranean with his parents, Daniela (Maya Rudolph) and Lorenzo (Jim Gaffigan). He spends his days herding fish and yearning to be a part of their (the humans) world. We never learn where the sea creatures came from — or their Darwinian bona fides. But it is a fairy tale, so go with the flow. Luca's parents warn Luca about exploring the world up above because the fishermen of Portorosso, the local seaside village, are on the hunt for the scaly creatures.
Just like Ariel in The Little Mermaid, Luca begins to find various means of escaping his fishy fate. One day he discovers that, when he goes on dry land, he turns into a human. He meets his new BFF (or possibly more) Alberto (Jack Dylan Grazer). Alberto is a carefree and adventurous spirit. He soon lures Luca away from his daily chores (a hilarious rock statue is left to watch over the fish) and teaches him all about the world up above. (In case you didn't know, the stars are made of fish). The pair do what any normal pair of teenage boys would do: attempt to build vespas out of random pieces of wood and ride them off of cliffs.
Luca and Alberto's friendship is endearing, and may bring to mind another, far more romantic, film set in the Italian countryside: Call Me By Your Name. It's never announced that Luca is gay, but Pixar doesn't exactly hide away from the parallels one can draw from this coming-of-age story to a coming-out story. Luca is told by his family to hide who he is, to assume that the outside world would never accept him. Then Luca meets someone who tells him to silence that restrictive voice in his head, who provides him with experiences and feelings he's never had before. It's also clear that Alberto himself harbors feelings for Luca: when the pair meet a girl that Luca begins to spend more time with, Alberto becomes incredibly jealous. This straightforward allegory for the LGBTQ+ community is very welcome in a Disney film, given that most of the company's "LGBTQ+" moments have been of the blink-and-you'll-miss them variety. Given the homoerotic tones in Raya and the Last Dragon, Disney/Pixar seems be inching closer to coming up with a proper story arc with a LGBTQ+ character in the lead. But, like most of Luca, this allegory comes off as feel-good fluff. The film never fully explores the intriguing idea at its heart: what happens if sea creatures have very gay feelings for each other?
When Luca's parents discover that he's been sneaking off to the shore with his new buddy, they introduce him to Uncle Ugo (voiced by the incomparable Sacha Baron Cohen). This character is by far one of the strangest and best Pixar has ever created. He's a creature that spends all of his time in the deepest depths of the sea: his insides are see-through, and he rambles on about eating whale carcasses. Ugo gets a delightful post-credit scene, and the next step in his evolution is obvious: a Disney+ series dedicated to Ugo and how he came to be. Informed by his parents that he's going to spend the rest of the summer eating whale carcasses with his uncle, Luca understandably decides to live in Portorosso with Alberto.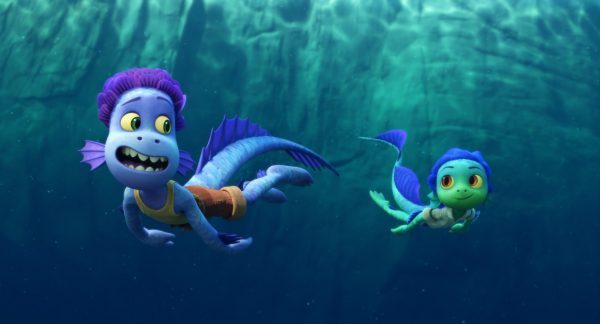 Alberto and Luca's adventures along the stunning Italian seaside borders on travel porn. They eat ice cream, devour pasta, and go on idyllic bike rides. Their lives become a bit more complicated when they meet the feisty Giulia (Emma Berman), who is determined to win an Italian triathlon (swimming, eating pasta, and then a bike ride) against local bully Ercole (voiced by Italian comedian Saverio Raimondo, who is hilarious and the most Italian part of this film). From this point on, the story slips into Fellini territory as the boys learn how to eat pasta and ride a bike and Luca's parents journey to the shore and spray water on unsuspecting neighborhood children in the hopes of revealing their son. These scenes are cute, but they lack the penetrating emotional punch of the best Pixar films.
Also, while Luca is based on director Enrico Casarosa's childhood in the Italian Riviera, the film doesn't feel particularly Italian. The characters speak in the language from time to time, and all of the food made by Giulia's father, a one-armed hunk sure to join the hot animated Dads Hall of Fame, looks delicious. But there isn't a powerful reason that the story had to be set in Italy. Unlike Coco, which was heavily influenced by — and rooted in — Mexican culture, Luca feels a bit rootless. This could have been a choice on Casarosa's part but, for me, Luca would have been better had it included a bit more local culture. The most distinctly homegrown part of the film is its excellent score, which draws on a mix of Italian songs and rhythms.
Luca itself is a bit of a mix. On the one hand, it is fun to watch. Its animation is inspired by the great Hayao Miyazaki and the script provides enough silly moments to appeal to both parents and children. On the other, Disney's The Little Mermaid already answered the (pressing?) question of whether merpeople had feelings. Along with that, Luca's plot falls a bit flat; the proceedings are forced to become a bit convoluted to keep the pastoral adventures coming. Still, in terms of a sweet summer film that will appeal to nearly everyone, Luca is a satisfying calzone.
---
Sarah Mina Osman is a writer living in Los Angeles. She has written for Young Hollywood and High Voltage Magazine. She will be featured in the upcoming anthology Fury: Women's Lived Experiences under the Trump Era.