By Blake Maddux
In her new album, Juliana Hatfield's concerns are comeuppance, self-abasement, and the depravity of those who revel in the power to make decisions that can adversely affect others.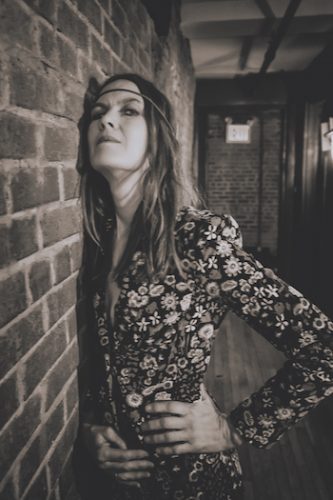 During her six-year tenure with American Laundromat Records, Juliana Hatfield has alternated between covers of her longtime favorite artists, as she did on Sings Olivia Newton-John and Sings The Police, and her own compositions, as she did on — among others — 2019's Weird (click my Arts Fuse review) and Blood, which is now available in formats that include variously colored cassettes and LPs.
There is indeed — please forgive me for this as I might not forgive myself — blood on these tracks. Sometimes Hatfield utters the word itself, other times she conjures up images that are unavoidably sanguinary. Among her concerns: comeuppance, self-abasement, and the depravity of those who who revel in the power to make decisions that can adversely affect others.
Musically, the longtime Cambridge resident handles all the instruments that appear on the record, while collaborator Jed Davis helps out on keys and contributes drum programming. The beats and textures of the songs are of a manifestly '80s variety.
Hatfield spoke to me by phone about Blood, who else she might cover someday (or not), and how she's been handling this damn pandemic.
---
The Arts Fuse: What is it about blood that inspired you to name your album after it?
Juliana Hatfield: Well, I was just listening through to the songs and it just seems like there was a lot of blood all over the songs. It just seemed like kind of a theme, even in subtle ways that you might not notice. There's talk of crashing a car, that's kind of metaphorical. Then there's some more outright violence that's also metaphorical.
AF: So you had written the songs and then noticed all of the blood. You didn't start out with blood in mind.
JH: Correct. That is correct. I don't usually have a theme or a concept when I start working. I just start writing and then the themes will become apparent later on after I look at the whole of a project. I'm just writing about what I'm thinking about.
AF: Then I presume that the artwork was inspired by your decision to call the album Blood.
JH: Wrong! (laughs) It was a drawing that I'd done, a black-and-white drawing from a few years ago. I have a lot of drawings lying around, and after the album was done I was looking through my artwork and I found that. It just seemed like it fit really well. That was just happenstance. It was a black-and-white drawing and then Jed Davis, who designed the album artwork, colored it and added the blood bubbles trailing behind her wrists.
AF: Is Jed Davis, who is the only other musician credited on the album, someone whom you worked with previously or did you team up specifically for this album?
JH: He designed another album of mine from a couple of years ago called Weird. He did the album artwork for that. And we made a video together for one of the songs off that album. He animated a bunch of drawings that I had made for the song "All Right, Yeah."
He also obviously does music, and I did this single for Record Store Day last year. It was two songs on a seven-inch single. I think that was our first musical collaboration. I took some demos that I'd made and he spruced them up a bit with some extra stuff.
AF: You mentioned violence before. How do you think that worked its way into several of Blood's songs?
JH: You can just turn on the news and look at how many mass shootings there have been in the past week. It's a violent culture that we live in. Look at all the people being killed by cops, all the people being pepper-sprayed for no reason, people shooting up innocent people. All you basically have to do is wake up and you can feel the violence all around you. So I think that gets into my psyche and my thinking and feeling.
And the head of the last administration of government was such a hateful, spiteful, nasty person. Full of anger, misogyny, racism, and all that other stuff. The album was a reaction to the last four years, I think. Then you have the awful past year with all the death and dying from the pandemic. I was reacting to things that were going on in the world and the country.
AF: Rather than recording an album's worth of covers by a single artist, as you have with Olivia Newton-John and The Police in recent years, which album by any artist of your choice might you like to cover in its entirety?
JH: Oh shoot, I just had an idea the other day about that. I thought of an album that I would record. Now I can't remember it. Damn. I don't know…. Nothing is coming to my head. I like the idea of doing that though. Maybe the first Weezer album. The Blue Album.
AF: Are there any specific artists whom you would be particularly honored to have cover your songs?
JH: Hmm…. I can't even imagine anyone covering my songs. I can't imagine anyone who would want to. It would be cool if maybe a guy did it, but I really don't think it's going to happen. Umm … okay, Taylor Swift could cover my songs I think. How about that? Or Madonna. How about Madonna?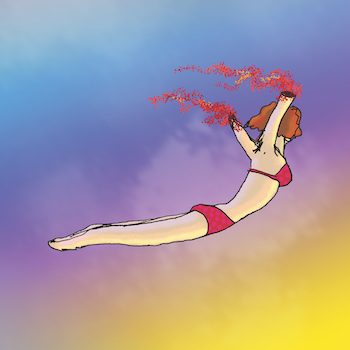 AF: When was your last live performance?
JH: It was Valentine's Day, 2020. February 14 was the last date of my last tour. I remember the first thing that seemed like a serious thing was when they canceled South by Southwest. I did my last date of a month-long tour on February 14 and then I went home.
AF: Did you not have any shows canceled?
JH: There was actually one show that I was set to do with Liz Phair in Florida. That was the one thing I had booked. I was going to fly down and open for Liz Phair at a festival. That was canceled.
AF: Has performing entire albums via livestreams at Q Division Studios helped fill the void?
JH: Yeah, it's been good for me to just keep myself in shape musically. Keeping my brain engaged in musical activity now that my album's done. I'm not working on another one yet, so it's just good for me to keep the musical muscles in shape.
AF: Have you discovered anything about the albums that you didn't notice before as you revisit them in such a manner?
JH: Yeah, I think a lot of the stuff has pleasantly surprised me. I don't usually listen to my old music. I like the stuff better than I thought I would. I'm really self-critical, but at this point I'm kind of proud of what I've done. I think there's a lot of really good recordings and songs. So it's been really nice to go back and feel like, "Wow, I did okay. I didn't totally waste my life."
AF: Why do you think that those who decide such things invited you to participate in the post-Election Day special of Full Frontal with Samantha Bee?
JH: Just 'cause I'm so awesome and cool. I'm badass! I don't know why. I don't care. I'm just glad they did.
---
Blake Maddux is a freelance journalist who regularly contributes to the Arts Fuse, the Somerville Times, and the Beverly Citizen. He has also written for DigBoston, the ARTery, Lynn Happens, the Providence Journal, The Onion's A.V. Club, and the Columbus Dispatch. A native Ohioan, he moved to Boston in 2002 and currently lives with his wife and one-year-old twins–Elliot Samuel and Xander Jackson–in Salem, Massachusetts.