By Ralph P. Locke
Attention is being paid today to talented composers who have been sidelined or disdained because of their race, ethnicity, religion, or sexual orientation. Reynaldo Hahn qualifies on several counts.
Reynaldo Hahn: L'Île du rêve (1898): Hélène Guilmette (Mahénu), Cyrille Dubois (Georges/"Loti"), Anaïk Morel (Princess Oréna), Artavazd Sargsyan (Tsen-Lee), Ludivine Gombert (Téria, Faïmana), Thomas Dolié (Taïrapa, Henri). Munich Radio Orchestra, Choeur du Concert Spirituel, cond. Hervé Niquet. Bru Zane 1042 [1 CD] 61 minutes.
Reynaldo Hahn: Ô mon bel inconnu (1933): Véronique Gens (Antoinette), Olivia Doray (Marie-Anne), Éléonore Pancrazi (Félicie), Carl Ghazarossian (Jean-Paul, Hilarion), Yoann Dubruque (Claude), Thomas Dolié (Prosper), Jean-Christophe Lanièce (Victor). Orchestre National Avignon-Provence, cond. Samuel Jean. Bru Zane BZ 1043 [1 CD] 61 minutes.
Click here (L'Île du rêve) and here (Ô mon bel inconnu) to purchase or to hear the beginning of each track.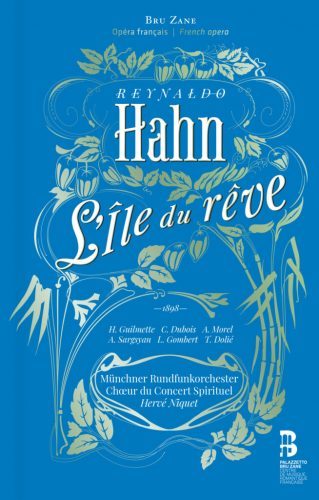 How do you solve a problem like Reynaldo? That Broadway-ish thought occurred to me as I listened to two world-premiere recordings of important stage works by Reynaldo Hahn (1874-1947), a composer who, though a near-lifelong Parisian, tends to be left unmentioned in many histories and surveys of French music, even though he wrote some songs that are greatly beloved today by singers and vocal-music lovers around the world.
(You haven't heard of him? Try the neo-Baroque "À Chloris" in magical recordings by soprano Véronique Gens, countertenor Philippe Jaroussky, or — accompanying herself at the piano at home, during the pandemic, at the request of Oprah Winfrey — mezzo Joyce DiDonato.)
The reason for the Reynaldo Problem is partly personal. He was born abroad (to a Venezuelan mother and a German-Jewish father) and didn't acquire French citizenship until age 34.He had thus been ineligible to enter the important Prix de Rome competition for young composers, whose winner was given the opportunity to study and compose for two years in Italy and, upon returning to France, would be given a contract for a short opera at a governmentally supported opera house.
Fortunately, Jules Massenet (who had taught Hahn privately and recognized his immense talent) managed to get him a contract for a short-ish opera at one of those prestigious theaters, namely the Opéra-Comique. The result was L'Île du rêve, first performed in 1898, when the composer was not quite 24. (He had begun the work at 17!) This is the first of two brand-new Hahn recordings that were recently sent to me for review, and that have been delighting me daily.
Hahn may also suffer from being known best for having written those beloved songs because they are part of what is often considered a minor genre in the classical-music world. Another problem is that he is often thought of as a kind of appendage to Marcel Proust, whose lover and friend he was at various times. In addition, some contemporaries thought of him as being vaguely exotic because of his family background. (Perhaps this is why they often referred to him by his first name — as I myself did at the outset.)
Most damaging, at least in the eyes of recent and current academics and other gatekeepers of "serious music," Hahn kept himself far from the modernism that overtook much of the classical-music world from around 1920 onward. When Schoenberg was writing atonal and then twelve-tone pieces and Stravinsky was developing a tonally and rhythmically disconcerting style in works such as the Octet, Hahn turned to writing musical comedies very similar in manner to those by, say, Jerome Kern. This required him, or allowed him, to lighten his style and make it even more tuneful and dancelike than before, as can be seen in Ô mon bel inconnu (1933), which is the other new Hahn CD I've been spinning this past week.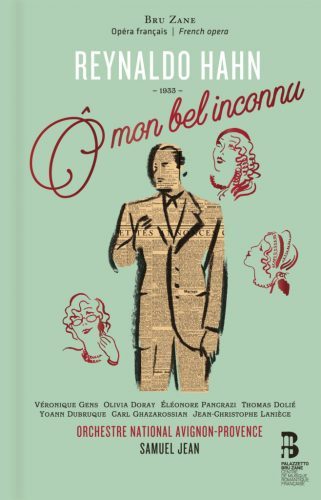 Let's start with that remarkable first opera. L'Île du rêve is in three short acts and lasts barely an hour. It uses a libretto (by Georges Hartmann and André Alexandre) based on a once-popular novel, Le Mariage de Loti, by the widely read French writer who went under the pen ame of Pierre Loti. It tells of a sailor from Brittany who spends some months on a Polynesian island with a lovely young woman name Mahénu (Rarahu in the novel), but then leaves her — much as Pinkerton would leave his Japanese beloved Cio-Cio-San a few years later in Puccini's Madama Butterfly. (Both works were preceded by a highly effective opera with a similar plot: André Messager's Madame Chrysanthème, 1893, based on a different Loti novel.)
The music for L'Île du rêve is wonderfully colorful and varied: from sweetly modal and supposedly primitive prayers in the beginning of Acts 1 and 3 to lively, comical music for a wealthy, self-important Chinese suitor Tsen-Lee (whom Mahénu spurns quite casually, much as Cio-Cio-San will do with Prince Yamadori). The three love duets for Mahénu and "Loti" (real name Georges de Kerven) are short but very involving.
For further contrast, we encounter, in Act 2, Mahénu's aged father, who is reading from what seems a novelized version of the Bible ("Adam opened his eyes; she was beside him, fair, pure and smiling: Eve") to beautiful contrapuntal music clearly inspired by sacred works of Bach and Handel. Mahénu is given liquid passages of coloratura in the beginning of Act 3 to show us how exquisite she is.
The third-act love duet, where Loti threatens to leave Mahénu behind but then agrees to have her follow him in another ship, works up quite a head of steam. Hahn was clearly capable of creating real dramatic intensity, not least when the performers are as skillful as those in this recording.
I must single out soprano Helène Guilmette and tenor Cyrille Dubois as the two lovers for their faultless vocalizing, well tailored to serve the plot and sung words. The French chorus and Munich orchestra are conducted alertly by Hervé Niquet (better known for his recordings of early music). You can get a sense of the range of styles in the work by watching this short trailer:
What a contrast when I popped the other CD into my computer! Ô mon bel inconnu uses a cheeky text by the renowned actor and playwright Sacha Guitry and tells what happens when Prosper, a middle-aged (and, as his name hints, wealthy) père de famille, bored with his life, writes a "personal" ad in the newspaper asking for women to write to him so that (the rest is left unstated).
Prosper receives disguised replies from his wife, his daughter, and the family maid, all of whom are yearning for something more in life. Recognizing their handwriting, he invites them individually to a seaside vacation in Biarritz, to see how things will play out. In the end, he and his wife reconcile, the daughter pairs up happily with a young man whom she had met in the family's hat shop (they had previously sung a witty duet together, spelling out words by naming the letters: "M-E" in French sounds like aimé!), and the maid pairs up with the hotel manager.
My brief summary gives little sense of the brilliantly worded text, which wallows in considerable wordplay, sometimes involving extensive rhyme and half-rhyme. For example, in the wonderful "Let's all go away" ensemble that ends Act 2, Prosper utters this flagrant lie: "I might go and spend my week [s'maine] with my cousin germain [i.e., male first cousin]… Unless I go to Saint-Germain… With my little girl-cousin Germaine!"
Don't worry, the extensive spoken dialogue is not included on the recording, though it's all printed in the smallish hardcover book that comes with the CD. So you can bounce from one sprightly number to the next without minutes of chatter. It is easy to enjoy, as in Hahn's Polynesian opera, the variety of styles that he invokes as the work goes along. Again, there's a lovely trailer:
The performances are generally superb, including an "I'm going to be naughty" number from the aforementioned Véronique Gens or two superbly limned songs from Éléonore Pancrazi, who, as the maid Félicie, brings much "spoken" inflection to her singing while maintaining a firm core of sound and gorgeously controlled quick vibrato.
The one weak link is Thomas Dolié, who, though he conveys well the changing emotions of The Father/Husband, is frequently unclear in pitch and even borders on gruff shouting. What might work in the theater becomes tiresome on a recording, meant for repeated listening. Besides, with a composer as attuned to melodic charm and grace (and touches of sadness) as Hahn, why not glory in the specific pitches?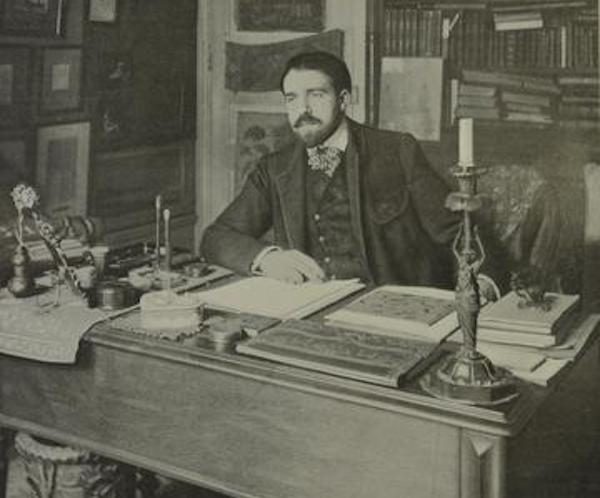 There are a number of sides to this puzzling composer, as performers nowadays have begun to reveal. For example, there are no fewer than three recordings of his big collection of short piano pieces Le Rossignol éperdu (The Frantic Nightingale), including one by the renowned Earl Wild. And his piano quartet and piano quintet have been praised as eminently worthy to be performed alongside standard works in those genres by Mozart, Schumann, Brahms, Dvořák, and Fauré.
One more thing: Hahn suffered at times from what we would call anti-gay prejudice. An opening-night review of L'Île du rêve (by the successful opera composer Alfred Bruneau) included what music historian Vincent Giroud describes as "malevolent allusions to Hahn's homosexuality": Bruneau found that the work exuded an "effeminate limpness," aside from just a few "virile" moments.
Many performers and concert organizers today are looking into composers who have been sidelined or disdained because of their race, ethnicity, religion, or sexual orientation. Hahn qualifies on several counts. And these two fine recordings, to my mind, prove his worth at least as much as do his wondrous songs.
---
Ralph P. Locke is emeritus professor of musicology at the University of Rochester's Eastman School of Music. Six of his articles have won the ASCAP-Deems Taylor Award for excellence in writing about music. His most recent two books are Musical Exoticism: Images and Reflections and Music and the Exotic from the Renaissance to Mozart (both Cambridge University Press). Both are now available in paperback; the second, also as an e-book. Ralph Locke also contributes to American Record Guide and to the online arts-magazines New York Arts, Opera Today, and The Boston Musical Intelligencer. His articles have appeared in major scholarly journals, in Oxford Music Online (Grove Dictionary), and in the program books of major opera houses, e.g., Santa Fe (New Mexico), Wexford (Ireland), Glyndebourne, Covent Garden, and the Bavarian State Opera (Munich).