By Jonathan Blumhofer
The San Francisco Symphony is a model of complexity: tonally warm but texturally clear; rhythmically on edge but never abrasive in character; beautifully blended throughout.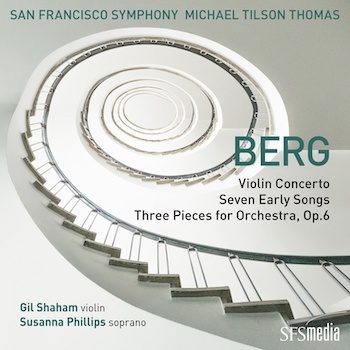 Back in 2017, Michael Tilson Thomas and the San Francisco Symphony (SFS) released an unexpected single (of a sort): Alban Berg's Three Pieces for Orchestra. The twenty-minute-long score is an MTT specialty, as the performance demonstrated; at the time, I admired the reading's mix of sumptuousness and clarity. Now, that Three Pieces is back as the capstone to a full, all-Berg disc from MTT and the SFS.
It's aged well. The first movement is strongly etched, the SFS drawing out the inherent mystery of the quiet moments while holding nothing back from its climactic assertions. In the second, the music's lilting rhythms stand out and the passage in which the waltz gestures unfold into the coda is lucidly done. The closing march is taut and swaggering, featuring some terrific brass playing.
Indeed, the SFS's ensemble is a model of complexity: tonally warm but texturally clear; rhythmically on edge but never abrasive in character; beautifully blended throughout. Their playing fits MTT's approach to this piece (and to Berg, more generally) quite well. Interpretively, these Three Pieces are plusher than not. But they don't want for personality and, to be sure, it's striking to hear such a potent elucidation of Mahler's influence on Berg's style.
Mahler connections also come to bear in the disc's opener, Berg's 1935 Violin Concerto. Written as a memorial to Manon Gropius, the daughter of Mahler's widow, Alma, and her second husband, Walter Gropius, the Concerto's a piece that famously marries tonality (partly through quotations of a J. S. Bach chorale) and Arnold Schoenberg's 12-tone method.
The soloist in this performance is Gil Shaham and he sounds absolutely wonderful, playing with pure tone and spotless intonation. There's no question he's got the character of the music in his fingers: the first-movement Allegretto dances amiably, while the cadenza that opens the second burns white-hot.
So, too, does the SFS. Theirs is a performance that's full of pristinely-executed little details: the cleanly-voiced chords in the first movement's opening that seem to allude to jazz; the shadowy character of that movement's waltzing lines; the beautifully-voiced second-movement chorale; the discreet touches of Berg's orchestration that sparkle; the radiantly-voiced final cadence.
There's so much going right in this performance that one can overlook some curiously broad tempos from MTT. Nothing's egregious – at twenty-nine minutes, the whole performance clocks in at maybe just two or three over the average – but moments in the first movement feel a hair restrained and the turbulence of the finale's Allegro episodes could move more precipitously.
Even so, this is a reading that ably draws out the Concerto's bittersweet, nostalgic qualities.
Filling out the album is a performance of Berg's Seven Early Songs with soprano Susanna Phillips. Written in the first decade of the 1900s and orchestrated in 1928, they show Berg in full, late-Romantic mode, channeling Brahms, Strauss, and Wolf.
Phillips has a lovely instrument, highlighted by an even tone across her range, excellent intonation, and fine diction. She's at her best in the last three lieder – settings of Johannes Schlaf's "Im Zimmer," Otto Erich Hartleben's "Liebesode," and Paul Hohenberg's "Sommertage," respectively – each of which are imbued with a welcome sense of shape and, in the last, some lively rhythmic energy.
In the first four songs, though, her singing is too understated: the music would benefit from greater contrasts of dynamics as well as a higher pitch of emotional intensity and investment.
Regardless, MTT and the SFS are in fine fettle throughout. Tempos move smartly and the Songs' iridescent scoring gleams.
---
Jonathan Blumhofer is a composer and violist who has been active in the greater Boston area since 2004. His music has received numerous awards and been performed by various ensembles, including the American Composers Orchestra, Kiev Philharmonic, Camerata Chicago, Xanthos Ensemble, and Juventas New Music Group. Since receiving his doctorate from Boston University in 2010, Jon has taught at Clark University, Worcester Polytechnic Institute, and online for the University of Phoenix, in addition to writing music criticism for the Worcester Telegram & Gazette.