By Alex Szeptycki
This is a sophomore album that showcases an artist's desire to grow beyond his initial success.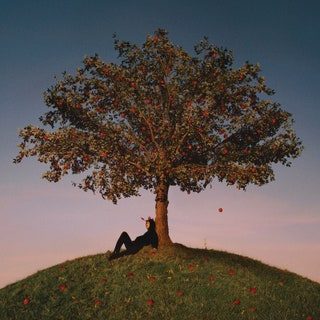 When UK rapper slowthai burst onto the scene, his debut album, Nothing Great About Britain, was remarkably self-assured. The sound from this punk-flavored offshoot of the UK Grime scene was loud as it was brash, packed to the brim with hard-hitting beats and witty, confident verses, its targets sitting in the uneasy landscape of a post-Brexit-vote UK. Now, after a year and a half, slowthai is back with Tyron, an album split in two. In one half, slowthai — spitting aggressively over high energy beats — continues down his earlier track. On the other, the rapper tones himself down and pursues a darker, more confessional approach.
Tyron opens in familiar territory, providing lots of cacophony. "Rise and shine let's get it," slowthai raps over the bleak, menacing instrumental of "45 SMOKE." It's as if he's working hard to pump himself up. The rapper's rhymes are deeply entrenched in UK Grime culture; they are densely packed with harsh wit, slang-laden salvos, and the occasional soccer reference. The first side of the record, seven tracks, finds the rapper in his comfort zone.
This collection of banger beats makes for a perfect match for slowthai's eclectic delivery. He skillfully, if erratically, changes his delivery and pitch, ranging from an open, smooth flow to a pinched, fast-paced yelp. "MAZZA" showcases his full dynamic range. The rapper's opening hook, "Make the place look like a murder scene/when I make moves I'm a money fiend," drips with excessive braggadocio and confidence. But as the track progresses, his voice becomes higher, more cramped and urgent, and he raps "gin and tonic I'm a bigger topic/Bigger pockets I can't close my wallet." The singer may be boasting, but there's a desperate fervor to his words. A solid guest contribution from New York rapper A$AP Rocky helps ground the proceedings — but slowthai remains the center of attention.
Tyron's first side is about more than swagger. There's a good deal of anger and turmoil here, but it doesn't have the cohesion and direction of his debut. That is not to say there isn't plenty of potency. "VEX" takes a stab at the malaise of social media. Slowthai strips away perceptions of celebrity glamor, rapping "Ain't the love of your life I'm just the guy with pills/Sleepless nights, get cold chills/And a peaceful mind, been tortured still." The performer's veneer begins to show some cracks during the track — even if he is intent on keeping up appearances.
For the most part, this first side delivers the rapper's meat and potatoes. Slowthai has made songs like this for ages, and is very good at it. It's a consistent batch of tunes, if at times uninspired. His confidence with this format keeps things flowing; for instance, the transition from "VEX" to the brief track "WOT" is a perfectly executed beat switch. Mordant, claustrophobic passages suddenly give way to a bright, skittish synth line. On "CANCELLED," the rapper takes aim at glitzy award shows, while "DEAD" serves up a motivational slurry of bars. These tracks aren't bad by any means, but oftentimes they settle for predictable choices. A sameness creeps into this leg of the album.
Halfway through the record, slowthai switches it up. "PLAY WITH FIRE," starts off as another brash affair, but taken to an extreme. "'Soft lad stop acting like a bitch'/I wish I pressed skip, everything is negative," he raps, questioning the outsized personality that fueled the previous tracks. The song closes with slowthai quietly monologuing: "I'm happy to be the fucking flower boy." This tune is followed by "i tried," which is an instrumental and thematic change of pace. Soul samples mix with soft guitars as slowthai shifts to a sadder, more reflective tone. He closes with "I've got a sickness and I'm dealing with it/It feels like I'm sinking all of the time" — this sense of despair dominates on Tyron's second side.
The rest of the record draws on slowthai's vulnerability; he is struggling to comes to terms with his anxieties about his mental health. "terms" depicts the rapper's grappling with toxic aspects of his life. "Smokin' my troubles away/my early grave, don't resuscitate," he raps over a ghostly trap beat, fighting to break a cycle. The interplay of guest artists Dominic Fike and Denzel Curry adds another affecting layer; their alternating sung and spoken word contributions are fitting accompaniments to slowthai's struggle.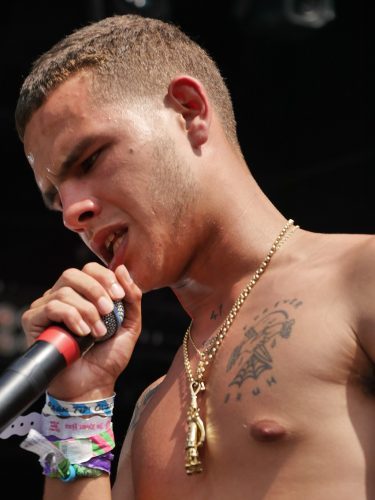 "nhs," another highlight, chronicles the rapper's effort to acknowledge moments of depression. A distorted hook drones "I was in my head, feelin' dead, feelin' microwaved" before slowthai breaks into a stream-of-consciousness flow, mixing happy moments with episodes of sadness.The wordplay winds up becoming repetitive, but the performance is saved by the rapper's honesty with himself: "Try breathing, you might find freedom/Instead of squeezing up your buttocks tryna hold your shit in."
Slowthai doesn't always sound particularly comfortable with introspection. The flow of his delivery does not always mesh with the mellowed-out instrumentals. Nowhere is this clearer than "push." Slowthai is back in aggressive mode, trying to push aside feelings of defeat. The soft plucked guitars and spare trap beat, however, are pushed to the side by slowthai's harsher flow.
On the other hand, slowthai's energy can often be an effective counterpoint to the withdrawn instrumentals and dedication to self-examination. Take "adhd," the rapper's most personal song to date and perhaps his best yet. It's an autobiographical account of his battle with ADHD; slowthai sadly chronicles the ways the condition has affected his life, "Tryna protect so i project/Deflect and they call it self defense." Pressure slowly builds as the song progresses. Slowthai finally explodes with frustration in the third verse. "You can't be my friend, living and I'm dead/Caught in Charlotte's web, I can't feel myself," he raps, his voice verges on breaking. The fury flips the track on its head, adding yet another layer to slowthai's complex persona. The tune's incisive words cap a refreshingly honest series of tracks.
Balancing taking refuge in the past with taking on change for the future is hard for an artist, especially early in a career. On Tyron, slowthai tries to strike an equilibrium — by separating what he has done from where he is trying to go. The first half offers a solid if unspectacular run of songs. This is followed by a quieter journey, one where slowthai attempts to tap into his vulnerability. He just manages to pull this two-sided strategy off, making good on his desire to grow beyond his initial success.
---
Alex Szeptycki is a writer from Charlottesville, VA. He recently graduated from Stanford University, majoring in American Studies with a focus in contemporary art and pop culture. He's currently working as a freelance writer at the Arts Fuse while navigating post-grad life in a pandemic.