By Chelsea Spear
Nashville songwriter Aimee Mayo's memoir offers an eye-opening perspective on the problematic treatment of women in the country music industry.
Talking to the Sky: A Memoir of Living My Best Life in a Shit Show by Aimee Mayo. Little Blue Typewriter Press, 296 pages, $18.95.
Buy on Bookshop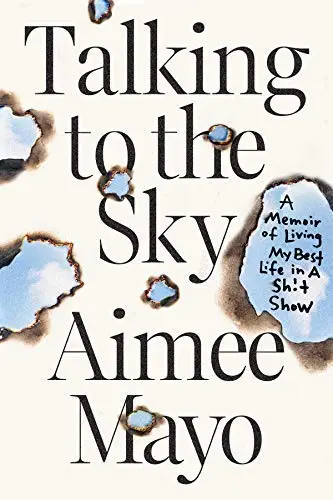 If Aimee Mayo's life were a country song, it would rival any of the troubles on Dolly Parton's early records. The writer was brought up in an unstable family, accidentally burned her home down, and then survived a violent marriage — all before she turned 25. Mayo drew on these experiences when she became a Nashville songwriter: the appeal of her lyrics made her one of the most successful and well-respected writers in contemporary country music. Mayo's new memoir, Talking to the Sky, guides readers through the tragedies and tribulations of her formative years while also underlining the talent and hard work that paved the way for her triumphs.
Any good songwriter knows how to open a tune with an indelible image. Mayo brings this know-how to the printed page: "The only childhood Christmas I remember is the one that never came." Talking to the Sky chronicles her parents' turbulent relationship from a child's-eye view. She hones in on her father, the charismatic Danny Mayo. Mayo Sr. would eventually make a living by writing songs for bands like Alabama and Pirates of the Mississippi, but Aimee knew him as a lovable scoundrel who always had a get rich quick scheme up his sleeve. Danny's jobs and entrepreneurial plans — as a demolition derby driver, the curator of Elvis Presley's station wagon, the owner of a chain of video stores, and a concert promoter, among others — display a whimsical haplessness.
Aimee's parents split when she was very young. The cycle of domestic abuse is drawn with schematic detail: from her father's violent mood swings to her mother's long-term relationship with an angry man named Mike. The latter takes the initiative when it comes to disciplining the kids, effectively gaslighting Aimee ("she's so dramatic, all I asked was to see her grades"), and justifying his actions ("somebody's got to discipline these kids and Danny sure as hell ain't gonna do it"). Mayo skillfully captures the anxiety generated by her mother's precarious financial situation as well as the delusions of the "honeymoon period" in an abusive relationship.
When Mayo meets country singer Dustin Hitchins at her waitressing job, her observation that "I didn't see the detour my life was about to take" takes on a mordant irony. Even before their relationship goes sour, Dustin's grooming behavior and Mayo's inexperience with men suggests that the match would be explosive. The pair initially came together to write. But Dustin's frequent compliments ("girl, I could listen to your southern accent all night long"), a means to escalate the relationship before Aimee was ready to make the next move, foreshadows the scary turbulence of Mayo's first marriage. In writing about this difficult period of her life, Mayo is blessed with the gift of finding succinct details that conjure up the threatening trap she had fallen into. Anyone looking over their home would sense things were off: "It was easy to see something was wrong with our marriage the minute you walked into our apartment. There was a Johnny Cash poster hanging waist level in the hall, and a full-length mirror hung too low on our bathroom door. They were there to cover the fist-shaped holes."
Dustin's possessiveness revved-up Aimee's drive to pursue a career as a songwriter: "If I had a hit song, that would be my golden ticket to get the hell away from him." Finally, she lands a publishing deal after handing in a solid songwriting demo. She is able to escape her marriage. Mayo's descriptions of songwriting and recording sessions that followed make them seem less magical (as publicists would have it) and more like work. Revealingly, she puts as much time into the admin side of songwriting — like booking rooms and finding partners who will bring out the best in her — as she does in writing new songs. I especially loved reading about how she made up lists of song titles and then combed through her journals for material. She is refreshingly honest about the nuts and bolts of making a tune, pointing out how she habitually collaborates with other songwriters to turn her life experiences into gold records.
Talking to the Sky deals with traumatic subject matter. While other celebrities might take the opportunity to sensationalize this story into a bestseller or bludgeon it into a political statement, Mayo looks for grace and humor during and after hard times. She often deals with frightening moments in her life with one-liners or memorable phrases. ("My ivory cotton sheets looked like white cheetah print. They were splattered with spots of ink and smudges of mascara that dropped in tears of inspiration and exhaustion.") Still, this memoir and last year's She Come By It Natural (Arts Fuse review) offer eye-opening perspectives on the problematic treatment of women in the country music industry.
---
Chelsea Spear has written for the Brattle Theatre's Film Notes blog, the Gay & Lesbian Review, and Crooked Marquee. She lives in Boston.