By Paul Robicheau
This surprisingly seamless record belies its logistical shuffles and players' cultural differences with a relaxed sonic identity.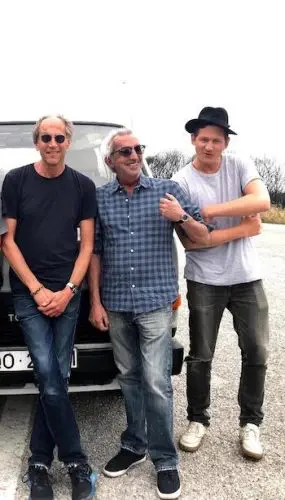 Before the pandemic made file-sharing a rather common way for bands to safely record, the Burnt Pines launched a trans-continental partnership between Boston and Portugal that's quietly yielded a folk-pop debut fit for wintertime musings.
The path to the band's self-titled album (The Burnt Pines on Adraela Records) stretches back to an old friendship forged at Berklee College of Music by Illinois-bred guitarist Aaron Flanders and classically trained Portuguese keyboardist Miguel Sa Pessoa. But the Burnt Pines didn't take root until Danish-American singer and filmmaker Kris Skovmand moved to Lisbon, where he shared Sa Pessoa's studio space and collaborated with Flanders on the music platform Taxi. The three met up when Flanders took a 2018 trip to Portugal, then focused on swapping files between their studios in Lisbon and Brookline.
Skovmand proved adept at writing lyrics and vocal melodies to Flanders's acoustic fingerpicking and strummed sketches for songs that Sa Pessoa helped color and arrange. They enlisted drummer Luis Barros and bassists Fernando Huergo and Dan Fox to round out the sound, and The Burnt Pines was released in late January.
The surprisingly seamless record belies its logistical shuffles and players' cultural differences with a relaxed sonic identity built around Skovmand's hushed, slightly dusky voice. It might remind listeners of early Mumford & Sons — or even Bon Iver's acoustic origins on the sparse, romantic "Song for Rose."
The snappy, banjo-iced "Heavy and Young" and even catchier "Oh Me, Oh My" stand out with melodic drive around the choruses. Yet the album mostly sticks to modest, mid-tempo charms — and on the surface, half of its dozen songs glide by without broadly distinguishing themselves.
That can be deceptive though. Subtle harmonies lift opener "Diamonds" and particularly the softer "Only in the Soul," perhaps the record's most haunting track, with Sa Pessoa's elegiac piano and a cross-flow of wordless whispers.
That kind of understated detail in production, combined with a stealthy knack for melody, qualifies The Burnt Pines as an album that can also serve as effective background music — and that's meant as a positive. This far-flung combination of musicians not only found surprising chemistry but a consistency of sound and mood that can grow on you.
---
Paul Robicheau served more than 20 years as contributing editor for music at The Improper Bostonian in addition to writing and photography for The Boston Globe, Rolling Stone, and many other publications. He was also the founding arts editor of Boston Metro.