By Cyrisse Jaffee
A delightful translation of AntonTon (Antuntun in the original Croatian), a story about a "unique guy who does everything his own way"; whether you're a classical music aficionado or novice, Carnival of the Animals would make a good introduction to the genre to share with children and grandchildren.
AntonTon by Grigor Vitez. Illustrated by Tomislav Torjanac. Translated by Irena Stanic Rasin. Perlina Press, $14.99.
Carnival of the Animals by the Kanneh-Masons, Michael Morpugo, and Olivia Colman. Decca, 2020.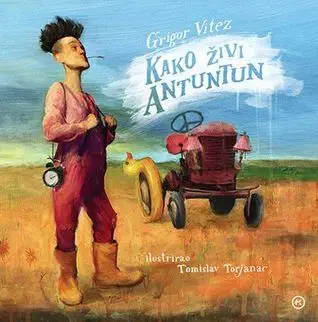 Although most families in the US won't know the name Grigor Vitez, he is considered the "father" of modern Croatian children's literature. Born in 1911, he wrote fiction and poetry for children as well as adults. He is much beloved in his home country. In fact, in his honor, the Grigor Vitez Award, established a year after the author's death in 1966, is given to an outstanding children's book each year in Croatia.
Now children can get to know him with a delightful translation of Vitez's AntonTon (Antuntun in the original Croatian), a story about a "unique guy who does everything his own way." AntonTon (who looks like a cross between Woody Guthrie and Daniel Levy) plants eggs in soil, uses a pig to chase mice, and sprinkles sheep with snow. Told in rhyme, this story is goofy enough to entertain children and lyrical enough to please adults. AntonTon is supremely confident and ingenious, and his odd ways are reminiscent of characters found in tall tales and folklore. The whimsical yet vigorous illustrations are by Tomislav Torjanac, the Croatian artist who may be best known as the winner of a contest to illustrate Yann Martel's Life of Pi. Rich in detail, the oil paintings help bring AntonTon to life. Originally published in Croatia in 2009, this book in its English translation is a welcome addition to any home or library.
Another unique offering to liven up your library is Carnival of the Animals, released by Decca Classics, and available digitally and as a CD, two-LP vinyl, or a hardcover book with a CD. This famous orchestral work, by the French romantic composer Camille Saint-Saëns, was written in 1886. The piece was intended to be fun, and it succeeds. Although many children no longer routinely listen to classical music — unless their parents have a special interest in it — this may be just the thing to pique their interest.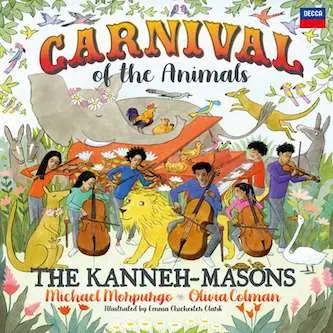 Each of the 14 movements represents a different animal, from lions to tortoises to elephants. In this production, the children's author Michael Morpurgo has written (and recites) a series of new poems; British actor Olivia Colman shares the narration. (Some grandparents may remember the humorous verses by Ogden Nash, recited by Noël Coward in a 1949 recording. In 1976, Warner Brothers released an abridged, cartoon version featuring Bugs Bunny and Daffy Duck. In 1984, Jeremy Irons and Glenn Close narrated another version, and an "all-star" cast was released in 1993.)
Most notably, Carnival is performed by the remarkable Kenneh-Mason siblings, ages 11 through 24, who play violin, piano, or cello. Known to many through their TV and social media appearances, these young British musicians of color — Isata, Braimah, Sheku, Konya, Jeneba, Aminata, and Mariatu — make this project particularly appealing. In a press release, the family offers this perspective: "We want to share our love of music and our passion for communication. As young children, the power of combining music with storytelling is truly magical and we are honoured to have collaborated with Michael Morpurgo, Olivia Colman and the wonderful musicians who joined us, to create music that celebrates our connection with the natural world. Together, we want to inspire children and adults to listen more closely, to value our world and all the diversity within."
In addition to the Saint-Saëns movements, the project also includes several miscellaneous pieces young listeners will enjoy, such as the "Dance of the Sugar Plum Fairy" from The Nutcracker and Rimsky-Korsakov's "Flight of the Bumblebee." Whether you're a classical music aficionado or novice, this could be a good introduction to the genre to share with children and grandchildren.
---
Cyrisse Jaffee is a former children's and YA librarian, a children's book editor and book reviewer, and a creator of educational materials for the Education Department of WGBH. She holds a Master's in Library Science from Simmons College and lives in Newton, MA.