By Sarah Osman
The series's inspirational message comes at a good time in our crisis-ridden country, but its focus on reassurance isn't very dramatically compelling.
Selena: The Series, streaming on Netflix.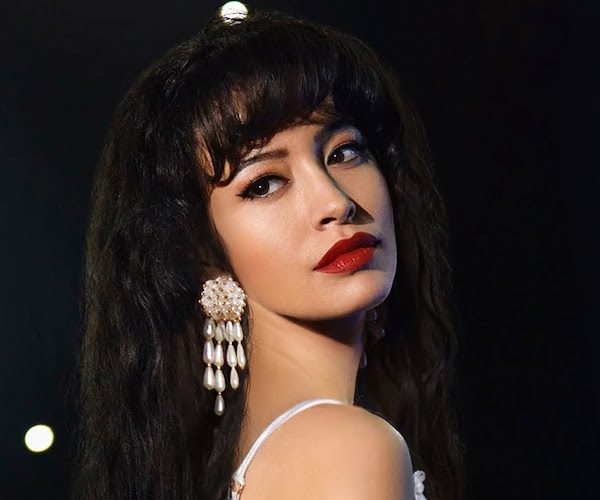 My stepmother tends to like what she calls, "nice shows." She watches Egyptian dramas, gravitates toward Disney films, and enjoys heartwarming stories. She doesn't know much about Selena Quintanilla, the Queen of Tejano, but my hunch is that she would like Selena: The Series. Developed by Moises Zamora and Jaime Davila (Selena's father and sister serve as co-producers) this has been expressly designed to be a nice presentation — it is not interested in saying anything provocative about the titular singer or her career. Call it an anti-exposé.
Selena: The Series will undoubtedly draw comparisons to the 1997 biopic Selena, which introduced a number of viewers to the singer while at the same time managing to entertain fans. Starring Jennifer Lopez as the late singer, Selena set the bar for musician biopics because it was a nuanced and inspiring story that followed reality: it ended in tragedy. The film started with Selena's humble beginnings  and squarely faced her unfortunate ending, along the way underlining the distinctive appeal of her voice, showing why she became (and still remains) a Chicana icon.
The story line in Selena: The Series closely parallels that of Selena the movie. The first few episodes are nearly identical to the film. However, while the film focuses more on Selena's (Christian Serratos) point of view, the series takes time to look at the lives of her siblings, A.B. (Gabriel Chavarria) and Suzette (Noemi Gonzalez). Suzette's struggle to be a respected female drummer  and A.B.'s role in writing and helping to produce  many of Selena's songs add depth, making it a family drama, rather than the rise of a talented individual to stardom. Other family members also earn screen time — Ricardo Chavira stars as the family's patriarch, Abraham, and he plays the role quite differently from Edward James Olmos. The latter's approach  to Abraham was rather over the top (who can forget this scene);  Chavira's patriarch exudes a menacing intensity that makes Abraham downright scary at times. In fact, so much of the series focuses on Selena's family that it would have been more appropriate to name the series Selena y los Dinos or La Famila de Selena.
The doings of this clan are pleasant to watch. Fans of Selena will enjoy hearing her songs and watching her tenacious rise to fame. Fans of family dramedies will enjoy the domestic bonding, particularly the goofy moments between the siblings. Little here comes off as nail-biting or even worrisome; the Quintanillas are a testament to family values — they always manage to get through. This inspirational message comes at a good time in our country (consider the dumpster fire we are currently in), but this focus on reassurance isn't very dramatically compelling. There must have been family fights and disagreements; and then there was the undeniable toll of constant touring and the emotional price of Abraham's constant pushing. No glimpses of that kind of turmoil: this is a series that is determined to keep it light, changing things up from the earlier film by including the supportive dynamics of Selena's family.
Nice TV shows will always be needed. The world can be soul-sucking and it's assuaging to watch something that is made to be enjoyed for its uplift. But there is an irony here: Selena's rise to fame, while affecting, came to a dark conclusion. Also, she was a Mexican-American woman in a challenging trap: she had to appeal to both Mexican and American audiences. That struggle, complicated by the inevitable American demands to assimilate, typifies what many children of immigrants face: they are caught between two nationalities, never able to fully fit comfortably into one. Let's hope the second part of the series will take an instructive look at Selena's struggles to forge an identity as well as her recording triumphs.
---
Sarah Mina Osman is a writer living in Los Angeles. She has written for Young Hollywood and High Voltage Magazine. She will be featured in the upcoming anthology Fury: Women's Lived Experiences under the Trump Era.