By Chelsea Spear
Journalist Lisa Robinson deconstructed the idea of the girl who could hang with the guys (and laugh off their casual misogyny) long before Gillian Flynn immortalized the Cool Girl in Gone Girl.
Nobody Ever Asked Me About the Girls: Women, Music and Fame by Lisa Robinson. Henry Holt & Co., 256 pages, $27.99.
Buy at Bookshop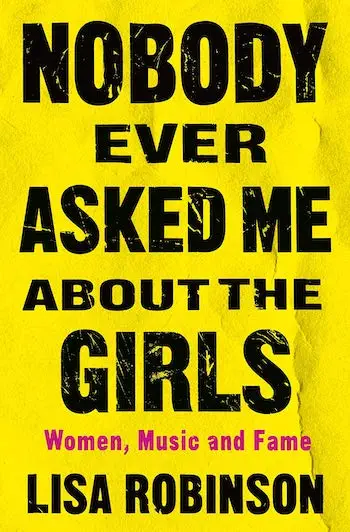 Over a career that spans almost a half century, journalist Lisa Robinson has gone on tour with the Rolling Stones and Led Zeppelin. She's interviewed giants of rock and rap, including David Bowie, Michael Jackson, and Van Halen. "Women really didn't count in this world," she notes. As artists like Beyonce, Rihanna, and Jennifer Lopez have dominated the charts, Robinson takes stock of how times have changed for female artists in her intriguing, but ultimately frustrating, new book Nobody Ever Asked Me About the Girls.
Through her work at Rolling Stone and Vanity Fair, Robinson has gotten access to some of the biggest names in music. Her interviews with superstars like Joni Mitchell, Bette Midler, Patti Smith, Alanis Morrisette, and Lady Gaga—among many others—are the backbone of the book, and the access she gains to these stars is impressive. (The first chapter of the book opens with "Bette Midler was sitting in her fabulous New York apartment with spectacular views of Central Park. We were sipping champagne.") The trusting relationships Robinson has fostered with her subjects come through in Nobody Ever Asked Me About the Girls, as these artists open up about their scariest, most vulnerable experiences in the industry. As the foremost chronicler of rock stardom, Robinson has developed a keen eye for how fame works, a sharp perspective that helps readers to understand what goes into this kind of celebrity. Because Robinson is writing about such a rarified celebrity experience, the book has a blinkered feel; readers might miss the perspective of smaller artists like Feist or Jenny Lewis who achieved a measure of fame in the 2000s.
Though the interview excerpts give Nobody Ever Asked Me About the Girls an intimate tone, the book on the whole has a more scattershot approach. There's not much of a thesis beyond Robinson's claim in the prologue that she wanted to survey women in rock over the past 50 years. The chapters are loosely organized around subjects like the nature of fame, women's physical appearances, abuse, and romantic relationships. Robinson has drawn her sources from a deep well of interviews, which means that some chapters read like a series of interesting quotes grouped around a vague idea. This is both effective and a little numbing in the chapter about abuse, in which many of the subjects we've come to know talk at length about their experiences with partner violence and with men in the industry exploiting their power. These brief testimonials hammer home the prevalence of abuse within the music industry but, because Robinson doesn't provide much emotional or narrative depth, the pain and fear in these artists' stories come off as gratuitous. In other chapters, her observations are witty and speak to larger issues of fame. "You would be extremely surprised at the number of famous women who have bemoaned the fact that they can't go grocery shopping anymore," starts one excerpt about a common theme in interviews she's conducted.
Robinson deconstructed the idea of the girl who could hang with the guys (and laugh off their casual misogyny) long before Gillian Flynn immortalized the Cool Girl in Gone Girl. Readers hoping for a more enlightened feminist angle on the vagaries of fame may feel let down. Her statements about Taylor Swift—who Robinson met when Swift was starting out, and who "lasered in on me like something out of The Exorcist" when Robinson introduced herself—stick out for their weirdly personal tone. "She's relentless," Robinson observes, "like something buzzing around you that you want out of your range of vision." In other parts of the book, Robinson belittles the troubled pop star Britney Spears and depicts the ambitious soul singer Solange as flighty and image obsessed. ("In the middle of getting her makeup done, Solange burst into tears and ran out of the building.… I don't think it was the makeup, but you never know.")
Robinson has enough name recognition to veto extensive edits, and that is unfortunate. Nobody Ever Asked Me About the Girls could have used a tighter editorial hand. Her observation about how celebrities commodify their children shows up twice, and she frequently compares the tiny, sparkly dresses some artists wear on stage to the Ice Capades. Even some small mistakes got past the fact checkers; Patti Smith's first comeback album, Dream of Life, is said to have been recorded in 1997—three years after its producer died.
Robinson has earned her place in the pantheon of rock journalists, and many of her interviews and scene reports are well regarded to this day. Yet this book reads like an afterthought or an effort to cash in on the female superstars whose careers have defined the past decade. Given this writer's history, access, and journalistic skill, that makes Nobody Ever Asked Me About the Girls a wasted opportunity.
---
Chelsea Spear has written for the Brattle Theatre's Film Notes blog, the Gay & Lesbian Review, and Crooked Marquee. She lives in Boston.