By Isaac Feldberg
The Mortuary Collection is a dark diamond in the rough of this year's Fantasia so far, a canny ode to horror history that pays respect to its elders without appearing dated or derivative.
It's my first year covering Montreal's Fantasia International Film Festival and, I am told, it's not usually like this. That much at least was obvious going in.
North America's largest genre festival announced in April that, amid the seismic upheaval of the COVID-19 pandemic, it would transition from a in-person event, during which thousands descend on the Quebec metropolis for a blissful month of genre buffet and comparably delectable Canadian cuisine, to a virtual event spanning a couple of weeks at the end of August. The vast majority of the program is geolocked to Canada, though its special events – including a workshop with macabre maestro John Carpenter this past week and a special tribute to Re-Animator director Stuart Gordon (this Thursday) – remain accessible worldwide via Zoom.
Getting into the reasons for Fantasia's restricting of its slate to Canadian viewers would require an in-depth discussion of all the considerations that go into selling and distributing a film that's touring the festival circuit, from territory rights to what can be considered a true "premiere" for a film in this strangest of years, but it doesn't ultimately change this critic's job. As with any festival coverage, I'm here to take in as many of Fantasia's offerings as possible, highlighting what I see so that readers can take note of titles to catch up with later, as they make their way to streaming, VOD, or (in that far-off future we clasp now like a furtive dream) to theaters. In order to preserve my own sanity, and cover more ground, I'm splitting coverage into a few dispatches, with the below charting my first wave of Fantasia titles and additional dispatches coming next Saturday, August 29, and Wednesday, September 2.
---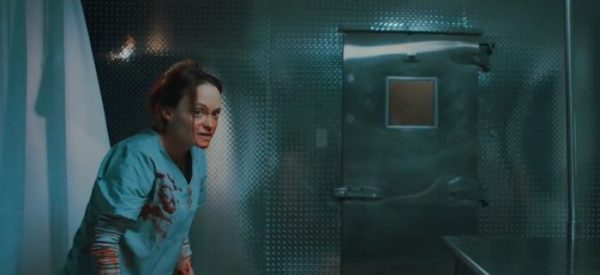 If there's a breakout star of this Fantasia, at least that I've seen, her name is Brea Grant. A long-time fixture on the genre circuit perhaps best known for her supporting role in Jeremy Gardner's After Midnight, a scrappy love-and-monsters romance, Grant's presence at the fest this year is twofold. In 12 Hour Shift, which she wrote and directed, an essential worker (Angela Bettis) at an Arkansas hospital is tasked with cleaning up a fast-worsening, potentially fatal mess created by the impossible ineptitude of everyone around her. Sound familiar?
Though it's a pitch-black comedy set against the socioeconomic anxiety of Y2K, involving organ trafficking, backwoods mafiosi, and the early shadows of the opioid epidemic, 12 Hour Shift is still an extraordinarily bitter pill to swallow in this current cultural moment. It depicts the US healthcare "system" as a rickety, spasmic, indefensibly dangerous machine, too undernourished to properly function and too hamstrung by profit-driven vampires to fix itself. That is to say, it's brutally well-observed. At the eye of the storm as a drug-addicted East Texas nurse, Bettis gives the kind of unerring, marrow-deep performance that grounds the script's more cartoonish turns – like a serial killer left scarcely guarded in one hospital bed – in harangued humanity. She's Nurse Jackie trapped in Halloween II, and both Bettis and Grant are mostly successful in riding that tricky tonal line. If the film ultimately slices off more than it can suture, its jaundiced politics and appetite for destruction are still to be commended.
Lucky, which Grant wrote and starred in for director Natasha Kermani, aims for a different kind of resonance. It follows a self-help author (Grant) under siege by a masked man who breaks into her house every night, only to inexplicably disappear once she defends herself; in the days between attacks, her efforts to rally police officers and even her husband (Dhruv Uday Singh) are met with chilling indifference, as if they're surprised she considers the intrusions unique.
This is an angry, accusatory film made by women who have experienced the world as a constant assault and repurpose horror as a conduit through which to fight back. Their approach is deliberately about as subtle as a sledgehammer to the face, marrying women's daily uphill battles against the patriarchy to a time-loop slasher setup. Similarities abound to Blumhouse's Happy Death Day franchise, though those films had a welcome sense of humor; After Midnight, too, exploited a similar concept of monsters assailing its protagonist by night, only to vanish in daylight and force them to confront their personal issues. Lucky is incensed about the daily threats faced by Grant's character and by association all women, to the point that its third act unravels into a self-righteous tirade impassioned enough to shatter the film's alternate reality outright. That's partly its point, of course; that none of this is normal, that we're all living in a nightmare realm of our own making. Normalizing random acts of violence against women ensures their cyclical continuation, but we see it happening every day. Awareness of that fact can be a bit like finding a glitch in the matrix, a ghost in the machine — eventually, it's all you can see. I admired Lucky's high concept far more than I liked its gratingly sermonic execution, but the final third brings those two contrasting elements to a head in a way that's intentionally blunt and inadvertently tedious.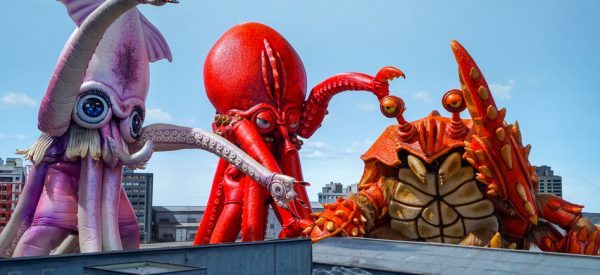 Far from my place to say so definitively, but the pair of films-as-gimmicks in the program, Monster Seafood Wars and Crazy Samurai Musashi, are failures seemingly most because they misinterpret the appeal of their chosen subgenres; in building upward from faulty foundations they go nowhere worth following. Both do so with such a scrappy, DIY fervor that reporting on their fairly shocking dullness brings me little pleasure. It's especially easy to root for the former, directed by Minoru Kawasaki and billed as a love letter to Japanese tokusatsu kaiju eiga; it opens with a young scientist losing some live squid, octopus, and crab (offerings to his sushi-chef father) in a bike accident, after which building-sized monster versions of those ingredients attack Tokyo, leaving him to retaliate with the aid of an attack squad. Cue Toho-inspired scenes of kaiju, played by actors in bright costumes, rampaging across model cities, hammily trading blows or lurching between city blocks with exaggerated gravity.
But what could have been a charming 10-minute short is instead stretched thin by Kawasaki's insistence on a mockumentary framing device, situating the kaiju attacks as past events to be commented on instead of experienced. A subsequent detour into food-porn territory adds little that's conceptually appetizing. Aesthetically, too, it's a half-measured homage, with harsh digital cinematography that makes the monster designs look washed-out and cheap-in-a-bad-way; it's always disappointing when filmmakers presume that making their shoestring budget obvious on screen will be embraced by audiences as an endearingly "camp" display, rather than the breakdown of narrative savvy and technical imagination it more often is. Monster Seafood Wars is unforgivably smug about appearing homemade, and I can't think of many worse words to ascribe to something intended as a love letter.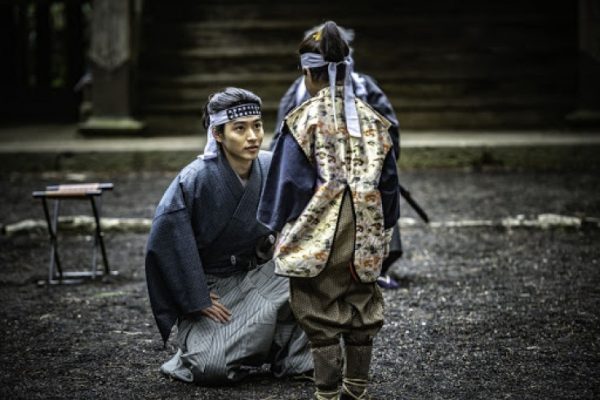 Camp isn't so much the intent of Yuji Shimomura's Crazy Samurai Musashi, which follows the on-screen idealization of samurai as noble, death-dealing warrior poets to its natural movie conclusion: an uninterrupted, 77-minute action sequence. Here Japan's most mythic Tokugawa duelist, Miyamoto Musashi (played by Tak Sakaguchi) lays waste to hundreds of opponents in a seemingly endless melee. (The great Toshiro Mifune portrayed the character in his Samurai trilogy, and he wasn't punished nearly so much for it.) By seemingly endless, I mean it goes on and on; Shimomura's handheld digital camera hovers self-consciously in the background as Musashi uses the same few moves to dispatch adversaries that strike at him in the same few ways. The effect, when you factor in how poorly lit and framed the sequence often is, is only slightly less amateurish than what you'd spot in a YouTuber's athletic training video. Repeated ad nauseam to reach feature-length, this is absolute death on any audience member's attention span.
One doesn't need to look far to find films abusing long-take techniques in ways that outright sabotage their story; few who've tried it since Hitchcock, I'd argue, have found compelling narrative reasons to incorporate single-take sequences that don't just feel like hollow justifications from technicians who think they're artists and are itching to show off. The virtuosic camerawork of Sam Mendes's recent WWI epic 1917, for example, made trench warfare's human-scaled horrors feel as artificial and bloodless as any in a third-person shooter, which is to say it betrayed history in a thoroughly dishonorable way for an entirely useless reason. Crazy Samurai Musashi isn't at that level of bad-faith filmmaking, exactly, but it's so lacking in charisma, smarts, and style that the central stunt barely feels like filmmaking at all.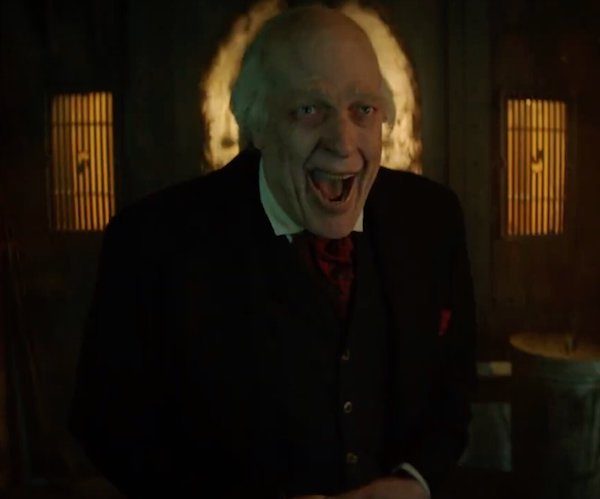 Speaking of charisma, smarts, and style, though, native Mainer Ryan Spindell's The Mortuary Collection executes its homage to classy Amicus anthologies – which comprise a few distinct tenors of horror, from EC Comics' gleefully ghoulish deadpan to '80s slasher-movie excess – with a spring in its step and a twinkle in its eye. That's right on for this genre, as any chattering Cryptkeeper or Creep would tell you. Dispassionate horror movies are, without fail, lesser ones, and what Spindell has managed best in this tantalizingly colorful collection of macabre tales, more than any aesthetic mimicry, is express his appreciation for – and understanding of – horror in all its filmic incarnations.
It's there right from the start, as Spindell introduces a looming specter of a mortician named Montgomery Dark (Clancy Brown), a riff on Phantasm's Tall Man who acts as our guide through four spooky tales related to different bodies in his care. And the stories are spooky, kooky, and well-executed across the board, enough to one-up recent horror anthologies like V/H/S and Southbound, which work in shorts from a range of filmmakers and are typically only as strong as their weakest links. Writing and directing each segment himself, from a '60s-set cautionary tale that turns the tables on a wolfish frat brother in deliriously gory fashion, to a gloriously well-crafted '80s throwback in which a babysitter faces off against an escaped psychopath (with a savory, stylish twist), Spindell showcases impressive control over his sumptuous production values and cheerily morbid tone. Making his feature debut here, Spindell seems to have the stuff of a great future genre filmmaker – and a well-studied one, mirroring the low-budget ingenuity of Sam Raimi with a penchant for slyly subversive humor that recalls the work of Wes Craven. His Mortuary Collection is a dark diamond in the rough of this year's Fantasia so far, a canny ode to horror history that pays respect to its elders without appearing dated or derivative.
Fantasia 2020 is streaming online through September 2.
---
Isaac Feldberg is an entertainment journalist currently based in Boston. Though often preoccupied by his on-going quest to prove that Baby Driver is a Drive prequel, he always finds time to appreciate the finer things in life, like Michael Shannon.