By Harvey Blume
This is a film for another moment in time, an imaginary if not necessarily utopian moment when being Jewish is less roiled and bedeviled from within and without.
The Rabbi Goes West, co-directed by Amy Geller and Gerald Peary.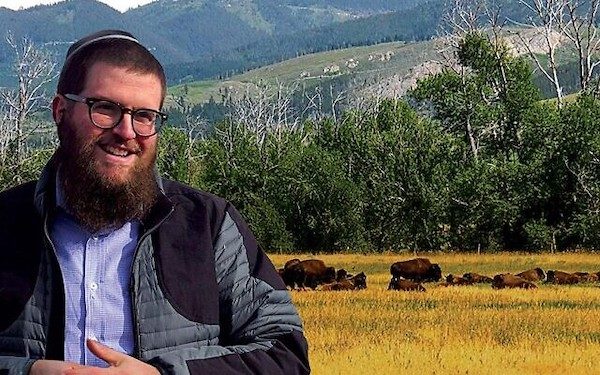 The Rabbi Goes West is puzzling. It  is an unobjectionably good, decent, and well made documentary about Jews forming a community in the northern reaches of Montana. But, then again, it is so quiescent and bland that, in a sense, it is more than a little untimely. It struck me as a film for another moment in time, an imaginary if not necessarily utopian moment when being Jewish is less roiled and bedeviled from within and without, by Zionism and anti-Zionism, not to mention the global and often lethal resurgence of anti-Semitism.
In The Rabbi Goes West directors Gerald Peary (film writer for The Arts Fuse) and Amy Geller prefer for the most part to steer clear of such issues. Instead, the film resettles Jewish life out of the reach of turmoil and replants it in Bozeman, Montana, where the northern winters are fierce but the people — even if somewhat baffled by Jews, whoever and whatever Jews might be — are for the most part kind and accepting.
Bozeman's Jews are in a sense coddled and protected in the same way as are the remaining elk and wolves. When Rabbi Bruk, the lead character of this film, an emissary from Chabad central in NYC, goes into a gas station to ask "Where are the Jews" nobody bristles and falls back on memories of how it felt when the Gestapo asked such a question.
However other Jews — there are already some implanted in Bozeman, centered around their own rabbis, practices, and congregations — do not necessarily accept the intrusion of emissaries from Chabad headquarters in Brooklyn. These emissaries, called shliach, have been ordained and empowered to enjoin Bozeman Jews to put a mezuzah on their doors. (That, in this film at least, is for the shliach the apex mitzvah. Others, men at least, who have encountered Chabad in other contexts may have been enjoined to think that putting on tfellin (phylactery) was the apex mitzvah. Rabbi Bruk, in this film, ignores that more complex commandment.)
In any case Rabbi Bruk goes around Bozeman knocking on Jewish doors. asking if the residents would like a mezuzah implanted on the door frame to be kissed or at least referenced on entry —  a kosher mezuzah that is, as distinguished from the knock offs being tendered for a discount in Union Square Manhattan and other New York venues, along with second-rate clothes.
Rabbi Bruk's mezuzahs have been inspected and certified by experts. If anything is amiss in these tiny scrolls — say one letter merging even slightly into another — the text is declared  trayf/unacceptable. Bruk traffics only in the best.
Bruk himself is a stout, smart, unfailingly cheery emissary of Hasidism, Chabad style. For him, Judaism is fun, "and if it's not fun, it's not Judaism." This is not the Judaism I or many others Jews grew up with but it's the one this devotee of Lubavitch Hasidism trumpets throughout. And that tone seems to go over to a degree among the Jews of Bozeman. Many of these appreciate that Rabbi Bruk demands so little of them, and only wants that he has permission to hammer up the mezuzah and say a few prayers. But other Bozeman Jews object to Bruk for precisely that reason, in that  he offers no sense of community or continuity; his mitzvah is stand alone and in a sense fly by night.
There are two occasions in which Rabbi Bruk has to contend with contrary opinions. The first is when he weighs in on a local radio talk show to respond to a venomously anti-Semitic caller who demands to know if all Jews are like George Soros. Bruk's response leaves much to be desired: he says he grew up in Brooklyn, has known lots of Jews, and that none of them remotely resemble Soros. Such a bland and evasive response. Yeah. Does Bruk even know who Soros is and what role he plays as central figure in today's anti-Semitism, whether in Budapest or Bozeman? Bruk knows his Talmud in some depth but seems possessed of a childish ignorance of what goes on in today's world. The thought that a schliach might not only know of Soros but think to champion him is far beyond the reaches of this particular rabbi's imagination.
In another telling interchange Bruk talks with a conservative Bozeman rabbi. The conversation somehow turns to Shakespeare and what his work  has to say about human nature. Bruk thinks it has very little to say compared to what Torah says. He sneers and stomps off when his interlocutor upholds the values of the Shakespearian version.
Bruk stomping off and refusing discussion on this question is to my mind theocracy in action.
---
I've had a mezuzah on my door for a long time. I've also had it taken down. Taking down a mezuzah is a big deal, the complexities of which I'll spare you here. If I wanted it re-implanted, though, I would like it to be done by someone other than Rabbi Bruk and his cohort of shliach. I'd like something less besides the point.
---
Harvey Blume is an author—Ota Benga: The Pygmy At The Zoo—who has published essays, reviews, and interviews widely, in The New York Times, Boston Globe, Agni, The American Prospect, and The Forward, among other venues. His blog in progress, which will archive that material and be a platform for new, is here. He contributes regularly to The Arts Fuse, and wants to help it continue to grow into a critical voice to be reckoned with.