By Steve Feeney
Decades on, Matthew Shipp and Whit Dickey have grown into mature models of how to keep the faith when following an idiosyncratic muse.
The Piano Equation, Matthew Shipp (Tao Forms)
Expanding Light, Whit Dickey  (Tao Forms)
Even when not performing together, as they frequently have over their 30-plus years on the music scene, Matthew Shipp and Whit Dickey are inevitably linked: both are innovators who have never stopped relishing pushing jazz into uncharted territories. They are on an unending quest to expand creative expression.
Both served in the David S. Ware Quartet, a seminal band for those seeking a way beyond the constraints of jazz's neo-conservative retrenchment, which took hold in the '80s.
Decades on, they are now mature models of how to keep the faith when following an idiosyncratic muse. They have recorded the first two discs for Tao Forms, Dickey's new label.
Shipp's The Piano Equation is a sparkling solo effort, a confirmation that the pianist's inventiveness remains unabated as the New England Conservatory alum celebrates his 60th-birthday year. The album's 51:07-minute length is divided into 11 pieces; the longest clocks in at 7:39. A listener's initial response will be a sense of having encountered, in Shipp's adventures, a hybrid mix of Cecil Taylor's abstract clusters with Keith Jarrett's dips into romanticism (though there's a predominance of Taylor). But, like any true improvisor, Shipp whips up his own whirlwind of distinctive ideas.
Each cut maps a journey through the pianist's fertile mind. In this heady mix, elements of jazz, of both the reflective and extroverted variety, mingle with a number of influences: classical, blues, hip-hop, and what-have-you.
The title piece, the first of three "Equations" on the disc, reads reflective, with classical dissonances giving way to near-pop harmonies. For a player associated with aggressively assertive approaches, the sensitivity and lyricism of Shipp's touch here is remarkable. "Void Equation" takes a harder angle, featuring a theme that turns back on itself. The pianist undertakes a fertile, and fascinating, search for order through fragments.
Typical of Shipp's pieces, "Radio Signals Equation" adeptly undermines conventional expectations; it continually frustrates the need to find a "sweet spot." A perfect balance of technique and musical structure, suggests the pianist, will always remain elusive and transitory. "Vortex Factor" creates a bit of a blues rumble. The tune's unsteady tumble of notes conjures up images of scrambling through a rock slide; amid the tumult, the listener's heel hooks and hand jams are tentative and fraught.
"Swing Note from Deep Space" gives us a Monkish (as in Thelonious Monk) moment or two, while the all-too-brief "Clown Pulse" presents a blues that stubbornly (and barely) resists deconstruction.
"Emission" sets up a tangled dance between gentle melodic motifs and furtive harmonies. "Cosmic Juice" ends the album on a strange note of foreboding: powerful forces, seemingly ensnared in piano wires, struggle to communicate … something.
As fans of the experimental sensed from early on in his career, Shipp is onto something important.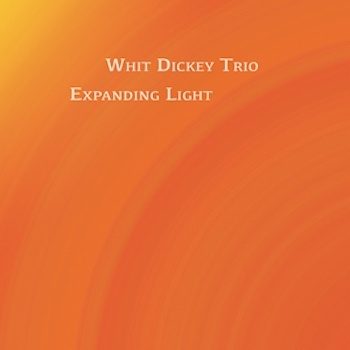 The enigmatic powers released by the confluence of technique and spirit also come to the fore while listening to drummer/composer Whit Dickey's new trio disc Expanding Light.
Dickey refers to his musical concept on this recording as "free grunge." Free makes sense, but the word grunge doesn't do the compositions justice. I would rather have free paired with a term that would highlight how emotionally enriching this unfettered an approach to music-making can be. So, best to disregard the description; the leader and alto saxophonist Rob Brown and bassist Brandon Lopez reach toward areas of  musical experience that are only accessible through shared ideas about collective improvisation as a site for liberation.
An important forerunner of Dickey's approach was Ornette Coleman, particularly the master's signature "harmelodic" foundation. You can sense that influence in "The Outer Edge," which leads off Expanding Light. The drummer and Lopez provide a rhythmic viscosity above which Brown adds layers of astringency. Yet, through the seeming chaos, passion emerges and compelling energy is released. The title piece elaborates on Coleman-esque versions of folk/blues: polyrhythms, accented by legato slurs from Brown, weave into ritualized step, creating a seething world of organic interplay.
"Desert Flower" builds on a bass and brushes intro, increasingly embracing agitation. Over the rhythmic scramble, Brown first adds aridity by way of long tones — before heating the proceedings up (considerably) with an upper register run.
A highlight: the sophisticated simplicity of "Mobius." Here, arco bass swirls generate waves of energy, making strikingly expressive use of minimalism while nimbly employing microtonal diversions.
The closing piece, paradoxically entitled "The Opener," is a memorable trip through the mysterious sonic alchemy that only free jazz, performed at this high level, can conjure into resplendent being.
---
Steve Feeney is a Maine native and attended schools in Maine, New Hampshire, and Massachusetts. He has a Master of Arts Degree in American and New England Studies from the University of Southern Maine. He began reviewing music on a freelance basis for the Portland Press Herald/Maine Sunday Telegram in 1995. He was later asked to also review theater and dance. Recently, he has added BroadwayWorld.com as an outlet and is pleased to now contribute to Arts Fuse.