By Jonathan Blumhofer
A collection that provides a fascinating bit of context for how Andris Nelsons has developed as a conductor over the last decade-plus, and an honest, mostly flattering, tribute to a much-loved conductor, the late Mariss Jansons.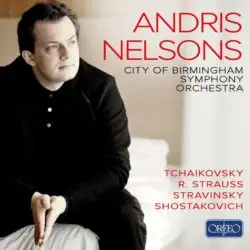 If you wanted to remember what the excitement was about Andris Nelsons when he signed on to become music director of the Boston Symphony Orchestra in 2014, you're in luck: Orfeo's just re-released his (nearly) complete discography with the City of Birmingham Symphony Orchestra (CBSO), which Nelsons led from 2008 to 2016, and the set is thrilling. Given that Nelsons has played and recorded several of these pieces since he's come to Boston, this is a collection that provides a fascinating bit of context for how he's developed as a conductor over the last decade-plus.
All of its selections play to his various strengths.
There are, for instance, urgent, tempestuous accounts of the last three Tchaikovsky symphonies. Here, the Fourth blazes maybe a bit too furiously – the outer movements are strikingly brisk and impetuous – but also irresistibly. The Fifth is a bit more measured, though never lacks for passion. Similarly, the Pathétique is played with surging intensity, especially over the last two movements.
Best among the Tchaikovsky works, though (and these include some fine, exciting renditions of four symphonic poems – Francesca da Rimini, Marche slave, Romeo & Juliet, and Hamlet), is a tremendous reading of the Manfred Symphony.
Manfred's as theatrical an orchestral work as Tchaikovsky ever wrote and it fits Nelsons to a T. Tempos in his Birmingham performance are all wisely judged, textures taut and focused. The rushing string figures near the end of the first movement, for instance, are played with terrific clarity. The CBSO's strings deliver the second movement's trio with lush, sumptuous tone, while the slow third movement is songful and warmly bucolic. Even the sprawling, much-maligned finale comes off excitingly: Nelsons manages to sustain its intensity evenly across its 20-minute duration.
The set's other Russian fare comes from the pens of Igor Stravinsky and Dmitri Shostakovich.
The former is represented by two pieces: The Firebird and the Symphony of Psalms. Nelsons's Firebird is full of color (the sul ponticello figures in "Night" shimmer; there are lovely woodwind solos – as well as celesta and harp flourishes – in the "Supplications," and velvety bassoon solos in the "Berceuse") and energy (a pummeling "Infernal Dance" and mighty, exuberant "Finale").
Symphony of Psalms benefits from clean textures throughout as well as the full-bodied, rhythmically vibrant and agile singing of the CBSO Chorus. On the whole, Nelsons's is a lean, snappy performance, one that isn't afraid to dance when the music demands it. But it's also potently devotional when it counts, especially over the searching second movements and the finale's coda.
The Shostakovich Seventh Symphony Nelsons taped in Birmingham is, overall, similar to the one he subsequently led in Boston. Its first movement is taut while the subsequent three move agreeably. While the third soars, the finale's driven a bit harder than, perhaps, it should be – the orchestra blazes through the final bars without once looking back – but the whole reading stands up well.
Filling out the collection is a grand, sweeping interpretation of Richard Strauss's Eine Alpensinfonie and a more exuberant-than-introspective take on Also sprach Zarathustra. But the latter's done with such a keen ear for textural and tonal detail (the balances in "Von den Freuden- und Leidenschaften," for instance, are incandescent) that you don't really mind.
Bottom line: this is some impressive work that's held up mighty well.
---
Mariss Jansons's death in November makes the Bavarian Radio Symphony Orchestra's (BRSO) release of The SACD Recordings something of a bittersweet memorial. Jansons was, of course, chief conductor of that ensemble from 2003 until his death, and this 10-disc compilation both marks that partnership and celebrates the 10th anniversary of the BR Klassik label. In the event, it proves an honest, mostly flattering, tribute to the much-loved conductor.
As far as the BRSO's playing goes, this set showcases an orchestra of exceptional warmth of tone and technical prowess. What's more, they play with a textural refinement that's simply captivating, regardless of the feeling of interpretive "rightness" (or lack thereof) of any of the given performances here. Surely the latter is a reflection of Jansons's impeccable ear and command of ensemble: it's too consistent a feature of the BRSO's playing to be anything else.
Interpretively, the performances range from the superb to the serviceable.
Jansons's noble, urgent account of Brahms's Symphony no. 3 is one of the former, smartly paced and brilliantly played throughout, culminating in a bitingly rhythmic, texturally lean account of the finale. Those qualities are also evidenced in the epic reading of Bruckner's Symphony no. 8 included in the box: for fire, electricity, and terrific brass playing, Bruckner Eight hardly gets better than this.
The Bruckner Seventh Symphony that precedes it is only slightly less compelling – a bit more lush than urgent – but doesn't lack for sweep or character: the third movement is hearty and stolid, and the opening of the finale comes across vibrantly.
A grand, momentous performance of Shostakovich's Leningrad Symphony and a fine all-Tchaikovsky album constitutes the set's Russian fare (nearly always a Jansons specialty). The latter includes a Fifth Symphony that, with its attention to dynamic extremes, seems like a deliberate effort to rethink a familiar piece without resorting to distortions of tempo and phrasing; it's thoroughly convincing. An all-Haydn disc featuring the Symphony no. 88 and Harmoniemesse comes off impressively, too: this is a reminder that Haydn can be very well served by non-period ensembles.
Sitting somewhere in the middle, interpretively, are Jansons's nondescript Beethoven Ninth Symphony and his lush, opulent, but not terribly exciting Brahms Symphony no. 2. Neither offends – but nor do they thrill.
By far the strangest performances here are of Mahler's Fifth, Seventh, and Ninth Symphonies.
Jansons's take on the Fifth is rhythmically flexible and full of color. But, tempo-wise, it's all over the map: the second movement is frustratingly sluggish and the Scherzo, though not terribly slow, takes what feels like a long while to lift off. Ultimately, his just isn't as impellent or persuasive an account of this mighty warhorse as it needs to be.
The Seventh is likewise uneven. Here, the first movement's shifts of tempo are stark and abrupt, and little feels natural, mysterious, or tense about the proceedings. The second offers more in terms of character and atmosphere, but it's not until the shadowy third movement that the reading comes to life. In fact, from there to the end, Jansons's is one of the great Mahler Sevens on disc: eerie, bumptious, lyrical, driven. If only the score's first two movements clicked so purposefully.
In the Ninth, Jansons's take on the central movements come off the best: the ländler's smart and sassy, while the Rondo-Burleske, if not as savage as it sometimes gets, is good and brusque. But there's little sense of wonder, terror – anything shattering or portentous, really – marking either of the outer movements, texturally clean as the first (in particular) is. Given the sheer number of wonderful Mahler Ninths out there (including Bernard Haitink's fervent, near-contemporaneous one with this very same BRSO), the inclusion of Jansons's Ninth is a bit of a head-scratcher.
Still, if you can overlook these quirky Mahler readings, The SACD Recordings, with their near-flawless orchestral playing and engineering, offer some conspicuous rewards.
---
Jonathan Blumhofer is a composer and violist who has been active in the greater Boston area since 2004. His music has received numerous awards and been performed by various ensembles, including the American Composers Orchestra, Kiev Philharmonic, Camerata Chicago, Xanthos Ensemble, and Juventas New Music Group. Since receiving his doctorate from Boston University in 2010, Jon has taught at Clark University, Worcester Polytechnic Institute, and online for the University of Phoenix, in addition to writing music criticism for the Worcester Telegram & Gazette.