By Jason M. Rubin
Two recent biographies take very different approaches as they revel in the wild lives and examine the distinctive songs of two of rock music's most enigmatic figures: Lou Reed and Warren Zevon.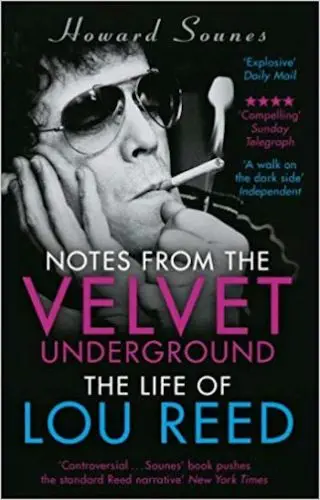 When writing a biography of an artist, the problem is always striking the right balance between discussing the artist's life and the work. Two recent biographies take very different approaches as they revel in the wild lives and examine the distinctive songs of two of rock music's most enigmatic figures: Lou Reed and Warren Zevon. As divergent as they are in style, both Notes from the Velvet Underground: The Life of Lou Reed by Howard Sounes (Diversion Books, 2019) and Accidentally Like a Martyr: The Tortured Art of Warren Zevon by James Campion (Backbeat Books, 2018) are recommended reads for the curious as well as for fans.
While Reed and Zevon are not particularly similar musically, as biographical subjects they offer common issues: both are widely respected artists whose commercial popularity peaked early in their careers; their tunes are considered reasonably sophisticated for rock and roll (Reed's music may be simple, but his lyrics have the weight of urban poetry); they both proffer a sexual history that does not play well in today's #MeToo era (behavior that includes violence and predation); they both were at least partly Jewish (Zevon's mother was Mormon); and they both died of cancer (or cancer-related disease) after many years of substance abuse — Reed at age 71, Zevon at 56.
Of the two, Notes from the Velvet Underground is the more conventional narrative. It chronicles Reed's life and career from beginning to end. The overall editorial mix is about 65% on Reed's life and 35% on his work. The book is extraordinarily well researched; the author interviewed more than 140 people close to his subject. Accidentally Like a Martyr, by contrast, offers a much more subjective approach. The writer, an avowed Zevon fan, devotes each of the 13 chapters to a particular song or album — plugging in enough biographical information to provide context along the way. The mix in this book is about 65% music and 35% life. Sounes, the "objective" journalist, hides his personal feelings; he wants to let the record [slight pun intended] speak for itself; Campion tells you, passionately, what the music he has chosen to highlight means to him.
There is no right or wrong, better or worse, when contrasting these two approaches — so long as you know what you're getting into. You will  learn, in great depth, the details of Reed's life; you will gain more insights (from an admitted super fan) into Zevon's music. Of course, there is no such thing as objectivity when it comes to biography. Sounes has made subjective decisions regarding which records and anecdotes to spend more or less of his time with. And Campion isn't just engaging in musical masturbation; he has done a lot of research into his subject as well (though he conducted a fraction of the interviews that Sounes did).
When reading the Zevon book, it is a good idea to have the albums on hand, especially because Campion doesn't just focus on the commonly known hits. A quote famously attributed to Frank Zappa says, "Writing about music is like dancing about architecture." Breaking down the structures of songs gets you only so far; you have to be able to listen along to truly comprehend where Campion is coming from. Insights from musicians who played with Zevon tend to provide more illumination than stories from friends and family members.
One example is this surprisingly hysterical account of how Zevon's biggest hit, "Werewolves of London," came to be.
Zevon had been tasked by rock legend and former employer Phil Everly with producing a "dance craze" based on the 1935 horror classic Werewolf of London. After sharing some fine sinsemilla and listening to Zevon yammer on about werewolves, [songwriter and guitarist LeRoy] Marinell looked over at [session guitarist Waddy] Wachtel, who had happened on the scene merely looking to pick up a guitar for a scheduled studio session. The guitarist shrugged his shoulders and shouted to Marinell to "play that fucking lick of yours!"
Zevon leapt on the piano and began to hammer along with a bouncing, roll-out-the-barrel revelry. Wachtel started howling a-wooooo! Zevon demanded an opening lyric. Wachtel found it hard to believe how easily the words rumbled from his brain: a verse filled with predatory notions of the beast wandering through Soho clutching a Chinese menu and desperately searching for beef chow mein.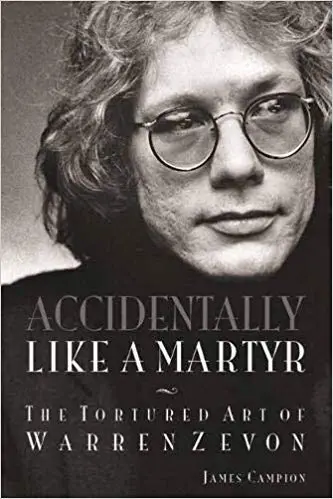 In all, the players estimate it took approximately 10 minutes to compose the tune, though the chapter in which this anecdote is told begins with the sentence, "Songs did not come easily to Warren Zevon."
There are wild tales told in Sounes's book as well, mainly because he spoke with some very weird people, including many who were part of Andy Warhol's Factory in the '60s and '70s, where the eccentric visual artist nurtured the fledgling Velvet Underground and sponsored many of their earliest performances. The author provides first-hand glimpses into Reed's biggest hit, "Walk on the Wild Side" which, he notes, mentions "a trio of New York transvestites — Jackie Curtis, Candy Darling and Holly Woodlawn — who hung out on the fringe of the Warhol crowd." Sounes reports that Woodlawn "had never met Lou, but Lou had heard enough about Holly's unconventional lifestyle to describe how he came to New York in the song. 'It is accurate,' says Holly, 'for the most part.'"
Sounes's book contains 19 pages of source notes and, while no one reads this kind of back matter, it testifies to the meticulous and extensive research he did. In the author's note at the end of the book, Sounes gives a very good explanation of what makes a good biography.
A good biography should be entertaining, enlightening and convincing. It should be well constructed and clearly written with a nonjudgmental tone, conveying a sense of the subject's character and personality, his work, his relationships, and the times in which he lives. That is what I have always aimed for. It is of course for the reader to decide what they think of the result.
I think Sounes wrote the better of the two biographies, but both studies will delight fans of these late, great — and highly singular — musical talents.
---
Jason M. Rubin has been a professional writer for more than 33 years, the last 18 of which as senior creative associate at Libretto Inc., a Boston-based strategic communications agency where he has won awards for his copywriting. He has written for The Arts Fuse since 2012. Jason's first novel, The Grave & The Gay, based on a 17th-century English folk ballad, was published in September 2012. His current book, Ancient Tales Newly Told, released in March 2019, combines in a single volume an updated version of his first novel with a new work of historical fiction, King of Kings, depicting the meeting of King Solomon and the Queen of Sheba. Jason holds a BA in Journalism from the University of Massachusetts Amherst.