By Robert Israel
There have been times in the MFA's past when it hasn't lived up to its educational mission, when it has pandered to the whims of the wealthy — particularly its fat cat benefactors.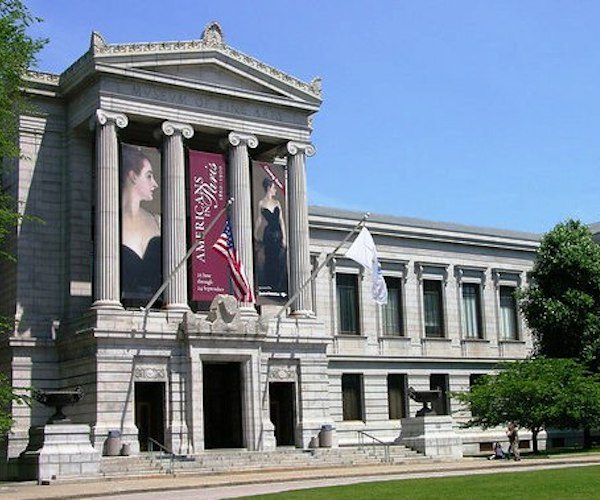 The Museum of Fine Arts Boston officially celebrates its 150th anniversary in February 2020. In anticipation, however, the institution has issued an announcement – proclaiming that the upcoming anniversary "honors the past and reimagines the future."
An arts institution such as the MFA has an enormously rich past to draw from. In 1870, the Massachusetts legislature said it was being founded "for the purpose of erecting a museum for the preservation and exhibition of works of art, of making, maintaining, and establishing collection of such works, and of affording instruction in the Fine Arts."
That's a rambling way of suggesting that the MFA plays a huge leadership role: to inspire citizens and visitors alike in the myriad ways we define, teach, and learn about the fine arts. And, indeed, the MFA seeks to accomplish just that each day. But there have been times in the museum's past when it hasn't lived up to that mission, when it has pandered to the whims of the wealthy — particularly its fat cat benefactors.
Many critics thought that the programming generated under the directorship of now-retired director Malcolm Rogers paid considerable obeisance to the well-heeled. There was gallery space provided to such garish displays as Ralph Lauren's expensive cars, Les Paul's electric guitar, and Herb Ritts's portrait of rock star Madonna. And then there were a pair of racing yachts, owned by super millionaire William I. Koch (founder of The Oxbow Group), anchored on the MFA lawn on Huntington Avenue. According to one critic at the time, the MFA had become "an unholy combination of an ATM and a Hard Rock Café."
I viewed the Koch exhibit in 2005. The show was titled Things I Love, and it was a crass display of what the excessive riches and privilege can acquire. In an MFA press release, Koch was described as a "devoted father," among other accolades. Well, he may have been a model dad — but he was also a cad, a serial philanderer who famously tried to evict one of his mistresses, Catherine de Castelbajac, from his Four Seasons condo on Boylston Street by releasing (to Boston's daily newspapers) her steamy love notes to him.
A noticeable sea change has occurred since Rogers's departure. After the MFA hired Matthew Teitelbaum in 2015, it showed a renewed dedication to embracing its original mission — to be accessible, instructional, and community-minded. A former museum director from Toronto, Teitelbaum has repeatedly emphasized in his public remarks that the MFA must be "open and generous" to everyone, members and visitors alike. Gone was an accent on "things" (e.g., the Koch exhibit). Instead, the institution is taking a greater interest in "people," as shown in its current "Women Take the Floor" exhibit (Arts Fuse review), which presents overlooked and underrepresented work by women artists during the past century.
This has, of course, not prevented the MFA from being the site of a racial incident earlier this spring, when a group of seventh graders from Dorchester encountered instances of what they called "blatant racism" during their school visit. The MFA apologized for the incident, revoked the memberships of those who vocalized racial epithets, and launched an investigation (which is still underway). Another investigation is being undertaken by the Massachusetts Attorney General's office to determine if any civil rights violations occurred. (A similar incident took place that spring during a Red Sox baseball game when a ballplayer from Baltimore was subjected to racist taunts.)
Since that incident, the MFA has announced it is strengthening the institution's school program, focusing on finding more effective ways of  shaping the expectations of schoolchildren before they visit the museum. In a speech during their season preview last September, the MFA's chief learning and community manager, Makeeba McCreary, announced that the museum will soon hire a staff member who will devote his or her time to improving school communications.
The sea change in the MFA's attitude is also noticeable in the exhibits themselves. In addition to the aforementioned "Women Take the Floor," the current exhibition Ancient Nubia Now features a video interview with a young black University of Massachusetts-Lowell student, Lana Bashir, who talks about what the exhibit means to her, and how it has influenced her to further explore her Sudanese heritage. And the previously reviewed Islamic Cultures Gallery, on the MFA's main floor, includes an ongoing collaboration with the Islamic Center in Roxbury, which tape records a new chapter from the Qur'an each week. It is difficult to imagine these kinds of projects occurring during earlier eras at the MFA.
Thankfully, there is a new order of things at the museum. As the press release about the upcoming 150th anniversary puts it: "Throughout 2020, the Museum will engage community members and local artists as co-creators on various opportunities for convening and celebration, from a teen-curated exhibition of 20th-century art by artists of color from the Americas to a community mural project — initiatives that lay foundations for future ambitions."
In her concluding remarks at the season preview, McCreary admitted "We have a long way to go." Yes, it will take considerable time for the museum to make good on its commitment to finding more ways to be "open and generous" to all. The good news is that the MFA  — approaching 150 — has come to recognize its responsibility, and is dedicating resources toward achieving it.
---
Robert Israel writes about theater, travel, and the arts, and is a member of Independent Reviewers of New England (IRNE). He can be reached at risrael_97@yahoo.com.