Matthew Teitelbaum, 59, may be among the most reluctant employees the Museum of Fine Arts, Boston has hired.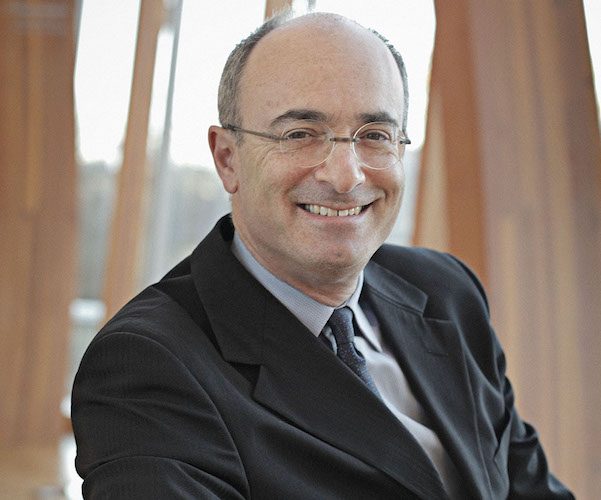 By Robert Israel
Before meeting Matthew Teitelbaum in person – he's the newly appointed Ann and Graham Gund Director at Boston's Museum of Fine Arts (MFA) — I met him in print, in an essay he wrote in a Toronto museum's catalogue.
I was touring the Art Gallery of Ontario (AGO), where Teitelbaum worked for 22 years (5 as chief curator and 17 as director and CEO). Without planning on it, I happened on Memory Unearthed: The Lodz Ghetto Photographs of Henryk Ross, an exhibit that showed graphic images of imprisoned Polish Jews who were later murdered by the Nazis. Fearing deportation and death, Ross buried his work. At war's end, among only a handful of Jews that survived, he exhumed his prints and negatives when the Red Army liberated Poland in 1945. It was a devastating experience — visually and viscerally — to stand in the AGO gallery before harrowing portraits of a lost people.
"It is, in a deep and unsettling way, difficult to make sense of these images," Teitelbaum wrote in the forward to the Ross catalogue. Yet later, in the AGO essay, Teitelbaum attempted just that by describing what it must have felt like to be trapped there: "…no roads lead elsewhere…no light shines through windows; walls, fences and closed doors separate but do not join," he wrote.
Teitelbaum, 59, may be among the most reluctant employees the MFA has hired. He told the Toronto Star he was "not looking for a job in any way" when the MFA came calling. "I was completely focused on what I truly believed," he said, adding he initially resisted the MFA's overtures.
But the MFA was not to be shunned. As he warmed to the idea of leaving his native Toronto and the successful career he built there, Teitelbaum began to see the possibilities of relocating to Boston.
"I got very excited by what it would mean to try something new, what it would mean to engage with a collection that is truly international, that has collections all over the world," he said.
Teitelbaum is no stranger to Boston. He had served as a curator at the Institute of Contemporary Art (ICA) before he took his first job at AGO. He had lectured at Harvard University. Part of the attraction of coming to Boston, he explained, is the opportunity to strengthen relationships between the MFA and Boston's academic community.
The MFA directorship comes with a hefty salary. The Star reported that Teitelbaum earned, yearly, $388,000 (Canadian dollars) at AGO. The Boston Globe reported that the MFA paid out, to now-retired director Malcolm Rogers, more than double that sum: over $900,000 a year (U.S. dollars), including a $60,000 housing allowance.
The MFA expects Teitelbaum to lead the charge in ambitious programming, acquisition, preservation, scholarship, and fundraising. And, after meeting him at a community breakfast in September and listening to his list of priorities — compiled after he had spent less than 100 days on the job — it is clear that the governing MFA board also expects him to shake the place up a bit, too.
"Museums are places where objects and ideas meet," Teitelbaum said, sharing a number of Tweets he composed at #MatthewTeitelbaum. "While one can enjoy solitary moments in a museum, I believe it's a place where people come together to share and to interact."
Toward that end, in one of his first meetings with his staff, he offered a chilly description of what is often perceived about the MFA, namely that the 145-year-old museum is "open but not accessible."
The building on Huntington Avenue in Boston's Fenway district is "a city block long and that's one of its attributes and one of its challenges," he said. "It is seen as an intimidating place."
Speaking plainly, yet avoiding listing specific initiatives he is still formulating, Teitelbaum told the breakfast audience that he is working with his staff to "create great partnerships," with not only Bostonians, but with the international community as well.
"I just visited the Museum of Modern Art in New York, where I viewed a Picasso exhibit," he stated. "There's something about putting on a great exhibition, and the MFA does that, too. But museums have to do more than just exhibit great art; they have to engage us in conversations differently. The way we communicate today is more fluid. We need more external voices."
He was asked about the MFA working more closely with MIT's media lab, for example, and if one of his agenda items is to offer more "free admission" days in order to draw more people into the MFA.
"We are open to ideas," he replied, so long as "these ideas help us to build audiences, to create partnerships and to establish sustainability, so we are always engaging and connecting with these audiences not once but many times."
Teitelbaum also shared what he said is another reason he came to the MFA: the museum's painting by J.M.W. Turner, Slave Ship (Slavers Throwing Overboard the Dead and Dying, Typhoon Coming On.
"This painting shows both terror and beauty co-existing," Teitelbaum observed. "And it reminds me of how life is, that we are always negotiating between fear and grace. It is one of the paintings in this museum I constantly make a pilgrimage to see, over and over again."
Teitelbaum closed his remarks by saying he wants the MFA to be both "open and generous." With a photographic image of the tranquil yet deserted museum at night projected on the screen behind him, he concluded: "Here's a view of your MFA at night. I have to figure out how to keep the MFA not quiet at night."
---
Robert Israel writes about theater, travel and the arts, and is a member of Independent Reviewers of New England (IRNE). He can be reached at risrael_97@yahoo.com