By Jason M. Rubin
"Now I'm retired, but I still look forward to honoring the legacy of John Coltrane."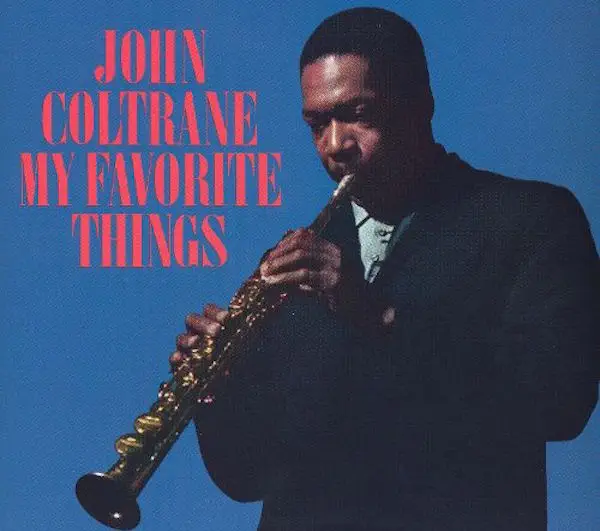 John Coltrane, one of the greatest musicians in jazz history, died just two months before his 41st birthday. On December 15th at 7:30 p.m. the 41st annual John Coltrane Memorial Concert (JCMC) will again salute the legendary saxophonist at Northeastern University's Blackman Auditorium. The theme of this year's concert is "My Favorite Things" (which Coltrane recorded in 1961 in a fiery arrangement that introduced soprano sax to his arsenal) and two JCMC mainstays will be honored with Lifetime Achievement Awards: Bill Pierce and Stan Strickland.
The concert, which features the JCMC Ensemble under the musical direction of Dr. Carl Atkins, is a collaboration of the Friends of the John Coltrane Memorial Concert, Inc., Northeastern University's Office of Student Affairs, and the University's College of Social Sciences & Humanities, and as usual it features a stellar lineup of locally based musicians with world-class talent.
To wit:
• A killer rhythm section comprising Laszlo Gardony on piano, John Lockwood on bass, and Yoron Israel on drums
• Billy Buss, Charles Lewis, and Michael Peipman on trumpet
• Tyler Bonilla and Dorsey Minns on trombone
• Bill Lowe on bass trombone and tuba
• Carl Atkins on alto and soprano saxophones
• Leonard Brown and Bill Pierce on soprano and tenor saxophones
• Bobby Tynes on alto, soprano, and tenor saxophones
• Stan Strickland on soprano and tenor saxophones, bass clarinet, flutes, and vocals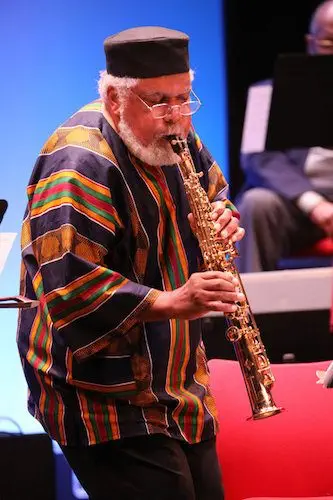 According to Dr. Atkins, who has been associated with the Concert since the late 1980s, the last three as music director, the repertoire will span different eras of Coltrane's career.
"The goal was to represent each important period," he said. "I have done a special arrangement of "My Favorite Things" to feature Stan and Bill Pierce. I have also expanded Stan's small group arrangement of "Afro Blue" for the 14-piece ensemble, while Bill will do "Straight Street" and "Like Sonny" with the rhythm section. Though Stan and Bill will have a lot of exposure, the program gives the other players in the ensemble a chance to stretch out."
Fitting for the holiday season, "Greensleeves," from Coltrane's 1961 album Africa/Brass will also be included. Though the disc came out the same year as My Favorite Things, the latter was a quartet recording while the former featured no fewer than 21 musicians, demonstrating the rapid evolution of Coltrane's musical vision. "But Not For Me," also from My Favorite Things, will be rendered in a trio version arranged by Gardony, while Bill Lowe's brass arrangement of "Compassion" from Coltrane's 1966 free jazz classic Meditations, also promises to be a highlight.
"The last few years, after I left Boston, I always made it a point to leave my calendar open for this Concert," says Dr. Atkins. "Now I'm retired, but I still look forward to honoring the legacy of John Coltrane."
As in the past, the Concert will be hosted by WGBH jazz DJ Eric Jackson, a local treasure himself. Tickets are $25-$35. For more information, go here.
More on this year's honorees:
• Bill Pierce has appeared on over 80 recordings and for more than 25 years served as the head of woodwinds at Berklee College of Music, where his legacy as a teacher and mentor is legendary. He retired in 2017 and was named emeritus chair of woodwinds.
• Stan Strickland is a master musician, performing on various reeds and woodwinds, as well as vocals, in multiple formats and genres for over five decades. Stan is also an accomplished dancer and actor, and has performed at all 41 JCMC events.
---
Jason M. Rubin has been a professional writer for 33 years, the last 18 of which has been as senior writer at Libretto, a Boston-based strategic communications agency. An award-winning copywriter, he holds a BA in Journalism from the University of Massachusetts Amherst, maintains a blog called Dove Nested Towers, and for four years served as communications director and board member of AIGA Boston, the local chapter of the national association for graphic arts. His first novel, The Grave & The Gay, based on a 17th-century English folk ballad, was published in September 2012.