By Marcia B. Siegel
Boston Dance Theater's four pieces seemed to counter female stereotypes but raised limited alternatives.
Boston Dance Theater presented by World Music/CRASHarts at the Institute of Contemporary Art, Boston, MA, on  November 30 & December 1.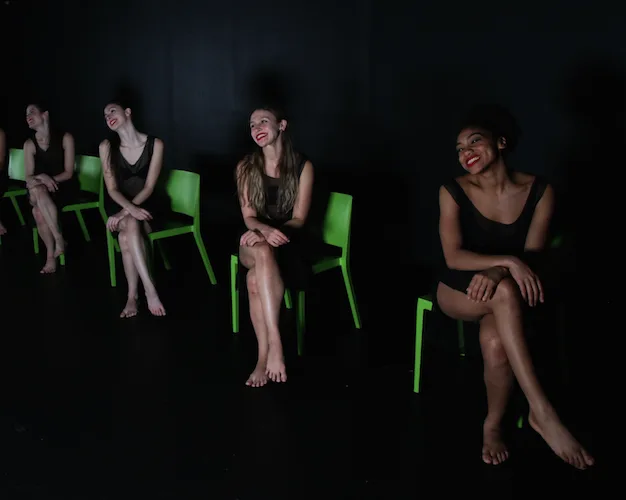 We live in oppositional times. When we speak about our lives, we speak in labels, tweets, three-minute interviews. Politically and socially, it's either one thing or the other, no nuance or in-between. Male versus female, for or against, Trumper versus anti-Trumper.
Boston Dance Theater, led by Jessie Jeanne Stinnett and Itzik Galili, made its debut performances last weekend at the ICA with four pieces that seemed to counter female stereotypes, but raised limited alternatives. All the pieces utilized a hyper-physicalized modern dance technique to showcase women in solos, duets, and groups. The action was meant to demonstrate the solidarity of groups and sometimes to show off a more personal state of affairs, usually an aggressive one. All three choreographers' work bore the imprint and some of the signals of European contemporary dance-theater.
In Yin Yue's Today for Now (2018), four women arrived and left, pairing up with each other in seemingly random ways for grappling duets. Their stretchy, knotty, movements were highly energized and elaborately embellished, much like the Janis Joplin recordings that accompanied them. But unlike Joplin's manic screams and subsidences, the dancers' movement maintained a high level of intensity all the time.
Sidra Bell's Deeper Inscription (2018) had six women dressed in purple velour leggings, black tops, and four-inch stiletto heels. In shoes like that, you don't expect to see the wearers traveling a whole lot, and the dance began with large moves initiated by arm gestures. Imagine reaching out for something, then reaching past and around your destination, from your chest, your ribs, your legs, without leaving the place where you're standing. These movers were fixed in place by atmospheric squares and shafts of light (designed by Stephen Petrilli).
From there, the women strode in and out of the scene, encountering each other warily, sometimes assertively. Bell's eclectic musical accompaniments ranged from percussive/electronic effects to Erik Satie and Laurie Anderson. The last section was a fast dance to a rhythmic ensemble of women's voices, possibly Bulgarian. Then the women lined up at the edge of the stage and took off their shoes without betraying any sign of relief. Barefoot, they ran upstage and disappeared.
Man of the Hour was made in 2015 by Galili for men; he excerpted it here for the women of Boston Dance Theater. In silence at first, an eight-person clump faces the audience and shouts out a litany of syllables that resemble no words that I recognize. They become more insistent, even angry, with punchy gestures. The regular exclamations blend into the sound of a harpsichord continuo. A recorded soprano huffs out words from the score of an unidentified Henry Purcell opera, and the women's group breaks up into duets and solo outbursts. At one point, the women form a semi-circle, thrusting out one breath after another, surrounding and galvanizing one woman who seems to twist in agony.
This was one of several moments that reminded me of the fierce rituals of Ohad Naharin, Galili's fellow Israeli choreographer. I don't know if Galili owes anything directly to Naharin, but the BDT dancers project something of the hyper-intensity and rubberized use of the body fostered by Naharin's Gaga training. Gaga — not a formal technique, but "language" or "research" — seems predicated on releasing suppressed feelings. So in this and the other dances on BDT's program, the movement often looked aggressive. In Man of the Hour, adopting movement originally made for men, the women punched and jumped in a squat to show their masculine side.
They're dressed in men's suits. Pieces of clothing are removed during the dance, until they're wearing sleeveless shirts and black shorts. Clothes are also an issue in Galili's other dance, Chameleon, which opened the program at the ICA. This 1998 work had a lot in common with another piece of celebrated dance-theater, Anne Teresa de Keersmaeker's Rosas, from 1983. In both dances, scantily clad women are perched on chairs for the duration. They gesture in unison, showing off their bodies in stereotypical moves of seduction. They coyly angle their arms around their faces, jut out a hip, lift a shoulder, cross their legs, and glance into the audience to make sure we're paying attention.
In Chameleon, the slinky moves alternate with brazen exposures: the arms or legs spread wide, knees pulled up to reveal crotches clad in black briefs. Coopted into the role of voyeur, I'd never seen the inside of so many women's naked thighs.
Chameleon was accompanied by an early John Cage piano piece, "In a Landscape." Chordal and almost harmonic, it reminded me of Erik Satie's wallpaper music. The dancers reacted to every one of Cage's evenly spaced chord changes, making their dance look a bit like sexy calisthenics. I wondered what the dancers were thinking in the inner-focused moves that alternated with their programmed seductiveness.
---
Internationally known writer, lecturer, and teacher Marcia B. Siegel covered dance for 16 years at The Boston Phoenix. She is a contributing editor for The Hudson Review. The fourth collection of Siegel's reviews and essays, Mirrors and Scrims—The Life and Afterlife of Ballet, won the 2010 Selma Jeanne Cohen prize from the American Society for Aesthetics. Her other books include studies of Twyla Tharp, Doris Humphrey, and American choreography. From 1983 to 1996, Siegel was a member of the resident faculty of the Department of Performance Studies, Tisch School of the Arts, New York University. She has contributed two selections to Dance in America, the latest edition in the Library of America's "Reader's Anthology" series.