By Helen Epstein
I was excited, moved, impressed, and surprised by Handel & Haydn Society's performance of The Messiah under the exacting baton of Bernard Labadie.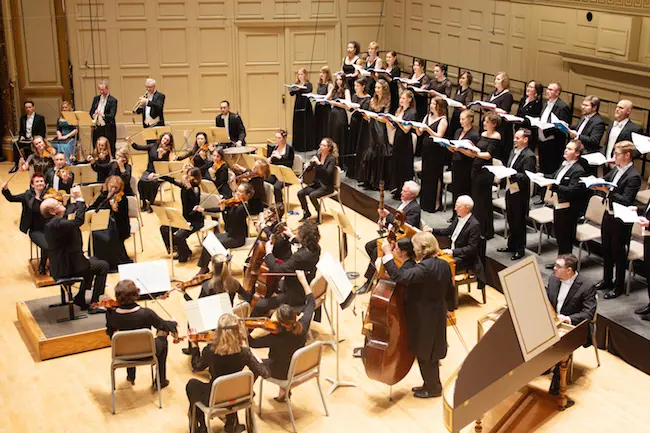 Handel & Haydn Society's annual performances of Handel's The Messiah at Symphony Hall are as much a historic Boston tradition as annual choral concerts. They are attended by generations of families with small children, as well as great-grandparents, many in holiday garb: snowflake-patterned sweaters, red bowties and pants. During the holiday season, music from the oratorio written in 1741 has become so ubiquitous on the radio, in malls, and elevators that it's hard to hear it with fresh ears or anticipate writing about it with excitement. And yet, at H & H's performance under the exacting baton of Bernard Labadie, I was excited, moved, impressed, and surprised.
The full performance of The Messiah had its American premiere on Christmas Day, 1818 courtesy of H & H, and the group has been performing it in Boston every holiday season since 1854. An enterprising German-born composer who moved to England, Handel wrote the oratorio as British taste for Italian opera was waning and chose a libretto that would be categorized as "noble entertainment." If you are Christian, it's a familiar sacred narrative; if you are not, it's a dramatic and accessible story with lines as famous and quotable as those of Shakespeare. ("O Death, where is thy sting?") The text by Handel's patron Charles Jennens is simple, sung in English, and drawn from both the Old and New Testaments (with lots of prophecy from Isaiah) and the Book of Common Prayer.
Handel wrote the oratorio for 25 orchestra members and 25 choristers. However, over the course of decades, its popularity with amateur singers and many composers who reorchestrated it — including Mozart — swelled the size of the chorus, reaching an apex in 1857 with an H & H concert that featured a chorus of 680.
The Messiah in H & H's current version goes back to the original: 30 choristers, four soloists and almost the same size orchestra.
In his debut performance with H & H, Quebecois conductor and specialist in Baroque and Classical repertoire Labadie gave a meticulous, elegant, and superbly cohesive rendition of the oratorio. The orchestra, soloists and chorus were precise, energetic, superbly attuned to one another and to Labadie's every nuance of interpretation.
His choice of soloists was distinguished by the inclusion of two singers new to Boston and to me. Bass-baritone Philipe Sly, another Quebecois making his debut with H & H, has a beautifully-modulated, full-bodied operatic voice, excellent diction, and an authoritative stage presence. His phrasing was superb and you could hear every note, including his subtlest pianissimo.
British soprano Lucy Crowe was also making her Boston debut with H & H, and what a debut it was: she sang of angels in an angelic, satin-smooth voice that easily accommodated soaring vocal lines, intricate ornamentation, and superbly controlled crescendo. Mezzo-soprano Christine Rice stepped in at the last moment for ailing counter-tenor lestyn (sic) Davies, and tenor James Gilchrist rounded out the soloists.
---
Helen Epstein is the author of the memoirs Where She Came From: A Daughter's Search for her Mother's History and The Long Half-Lives of Love and Trauma, both available from Plunkett Lake Press. She has reviewed for The Arts Fuse since 2010.