By Peg Aloi
This is one of the year's most heartwarming films; it is not sentimental, but projects a profound sense of resilient joy at its heart.
Becoming Astrid, directed by Pernille Fischer Christensen. Screening at the Kendall Square Cinema.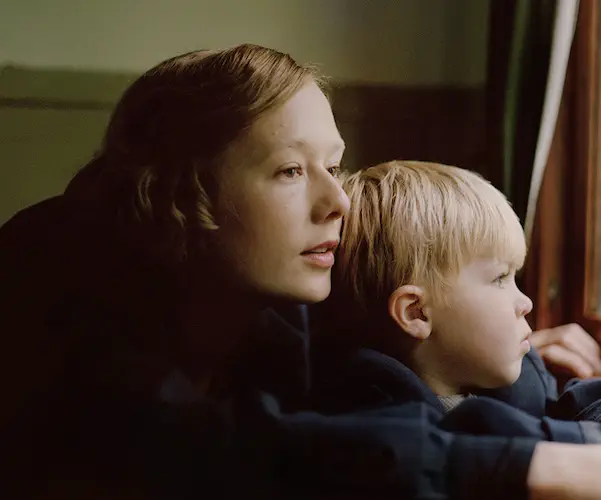 There's no denying that the books we read as children can have a deep impact upon our formative years. The way we experience relationships, hardships, work and play, as well as sensory experiences of food, nature, sex and creative expression can be shaped via the books we read when our bodies and minds are still maturing. What's more, when a large number of children read the same books, those characters and stories form a cultural narrative that becomes a vital, long-lasting part of our larger consciousness.
Astrid Lindgren is the Swedish author of the beloved series of Pippi Longstocking books, translated into countless languages and read by children all over the world. This biopic looks at several years in Lindgren's adolescence when she is forced to grow up rapidly amid personal and social challenges. The film opens with an elderly woman (whose face we never see, though we know it must be Astrid) opening hand-lettered birthday greetings sent by children. In voiceover and subtitles, the children also ask questions and relay their thanks as well as the lessons they have learned from reading Lindgren's books. One child asks how Lindgren can write so well about children —  because it has been so long since she was a child — and the narrative starts up, back in Astrid's teenage years in a small Swedish village.
At 16, Astrid (Alba August) works the family farm with her many siblings, fidgets and yawns during church (answered by her mother's admonishing glance). She enjoys a loving family life in an idyllic rural setting. The scenes of the family farm are rich with detail yet simply portrayed; the passing of seasons is conveyed through images of horse-drawn sleighs through snowy forests, meadow grasses blowing in the wind, planting and harvesting crops from the fields. The film seems determined to capture the vibrancy of Astrid's childhood with all its sensual delights; sparking, perhaps, in those who have read her books, memories of discovering Pippi's homeland in all its beauty and natural splendor. Astrid's life shifts direction, but the vision of this bucolic life imprints itself deeply on her personality.
Astrid seems slightly estranged from the social lives of her peers; at a dance, rejected by the boys, she asks her friend Berta to dance. When Berta tires, Astrid dances wildly on her own.  Astrid is also making a name for herself in the village; her school essay was published in the local newspaper, and Astrid's father tells her the editor is seeking an intern. "You can do this," her father says, a reminder he repeats several more times as Astrid's world shifts beneath her feet. At the job interview, Astrid impresses Reinhold (Thelma's Henrik Rafaelson) with her wit, and soon enough her clerical tasks widen to include journalism. She covers a story about the village's new railroad station, and her article prompts Reinhold to tell her "You can really write." But Astrid also enjoys the times that Reinhold treats her as a confidant; recently widowed, and with seven children, he shares personal details about his life with her. They grow closer. Thinking to catch his eye by imitating a photo in a fashion magazine, Astrid has her hair bobbed. Holding her shorn pigtail braids in her hands,  those familiar with the books see the trademark of Pippi Longstocking, a girl whose story doesn't exist yet. But we're also seeing more than the end of Astrid's girlhood — this is a significant rite of passage.
At first, Astrid's decision to enter into a romantic (and sexual) relationship with Reinhold is exhilarating. But, predictably enough, there are consequences. Reinhold, in the midst of a messy divorce from his second wife, can't help Astrid navigate the fallout. Determined not to shame her church-going family, Astrid learns of a place girls in her situation can go, and she travels to Stockholm to attend secretarial college. She agrees to put her baby into foster care with a Danish woman named Marie (Nico 1988's Trine Dyrholm), who lives in Copenhagen. The next two years are grueling, as Astrid must balance her desire to do the right thing with her inability to manage the complicated logistics of her life. Throughout this period of struggle, she continues to be energetic and industrious; but the light seems to have gone out of her eyes. Apart from her family, Astrid's world has become unmoored. Again, readers will be reminded of the importance of family bonds in Lindgren's books, as well as the many hardships her characters endure over time.
I found this to be one of the year's most heartwarming films; it is not sentimental, but projects a profound sense of resilient joy at its heart. Director and co-writer Pernille Fischer Christensen has crafted a powerful coming of age story that is also a story of how society slowly transforms. Alba August, as Astrid, is letter-perfect, capturing the inspiring vitality of this much-loved author, especially her attempts to navigate an adult world she's not quite ready for. Without being heavy-handed, the film also pays affecting homage to the legacy Lindgren has left behind. Being Astrid paints a brief portrait of the author's history that suggests that her stories, of ordinary people who struggle and persevere, will serve as invaluable balms for generations yet to come.
---
Peg Aloi is a former film critic for The Boston Phoenix. She taught film and TV studies for ten years at Emerson College. Her reviews also appear regularly online for The Orlando Weekly, Crooked Marquee, and Diabolique. Her long-running media blog "The Witching Hour" can be found at at themediawitch.com.