A comedy about slavery poses considerable challenges in our #blacklivesmatter times, but the characters bounce gleefully through endless rounds of verbal sparring.
Ben Butler by Richard Strand. Directed by Daniel Burson.  Staged by Portland Stage,  25 Forest Ave, Portland, ME, through October 21.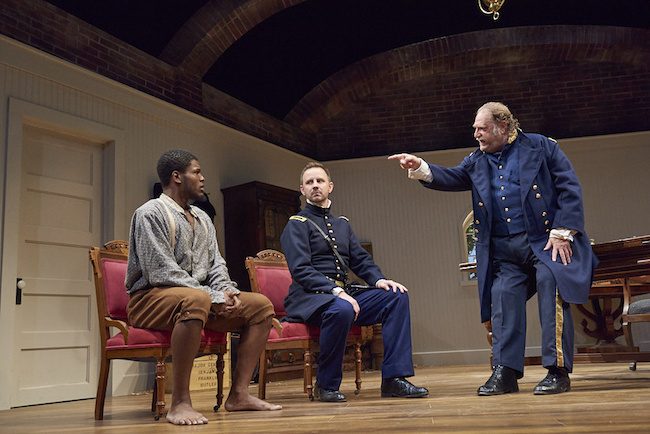 By David Greenham
It's suddenly not so hard to imagine there was a time when our country completely fell apart. On May 23, 1861, Virginia's citizens overwhelmingly agreed that their state should secede from the United States.
Richard Strand's snappy comedy, Ben Butler is set in Union-held Fort Monroe, VA on May 24th and 25th, 1861. The play is set during an incredibly tense moment in American history, so it would be understandable (even predictable) that it would be an old-fashioned historical pot boiler. One of those 'keep you on the edge of your seat' yarns.
You're in for a surprise. Ben Butler is, for the most part, a rip-roaring comedy. General Benjamin Franklin Butler (Ron Orbach) arrives at Fort Monroe to hear by-the-book West Point Graduate Lieutenant Kelly (Michael Dix Thomas) announce that three escaped slaves have entered the fort: one of them demands to see the General. Butler is indignant. The only people who can make demands on him are President Lincoln, the President's cabinet, higher ranking officials, and…his wife. What follows is a silly linguistic tennis match, a contest reminiscent of wordsmiths high (Tom Stoppard) and low (Neil Simon). Eventually, we meet the memorable Shepard Mallory (Cornelius Davidson), who, with unseen fellow slaves Frank Baker and James Townsend, has escaped captivity and is requesting asylum.
The issue raised by a slave seeking asylum is well worth pondering and Butler, who is much more of a lawyer than a general, warms to the idea. But word comes that the following day a representative of Mallory's high-ranking owner is sending someone to collect his property. Options are considered, but none of them appeals to Mallory, Butler, or even Kelly. By the time the Confederate Major John Baytop Cary (Corey Gagne) arrives to gather the slaves and return them to captivity – and most likely to kill Shepard Mallory – Butler has come up with a plan to keep them at the fort and, in the process, humiliate the puffed-up Major.
Ben Butler is based on a real-life event and person. Butler turns out to have been a rather notorious General: he was mostly a failure as a military man. That set him up for a long and successful political career, which included terms in the US Congress and serving as the Governor of Massachusetts. He even ran for President. Not surprisingly, scant information exists about slaves Mallory, Baker, and Townsend.
A comedy about slavery poses considerable challenges in our #blacklivesmatter times, but the characters bounce gleefully through endless rounds of verbal sparring. Butler and Mallory become an almost textbook example of a comedic "Odd Couple."
Talented director Daniel Burson propels his actors at breakneck speed, partly to avoid the chance that audience members might think long and hard about the consideration of Mallory as chattel. Save for one moment in the evening, when the reality of life as a slave is hit hard, the only pauses in the action are the razor-sharp beats of a well timed punch line. The audience roars when Butler shouts "You are an arrogant oddity!" and Mallory retorts "So are you!"
A lesser production of Ben Butler would not be able to cover over the dramaturgical cracks in the script's comic armor. The opening exchange between Butler and his Lieutenant Kelly is overlong and excessive. Likewise, the repetition of key words, such as "demand," become a tad too predictable. If viewers had a moment to reflect, they would notice that the story may be set in 1861, but the dialogue is clearly 21st century.
Still, Burson and his skilled cast make the potential potholes disappear (mostly) with sharp, crystal clear delivery, excellent timing, and impressive teamwork.
As Butler, Orbach is effective and fun throughout. He's at the frenzied center of this comic contraption (the breakneck pace relies on him) — at times the other performers can only stand and watch. Thomas shines as Lieutenant Kelly, providing plenty of charm and amusing presence. As the pompous Major Cary, Gagne holds his own. He looks great, with his mutton chops and puffed-out chest. The touch of Foghorn Leghorn in his voice makes him a delightful foil for the sass of Butler and Kelly.
The toughest role is that of the slave Shepard Mallory, and Cornelius Davidson pulls it off with aplomb. In order for the play – and especially the snappy dialogue – to work, Mallory needs to be a distinctly gifted individual. He has an excellent vocabulary, is obviously educated, and has impressive street smarts. Davidson pulls all that off, yet somehow makes it plausible that this individual was also born and lives in bondage.
Although the play might be a bit too modest for the Portland Stage space, Executive and Artistic Director Anita Stewart once again delivers a well-conceived set that's shaped by an adept use of clutter. She also designed the costumes. I suspect that Civil War buffs will quibble with some of the uniform details, but they serve perfectly well. Greg Carville's lighting is fine, as is Chris Fitze's unobtrusive sound design.
The only reminder of  slavery, the terrible reality tucked away in this Civil War comedy, is the subtle use of an African-American spiritual at the end of the production. The audience was shouting and applauding so loudly that I doubt many noticed it. But I did and I appreciated the subliminal nod to the horror underneath the play's amusing surface.
---
David Greenham is an adjunct professor of Drama at the University of Maine at Augusta, and is the Program Director for the Holocaust and Human Rights Center of Maine. He spent 14 years leading the Theater at Monmouth, and has been a theater artist and arts administrator in Maine for more than 25 years.