MassOpera opened their season with a workshop of a new opera, something they've never done before.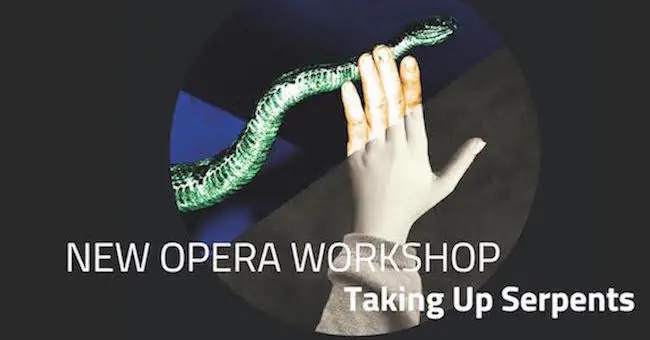 By Katrina Holden-Buckley
With a company name change as well as a rebranding, MassOpera (formerly Metrowest Opera) has relocated from the suburbs to downtown Boston. It has also changed its mission statement, dedicating itself to casting based on gender parity as well as providing progressive representations onstage. Last weekend they opened their season with a workshop of a new opera, something they've never done before. "We wanted to do an opera by a female composer to try to follow our history… or "herstory" of gender parity," says Executive Director Will Neely. And so Taking Up Serpents found its way to Deane Hall at the Calderwood Pavillion in the Boston Center for the Arts in a concert workshop version before it heads to the Kennedy Center with Washington National Opera.
In a chat before their first rehearsal, Producing Artistic Director Cassie Lovering told me just how unconventional this collaboration turned out to be:
When we first set out on thinking about what our new workshop program would be, we were open to all different kinds of ideas and really meeting composers and librettists where they are in the process. It just so happened this first time around that through [conductor] Lidiya [Yankovskaya] and through Washington National Opera, there was a need for another workshop, so it really was kismet.
This gave MassOpera the opportunity to host another look at the opera, particularly with regard to its orchestration. The composer and librettist was given a chance to troubleshoot; MassOpera took on a new project, exploring how it could expand this pursuit in the future. In the past, the company has put up one staged opera a year (along with a competition and other Outreach programs), so Taking up Serpents presented a move that fit the budget as well as provided a terrific opportunity for local singers and instrumentalists, which has always been part of the company's mission.
Kamala Sankaram, the piece's composer, adds that it was the last chance to see if the incorporation of some "very odd things" actually worked. At the time of our chat, a percussionist was warming up in the background on three pieces of "junk metal," which are called for in the opera's score.
In terms of their working together as a composer and librettist, Sankaram says she and Jerre Dye, (unable to attend interview), made an integrated team.
While he's working on the story we talk quite a bit and similarly, I like to send him things as I'm working just to see what he's thinking.  We make sure we're conceptually on the same page before anything gets written.  And it's great. Not everyone I have worked with likes to work that way but I think it's more of a theatre model than a traditional opera model. For a long time the librettist was not given equal say in the end product, particularly in the beginning of the 20th century, which is not ok.
With an impressive résumé of both singing and composing new music under her belt, this is Sankaram's third full-length opera and third collaboration with Dye.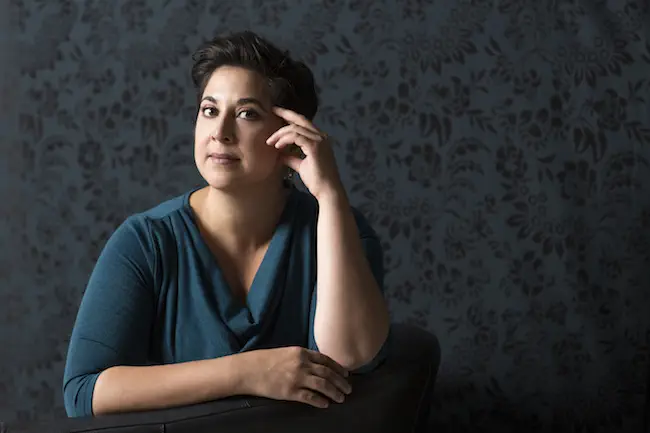 The opera follows Kayla, a young woman who has left the Pentecostal faith of her upbringing. After a call from her mother and several flashbacks including her abusive Pastor father, she decides to return to her estranged parents at her father's deathbed. He is dying from a bite received from one of the venomous snakes he had tested her faith with as a child. The narrative was inspired by Dennis Covington's non-fiction book, Salvation on Sand Mountain, a journalist's first person narrative of returning to his southern roots. He covered the trial of a Pentecostal pastor accused of against attempting to murder his wife via rattlesnake bite. Dye grew up as an Evangelical, but chose to focus on a female protagonist for his libretto. He and Sankaram agreed that the female voice was underrepresented in the original story, that the inclusion of more women posed compelling questions. As a result, Dye has said that the characters in Taking up Serpents brought out sides of his own mother's struggles as a woman of faith who was frustrated at not being able to preach or be a leader in the church.
The mother and daughter in the opera are grappling with issues of faith and identity, explained Sankaram. "What is the place of faith in modern society but also what is the role of women? The idea of fallen women is still such a trope in our society." The composer is also interested in the way a particular faith, even a faith one has left, continues to infuse meaning into a person's life.
Dye's libretto delves into his characters' inner lives by way of their imaginations and memories. Sankaram saw this as an important part of the opera's musical journey: "It very quickly slides from reality into memory into something that may be both. A lot of the music is full of secret meanings. The time signature and how the chords transform, there are motives that happen at key moments that repeat. " With a light laugh the composer concluded that "the characters each have their own instrument that is sort of their 'spirit instrument.'"
Conductor Lidiya Yankovskaya admired how Sankaram's score conveyed the libretto's evocative imagery:
She uses electric guitar with different sound effects but also uses the instruments to create effects that happen in real life, for instance, the scene in the hospital, the guitar is used to simulate the beeps of the hospital machinery. Many composers have a base rhythmic texture, which can be really effective, but one thing I really like about this is that Kamala finds places where there's a lot of stillness and the orchestra is providing a drone of some sort and the singers are singing over it. Other places, it's an ongoing fast texture, like the very opening there's a fast flutter in the flute imitating moths in a lamplight.
Lovering emphasizes that MassOpera's new season will concentrate on storytelling: "Womens' agency, your own personal agency are the kinds of stories we're interested in telling." Taking Up Serpents features a poignant climactic duet between mother and daughter, a piece that questions the role of women and religious patriarchy in Christian America. This workshop suggested that the opera is on a solid trajectory toward performance. And the presentation signaled that there are exciting new possibilities on the horizon for MassOpera, including talk of possibly including season-long collaborations with composers and librettists at various stages of their process. 
---
Katrina Holden, soprano, has appeared with Boston Lyric Opera, Odyssey Opera, MetroWest Opera, and Connecticut Lyric Opera, as well as in concert throughout the country and abroad. A graduate of The New England Conservatory and Muhlenberg College, she has written for Boston Singers' Resource, Classical Singer Magazine, and The Theatre Times.