Jesse Colin Young's best material is worthy of favorable comparisons to Tom Rush, Gordon Lightfoot, and the unrelated Neil Young.
By Blake Maddux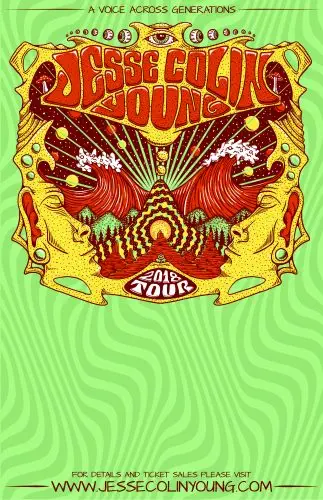 The prolific rock historian Richie Unterberger wrote on the AllMusic website, "'Get Together' is perhaps the most renowned peace-and-love anthem of the 1960s, and most familiar and famous in the version by the folk-rock group the Youngbloods, which made #5 in 1969. It isn't easy to make a song exhorting brotherly love sincere rather than sappy. The Youngbloods did so, however, both by gifting the number with a very inventive folk-rock arrangement and by virtue of the extremely soulful lead vocal by Jesse Colin Young."
Young did not write the song. Credit for that goes to Chester Powers, aka Dino Valenti. But it is his voice that people hear on the incarnation that—thanks to its use in a public service announcement by the National Conference of Christians and Jews—became more popular than previously recorded versions by The Kingston Trio and Jefferson Airplane. In fact, The Youngbloods had originally released it as a single in 1967 and it reached #62.
"The lyrics are just to die for," Young said in a recent phone interview with The Arts Fuse. "To this day, it gives me a thrill to play it."
However, there is much more Young's career than The Youngbloods. He had released two solo albums prior to that group's 1965 formation in Boston and myriad others following its 1972 break-up. His best material is worthy of favorable comparisons to Tom Rush, Gordon Lightfoot, and the unrelated Neil Young.
The 76-year-old's band comprises seven Berklee graduates, among whom is his son, Tristan. Together, they will be performing at Shalin Liu Performance Center on Thursday and City Winery Boston on Friday.
---
The Arts Fuse: You have shows in Rockport and Boston this week. Where are you speaking to me from now?
Jesse Colin Young: I'm at the Jamspot in Somerville, where this whole band started here a year-and-a-half ago in the fall. It all started when my son was graduating from Berklee College of Music. I came to hear his senior recital, and he had put together a band to play some fusion with him. And I just kind of fell in love. I had been off the road for six or eight years before that. I thought I was done. And then, something happened. I just decided before I leave the planet, I've got to play some music with some young people like this. I've got to play my music with them.
AF: What are your family's connections to the Boston area?
JCY: They both grew up in Lynn, both dad and mom, although he went to Classical High School and she went to the other one, where they teach you how to type….Technical, I guess it's called. My grandma was a nanny from Nova Scotia, and she came down here to work with some young children. And then she fell in love with my grandfather and they married. And as the boys grew up, she said to the family, I guess, If those boys that I used to babysit are going to Harvard, my boys are going to Harvard. So they scrimped and saved. My dad raised chickens. He's really good at saving money, pennies at a time. He put together a small fortune like that over his life. I think he went [to Harvard] when he was 16. He graduated the business school and taught long enough to put his brother through, who was six years behind him.
AF: How was your life affected by having been expelled from Phillips Academy
JCY: It kinda broke my father's heart, but it was a perfect storm for me to be expelled for playing guitar. When you take a rebel personality like myself and do that kind of an unjust thing to him. The dean said to me, Gee, it's a shame we have to lose a good boy like you. And I'm thinking, You dumbass. You don't have to if you didn't have these silly rules! I survived 10 weeks of probation without a demerit, and on the night that I was done, my housemaster came to congratulate me and I was practicing the guitar in study hours. That was it. When you're on probation, you have to observe study hours. I had a concert the next day. I didn't really have a choice!
It kept me from the Ivy League and my father's dreams. I ended up at Ohio State living behind a record store and that just opened my eyes. I discovered T-Bone Walker, Ray Charles, B.B. King. I discovered that kind of energy that Elvis had on his first record. I discovered the guys he was listening to.
AF: What initially got you involved in the Boston music scene?
JCY: Cambridge/Boston really was the center of the folk music revival in the '60s. There were ten times the clubs here that there were in Greenwich Village, where I lived. I put out my first record, which was a solo record called The Soul of a City Boy, it came out on Capitol, and the first gig offered was at Club 47. I think it was because a disc jockey named Dick Summer—who was on WBZ at night—started playing "Four in the Morning," which is the lead song from, at 10 or 11 o'clock at night. And all of a sudden, there I am playing the Club 47.
I don't even remember the names of all the clubs I played. There was the 47, and then over on Boylston Street—I forget the name of it—there was a club that later became something called Paul's Mall. And I met [Youngbloods guitarist] Jerry Corbitt here. He was in the folk scene. I ended up staying with him. We played a few gigs together, like Winnipeg, Canada, as a duo. That was about two years into my folk career and I said, I think we better start a band. And we did, and they all moved to New York: Banana [the nickname of guitarist and keyboardist Lowell Levinger] and [drummer] Joe Bauer and Jerry. Now we all lived on the lower East Side.
AF: What inspired The Youngbloods to record "Get Together"?
JCY: We played at the Cafe Au Go Go for a year, making $20 a night whenever we played, and courting record companies. We eventually signed to RCA. At an open mic one day at the Café Au Go Go, I heard Buzzy Linhart sing "Get Together," and I rushed backstage and said, Oh man, I need the lyrics. I love that song. I want to take it into rehearsal with The Youngbloods. And the rest is history.
AF: Indeed it is! In the 1990s alone, it appeared on the Forrest Gump soundtrack, and its chorus was quoted in songs by Nirvana and Garth Brooks. Have you ever ceased to be amazed at the number of lives that song has lived?
JCY: No, I'm always amazed. I mean, it was in a Walmart commercial that they had designed for Thanksgiving, but they put out immediately after Charlottesville. It was a big table in the middle of a field, and all these different kinds of people were bringing a chair to sit at the table. I've only had it described to me, but it didn't sound like they were selling anything. It was almost like a Thanksgiving…get together! (laughs) I'm thinking like, Maybe the kids have taken over Walmart, or something, because I was surprised at how perfect it was for the soul of that song, and to combat all of the ugliness and divisiveness of this time we're living through.
AF: Are you currently working on new music?
JCY: We just finished a record in Nashville last month, which I had wanted to do. This is after a year of touring.
We went into rehearsal in February. We had a couple of songs from it. One that my wife, Connie, and I wrote together called "Cast A Stone" had come at the beginning of the band. But the rest of them I had been writing over the past year. Connie and I wrote another song together called "While Texas Is Drowning," which is a song about the environment. There's a song called "Don't Turn Your Back on the Dreamers," and another song called "Shape Shifters," which is about those people that just have the gall on television to just show up and tell stories and present them as the truth. The punch line of that song is "If lies can win, we're bound to lose."
And several other songs. There's a song that kind of comes after "Get Together," "Walk the Talk About Love." It's time instead of trying to love one another to actually do it. There's trying and there's doing, and there's a big difference there. There's one that I wrote for Orlando, after the massacre there that was really an attack on the LGBT community.
The record is called Dreamers, and we are negotiating with BMG. We're going to have a major label release. It's amazing.
---
Blake Maddux is a freelance journalist who also contributes to The Somerville Times, DigBoston, Lynn Happens, and various Wicked Local publications on the North Shore. In 2013, he received an MLA from Harvard Extension School, which awarded him the Dean's Prize for Outstanding Thesis in Journalism. A native Ohioan, he moved to Boston in 2002 and currently lives with his wife in Salem, Massachusetts.