A devastating piece, given the recent mass murder in Parkland, Florida, but DeKalb Elementary unfolds with an almost eerie calm.
2018 OSCAR NOMINATED SHORT FILMS at the ICA, February 26 through March 5
2018 OSCAR NOMINATED SHORT FILMS: ANIMATION, currently screening at Kendall Square Cinema
By Peg Aloi
This year's Oscar Shorts seem to split fairly equally into light and dark. The programs of Live Action and Animated Shorts, which run for about 83 and 99 minutes respectively, proffer films that touch on social ills and cultural difficulties, reach into the past and speculate about the future. The animated program usually runs first, and includes a nice mix of computer generated imagery and good, old-fashioned art.
Dear Basketball, a collaboration between Glen Keane and Kobe Bryant, stars the NBA player reading a letter about how, from a young age, he loved his basketball. It features breathtakingly beautiful colored pencil drawings. Negative Space, a French production, dramatizes bittersweet remembrance; it shows us a boy recalling how his father taught him to carefully pack a suitcase. The voiceover is simple, taken from a poem, and the animation's colorful surreal treatment of claymation is whimsical, inventive, and deeply affecting. Lou is a sweet, funny, and kinesthetic Disney piece about a playground bully who likes to swipe toys from other kids — until he learns some hard-won lessons about generosity inside the Lost and Found Box. Garden Party is a dynamic, brilliant short that catalogs the leftover detritus of a fancy party; there's a rather gruesome reveal at the end. The longest animated short is a UK production, Revolting Rhymes, and it boasts some outstanding voice work by Dominic West, Tamsin Grieg, and Rob Brydon, among others. It's a dark twist on several familiar Roald Dahl fairy tales, with some slightly adult themes and very funny action, all narrated by a rather sage old wolf. There are three other animated shorts that weren't available to me for screening, but overall I found this program to be very strong. Negative Space was my favorite, and I hope it gives the computerized shorts a run for their money (and speaking of French animation you really ought to see Ma Vie En Courgette).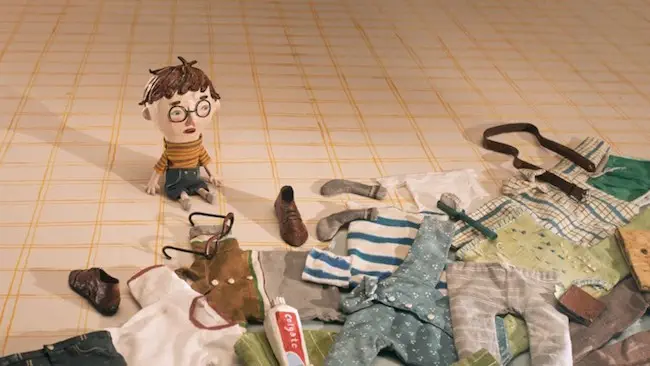 The live action program contains much more serious fare. DeKalb Elementary is a fictionalized account of the amazing true story of a school bookkeeper in Atlanta (a stunning performance by Tarra Riggs) who managed to talk a school shooter into surrendering to authorities before any harm was done. A truly devastating piece, given the recent mass murder in Parkland, Florida, but it unfolds with an almost eerie calm. My Nephew Emmett dramatizes the story of Emmett Till, an African American teenager from Chicago who, while living with family members in Mississippi, was tortured and murdered for speaking to a white woman on the street. The short doesn't present any graphic details but, given the story's haunting legacy, the portrayal of events leading up to the boy's death thrum with tragic intensity. This is a lyrical, powerful piece by Kevin Wilson, Jr. Watu Wote/All of Us is a German film that depicts the explosive political situation at the Kenya/Somalia border; a young woman moves through the mayhem with almost serene courage. The Eleven O'Clock is a brusque somewhat topsy-turvy Australian comedy about a psychiatrist who must treat a delusional patient who thinks he is also a psychiatrist. Predictable but very well acted fare. The Silent Child, an English production, is set in a posh village where a busy middle class family hires a tutor for their deaf daughter, Libby (a stunning performance by young Maisie Sly). Realistic and moving, with beautiful cinematography, this is a stirring call for awareness of the plight of deaf schoolchildren.
So, why go see the Oscar Nominated Shorts? They're not really a major category in most peoples' minds. But for filmgoers who love cinema and are fascinated by its inner workings there is much to ponder and enjoy here. A film shoot for a short film is every bit as complex and involved as one for a feature length narrative; the shoot may last fewer days and cost less money to be sure, and the post-production work goes more quickly. But these stories are crafted by film artists seeking to make the leap to feature length works. A number of them do it by the seat of their pants, often scrambling for funding (note the many grants and GoFundMe mentions in the credits). These short works deserve our attention; they're the hopeful children of tomorrow's Best Picture nominees.
---
Peg Aloi is a former film critic for The Boston Phoenix. She taught film and TV studies for ten years at Emerson College, and currently teaches at SUNY New Paltz. Her reviews also appear regularly online for The Orlando Weekly, Cinemazine, and Diabolique. Her long-running media blog "The Witching Hour" can be found at themediawitch.com.