Del Toro creates a visually intriguing world, but the story's premise is too farfetched to work.
The Shape of Water, directed by Guillermo Del Toro. Screening at Kendall Square Cinema and Coolidge Corner Theatre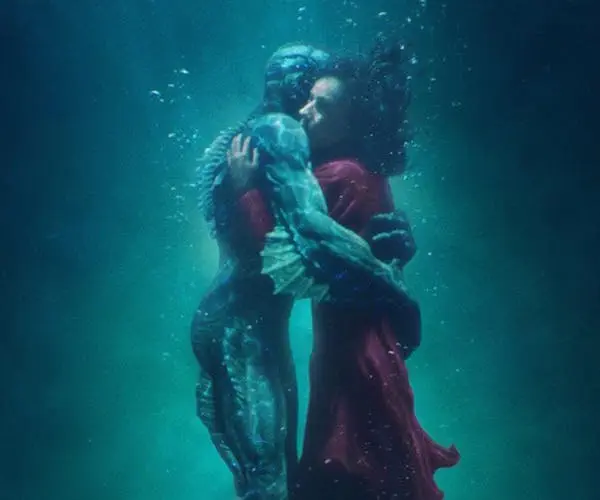 By Matt Hanson
Love stories, especially in movies, aren't necessarily required to be realistic. We expect intense emotions and poetic tragedy as a part of the genre, but suspension of disbelief only goes so far. Vertigo, for example, has a confusing storyline and some sudden, unbelievable plot twists, but we give these flaws a pass because it's more fun to just sit back and let director Alfred Hitchcock work his magic. But there's a limit to how far out a movie can go before its premise becomes absurd.
Guillermo Del Toro is an ambitious, highly literate, and very skilled filmmaker. A recent tour through his house in LA shows off an impressive library of literature, movies, and artwork that testifies to his erudite knowledge of film history, especially pertaining to horror. Pan's Labyrinth, his mainstream breakthrough, was a cryptic exploration of a little girl's inner fantasy life while living under despotism. The narrative's complex and dreamlike imagery will probably never be forgotten by anyone who sees it. The Shape of Water, his latest film (festooned with critical praise and Oscar hoo-ha), doesn't manage to pull off the same trick twice. Del Toro creates a visually intriguing world, but the story's concept is too farfetched to work.
Set in Baltimore in 1962, it tells the story of Elisa Esposito, a mute woman played charmingly by Sally Hawkins. She works as a janitor for a mysterious government laboratory that has captured a sea creature from South America for an unexplained use in the Cold War. Elisa's best friend is a gay painter played by Richard Jenkins, her neighbor in an apartment built above a movie theatre. Her only other friend is an African-American coworker who translates for her. Michael Shannon is excellent as the stern, intimidating military man who captured the creature and ruthlessly runs the undefined project that intends to use the thing for some nefarious end.
Del Toro's camerawork is exquisite: we are guided through his elaborately designed world by way of a series of graceful tracking shots that swoop and dip along hallways and glide through the walls of Elisa's building. The movie's production values are gorgeously realized, with each space the characters inhabit given depth and detail, suggesting a world adjacent to reality but uniquely its own.
But that's exactly where the movie gets into trouble. The Shape of Water is set at an macabrely askew angle to reality, and its premise quickly slides off into a jumble of directions that never settles down into anything remotely convincing. Elisa ends up inexplicably falling in love with the creature, an important plot development that makes little sense. The creature is a humanoid with some recognizable physical features, but there's not much character there. For one thing, it can't speak, and when she first meets it the thing doesn't do very much but swim around and accept the offer of eggs Elisa feels somehow compelled to bring to its tank.
We grow to understand Elisa's relative isolation and quirky good nature, but that on its own isn't enough to understand why she would romantically warm up to a being from another species as quickly and as deeply as she does. So much of the story depends on the audience's ability to identify with the creature and feel sympathy for it. We do, but only to the extent that it's innocently living in captivity, not that it has any recognizable or compelling emotional life — otherwise, all it amounts to is a creepy, overgrown pet goldfish.
The story's plot twists become more and more baroque, involving double agents and international intrigue. Elisa does quite a lot to help the creature, risking a great deal in the process. This generates plenty of suspense, but Del Toro takes our willingness to follow her over-the-top emotional trials and tribulations for granted. At one point, their relationship becomes physical in a way that isn't shown on screen but is described: a little too matter-of-factly. Too much information!
In one thankfully brief montage, Elisa dreams of dancing with the creature as in an old Fred Astaire movie, with the creature decked out in a tux as an orchestra saws away in the background. Whatever it's meant to suggest about the dreamy nature of Elisa's romantic fascination, the hoofing comes across as ridiculous overkill. (Could it be a homage to the tap-dancing monster in Young Frankenstein?) The fact that her friends take her adamant concern for the creature's emotional well-being at face value doesn't help bolster the story's already tenuous and slightly gross premise.
The movie tries to convey insights about the redemptive power of love and how we need to fight The Power to retain our humanity. But it's difficult to absorb these admirable (if potted) messages given all the madcap plot twists, odd references, and blurry poetry. Del Toro was evidently inspired by the '50s sci-fi feature The Creature from the Black Lagoon — but he was determined to remake the earlier film's violently lustful monster into an effective romantic lead. Unfortunately, his cinematic hubris doesn't hold water.
---
Matt Hanson is a critic for The Arts Fuse living outside Boston. His writing has appeared in The Millions, 3QuarksDaily, and Flak Magazine (RIP), where he was a staff writer. He blogs about movies and culture for LoveMoneyClothes. His poetry chapbook was published by Rhinologic Press.