Francois-Xavier Roth's Mahler is full of energy; the National Orchestral Institute Philharmonic's account of Randall Thompson's Symphony no. 2 is gripping.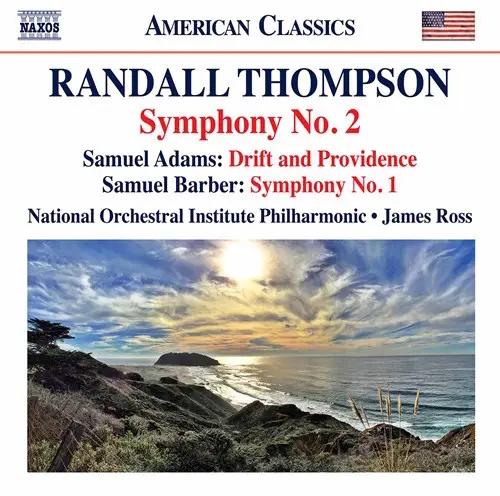 By Jonathan Blumhofer
If you can't recall the last recording you heard of Randall Thompson's Symphony no. 2, you're probably not alone: the National Orchestral Institute Philharmonic's (NOIP) new account of the piece is the first to hit the market in about twenty years. Why it's been so long and why this piece remains obscure are two completely pertinent questions to ask after hearing their gripping performance of it.
Thompson's 1931 score is a thoroughly compelling piece, marked by brilliant, syncopated rhythms in its first movement; marvelously spun-out tunes in its slow second one; athletic riffs in its scherzo; and an idiosyncratic blend of vigor and nobility in its finale. More than being a strong musical statement, it's simply a beautiful, exciting, engaging, and accessible piece of music that demands to be heard.
The NOIP certainly play it that way on this Naxos recording. Their performance, led by James Ross, is thoroughly invigorating, even if the outer movements (particularly the finale) sometimes feel a bit deliberate.
But there's nothing tentative about the ensemble's consistently biting articulations or the close attention to the score's dynamic markings and tonal shadings they bring to Thompson's ever-involved writing. The slow movement is gorgeous and the third wonderfully nimble.
Many of those same qualities also mark their performance of Samuel Barber's Symphony no. 1, which closes the disc. This is another unjustly-maligned, great, American symphony from the '30s, conceived in one movement that's divided into four, connected parts.
The NOIP imbues the first movement with plenty of weight – both tonal and dramatic (it's almost as though Barber the Opera Composer makes an early appearance in this score) – but they never lose sight of the music's underlying, lyrical voice, even in the fleet scherzo. As in the Thompson, some of the group's finest playing is reserved for the Barber's sensuous slow movement, here played with melting intensity.
In between these early-20th-century scores comes the debut recording of Samuel Adams' Drift and Providence. A twenty-minute meditation "about the ocean," the piece alludes in subtle ways to Mendelssohn, Debussy, and others, but crafts an effective argument on its own merits. Adams' subtle use of electronics, his idiomatic writing (especially for brass), and strong sense of pacing all leave strong impressions, collectively and individually.
---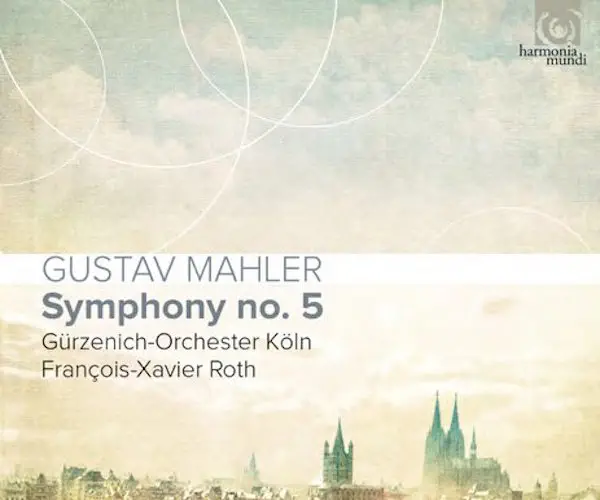 As far as Mahler goes, few things are worse than tepid performances of the symphonies or song cycles. Thankfully, Francois-Xavier Roth's new account of the Fifth Symphony with the Gürzener-Orchester Köln (GOK) offers plenty of bold strokes and Technicolor playing.
Above all, Roth's Mahler is full of rhythmic energy. The first-movement funeral march is always focused on the coming downbeat – it's taut and urgent, just as it should be. The third-movement scherzo often dances with abandon. And the famous "Adagietto" doesn't get lost in its longueurs: Roth's is a sensitive, but driven, reading of this beautiful music.
The GOK plays well, if not quite as brilliantly as the Berlin or Vienna Philharmonics in this piece. Certain of the brass solos, in particular, are a bit shaded, though, ensemble-wise, the orchestra generally acquits itself well.
Does Roth's interpretation make up for these (admittedly small) technical shortcomings? Well, that's an open question. He's got a strong sense of the music's architecture and a clear understanding of how each movement relates to the next. Moreover, his tempos are carefully considered, his eye to detail outstanding (balances, like in some of the busier passages in the second movement, are all smartly judged), and the playing he draws from the GOK is nothing at which to scoff.
That said, there are times – in the finale, especially, but also the Scherzo – where these ears missed the overwhelming excess Bernstein brought to the music or the fiery drive Solti mined from its pages.
Still, there's much to admire in this performance, both its concept and execution. This is a piece that's been played and recorded ad nauseum in the last fifty years (this is at least the third recording of it to come out – so far – in 2017), and Roth's take is, on the whole, well-judged, lively, and engaging. Perhaps that's enough?
---
Jonathan Blumhofer is a composer and violist who has been active in the greater Boston area since 2004. His music has received numerous awards and been performed by various ensembles, including the American Composers Orchestra, Kiev Philharmonic, Camerata Chicago, Xanthos Ensemble, and Juventas New Music Group. Since receiving his doctorate from Boston University in 2010, Jon has taught at Clark University, Worcester Polytechnic Institute, and online for the University of Phoenix, in addition to writing music criticism for the Worcester Telegram & Gazette.