Coming of age in today's world is a tumultuous and confusing experience; Ken Urban's script expertly taps into these modern anxieties.
A Guide for the Homesick by Ken Urban. Directed by Colman Domingo. Staged by the Huntington Theater Company at the South End / Calderwood Pavilion at the Boston Center for the Arts, Boston, MA, through November 4.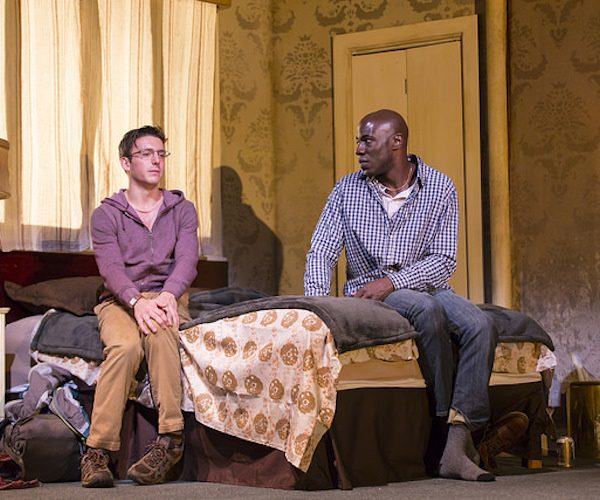 By Erik Nikander
On the surface, being stranded on a desert island might seem to be a rotten fate. The scorching heat, the lack of human contact, having to subsist on a 90% coconut diet–it doesn't exactly sound like the ideal vacation. Yet a longing for this dream of isolation persists in our collective imagination, so perhaps such an extreme escape has an archetypal appeal. Perhaps what we long for is a life untethered from society, freed from secrets and lies and obligations.
The characters in Ken Urban's new play, A Guide for the Homesick, aren't castaways, but they've found a similar state of exile in an Amsterdam hotel room. Teddy (McKinley Belcher III), a banker who's out to give his best friend a last stab at freedom before his wedding, meets Jeremy (Samuel H. Levine), a Harvard graduate who shocked his wealthy family (and fiancee) by signing up to work in a Ugandan medical clinic. They head back to Teddy's room to drink, talk, and (Teddy assumes) hook up. What begins as a chance encounter evolves into a deeper connection as the secrets these men carry begin to unravel,  forcing them to confront the truth about who they really are.
The majority of Urban's drama may take place between two people in a single hotel room, but it is not your conventionally neat two-hander. The script's emotional depth is continually rich and surprising, its characterizations free of stereotypes. Urban uncovers fascinating new layers in characters we thought we understood. Assisted by their developing relationship, Teddy and Jeremy explore new facets in their personalities. Questions of self-doubt, regret, and sexual discovery are brought to the forefront and examined with frank honesty. Each man prods the other to face his own deepest fears and uncertainties; the result is both captivating and profoundly moving.
Urban's nuanced writing is one of the production's major strengths, but the drama couldn't achieve the power it does if the Huntington Theatre Company's two lead performers weren't willing to be as emotionally honest as the script demands. Belcher and Levine give brilliant performances, both in terms of their individual achievements and the crackling chemistry between them. Even during the play's early moments sparks fly, though the two are only having a conversation as they sit at opposite ends of a hotel room. Levine gives Jeremy an undercurrent of tension and neuroticism that dovetails with Belcher's genuine sweetness as Teddy. Like skilled trapeze artists, each of these performers clearly trusts the other to 'catch' him other during the action's riskiest emotional moments.
Director Colman Domingo has fostered an atmosphere of mutual trust between his leads. He has also wisely paced the show to accentuate the rising tension in Urban's script. The opening moments in the narrative are mundane, and the actors' movements feel similarly lax and typical. However, as the characters reveal what they have fought so hard to hide, and confront the turmoil churning inside themselves, the staging becomes more dynamic. The men being to circle each other like dance partners, particularly once the play transitions to flashbacks of Jeremy's time in Africa. Domingo takes what could be a theatrical limitation — the 'kitchen sink' confines of a hotel room, and explores its opportunities for staging and movement. The result is a beautiful and captivating visual experience.
The technical aspects of the show, much like the characters themselves, set up a façade that harbors plenty of its own mysteries. It would be courting spoilers to talk about these hidden layers, but rest assured that William Boles's set, which initially appears to be a standard hotel room (including outdated furniture and drab periwinkle wallpaper) has its potential to startle. Russell H. Champa's lighting work also seems, at least at the play's opening, pretty humdrum, but it eventually proves to be vital in shifting the mood of the play, especially through its use of color. The sound and music provided by Lindsay Jones is understated but effective, especially when (in tandem with some water effects) it creates the illusion of a rainstorm.
The play's dramatic weakness may be its use of double casting, which strikes me as uneven in terms of its emphasis. Each of the performers are called on to play two roles; Belcher provides a joyful, heartbreaking performance as Nicholas, a gay African man who Jeremy became close to during his time in Uganda. Levine's other character is Ed, Teddy's best friend who has traveled to Amsterdam with him and has gone missing before the action of the play begins. Ed is suffering from some undefined mental illness (possibly depression or bipolar disorder) that the play seems to find significant. But Urban doesn't devote enough time to clarifying Ed's story. Expanding this subplot for future productions could make this aspect of the script feel more substantial, which would add further depth to the already rich character of Teddy.
Aside from this under-developed plot element and some dialogue exchanges that feel a tad unsubtle, A Guide for the Homesick is a gripping drama  packed with genuine emotional power. Not only have Urban's characters been created with meticulous detail, but they're brilliantly portrayed on-stage through the efforts of Domingo and the HTC's hard-working pair of cast members. Coming of age in today's world is a tumultuous and confusing experience; Urban's script taps into these modern anxieties in a way that's both refreshing and compelling. This is a play for anyone who has been forced to grapple with uncertainty and regret (which, in 2017, is just about everyone). A Guide for the Homesick may not provide easy answers to these quandaries, but it shows that those who struggle with such questions are far from alone.
---
Erik Nikander is a critic, playwright, and filmmaker based in the New England area. His film criticism can be read on Medium and his video reviews on a variety of topics can be viewed on Youtube at EWN Reviews.