The promise of something special is there – we are invited to see the world through the eyes of an adolescent whose autism makes human communication and contact incredibly difficult.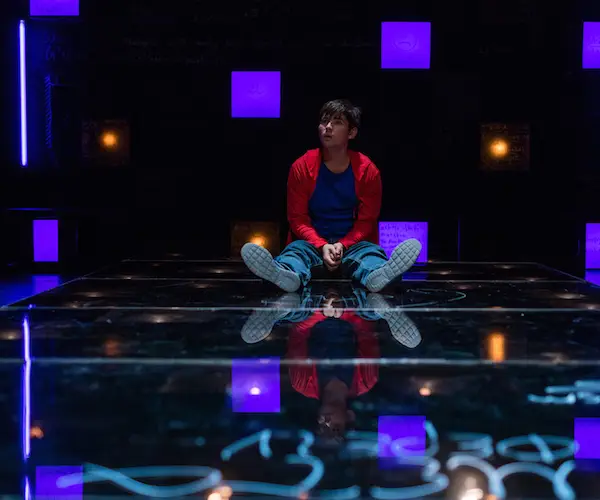 The Curious Incident of the Dog in the Night-Time Based on the novel by Mark Haddon. Adapted by Simon Stephens. Directed by Paul Daigneault. Staged by SpeakEasy Stage Company at the Calderwood Pavilion at the Boston Center for the Arts, 527 Tremont Street in Boston's South End, through November 25.
By Bill Marx
At this point, The Curious Incident of the Dog in the Night-Time is not so much a show as a juggernaut, the spawn of a mega bestselling 2003 novel (detailing the trials and tribulations of an autistic teen savant) whose London stage adaptation and eventual transfer to Broadway has generated bonanza box office and sky high critical accolades, including an assurance from the New York Times that the Big Apple production "retunes the way you see and hear." Of course, the reviewer admits in the same sentence that the material is "shamelessly sentimental." And that contradiction is an important clue to figuring out why this exercise in rote Dickensian melodrama has been so successful. The alleged tune-up is pretty much a put-up job.
What's sort of new here is the production's sensory-laden stagecraft: a whiz bang set design revs up a black box theater space. TVs are plugged into the wall, mathematical formulas are scrawled on the floors, the walls, etc. But this modern-ish eye candy is wrapped around an antique storyline, standard hooey about how socially marginalized but gifted people find a way to overcome the odds in order to provide us with oodles of inspiration. Nothing we "see and hear" is seriously challenged, let alone the de rigueur perception of how the world works — Broadway version, of course. Triumph is available for all, if they have sufficient gumption and talents.
The promise of witnessing something special is there – we are invited to see the world through the eyes of Christopher Boone, an adolescent whose autism makes human communication and contact incredibly difficult. The idea of getting into the head of someone like Christopher fits the novel form because the narrative comes from him. And bringing that point-of-view on stage would be genuinely exciting – to dramatize, in all of its ups and downs, Christopher's alternative consciousness. But that would not make for commercial fare, so the theater version of the book is filled with trite, normalizing devices: for example, the voices of teachers and parents regularly pop up our protagonist's head to make it easy for the audience members to follow the action at every turn. (Christopher's state of mind may have its deep confusions and dizzying fears – but we are not allowed any.)
Also, like so many autistic characters featured in mainstream entertainment, such as the hero of the TV series The Good Doctor, Christopher is a savant, in his case one with an astonishing talent for math. One out of ten of those with autism are savants. It would be heartening if more plays/movies/books eschewed focusing on the minority and dared to look, unflinchingly, at the lives of the majority who don't have a compensatory (at least in the eyes of some) superpower, something that rockets them to distinction. But that no doubt painful approach would ask for art that is dedicated to exploring intractable reality rather than selling dreams of uplift. The storyline of Curious Incident fits neatly into the quest/fantasy mode: a neighborhood dog is found murdered, its killer unknown. Christopher decides to solve the crime – and as he clears up that mystery he is led to tackling other, greater, enigmas. Toss in dysfunctional family dynamics, a pet rat who gets into big trouble, and a difficult train ride to London and you have a newfangled version of the Perils of Pauline.
This said, the SpeakEasy Stage Company production is fine and efficient – it delivers the sentimental goods with adept dispatch, never letting the fancy schmancy design elements push it around. Director Paul Daigneault might have done more to shape the evening's emotional contours. Christopher is not going to change, but each scene in his story seems to follow the other without a discernible shift in emotional key, aside from an emphasis on predictable bits of humor that are intended to lighten up the proceedings. As Christopher, Eliott Purcell is consistently engaging; he embraces a sort of monomaniacal earnestness. As our protagonist's parents, Laura Latreille and Craig Mathers are called on to make more complex emotional modulations. It is always good to see the accomplished Latreille on stage, and she brings a complicating sourness, an inflection of bitterness, to her portrait. Mathers has to make a longer psychological stretch, and I am not sure he pulls off encompassing (convincingly) the figure's bedeviling polarities. Jackie Davis wrestles with transforming Christopher's good-natured tutor from a narrative device into a full-fledged character. The rest of the supporting cast pleasingly plays a variety of roles, mostly bright, well-meaning cartoons.
The design elements, scenic design masterminded by Christopher & Justin Swader, costumes by Gail Astrid Buckley, lighting by Jeff Adelbert, and sound by David Remedios, are compelling, though welcomely modest in their way, respectful that the story is the thing. And that is both the power of The Curious Incident of the Dog in the Night-Time and its failing: it's the same old dessert wine poured into a new multi-media bottle.
---
Bill Marx is the editor-in-chief of The Arts Fuse. For over three decades, he has written about arts and culture for print, broadcast, and online. He has regularly reviewed theater for National Public Radio Station WBUR and The Boston Globe. He created and edited WBUR Online Arts, a cultural webzine that in 2004 won an Online Journalism Award for Specialty Journalism. In 2007 he created The Arts Fuse, an online magazine dedicated to covering arts and culture in Boston and throughout New England.