The sense of place, the passage of time, the death-haunted imagery, the coolly rhythmic verse — it's all part of what gives Lucinda Williams's songs their traction.
Lucinda Williams: Road Trip, at Berklee Performance Center, Boston, MA, May 10.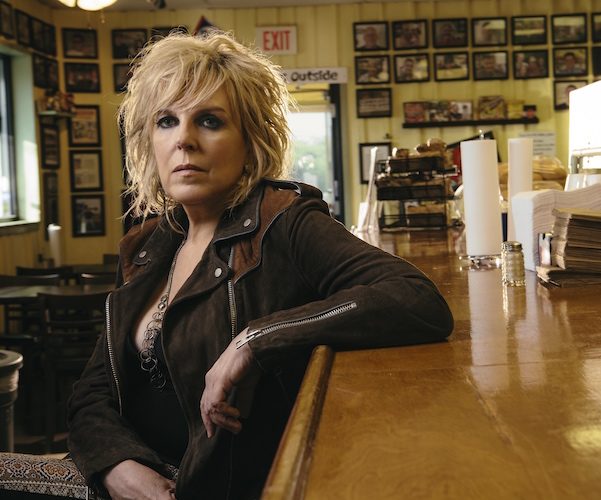 By Jon Garelick
You could tag Lucinda Williams with all kinds of convenient labels, none of which seem adequate: singer/songwriter, Americana chanteuse, rock-and-roll queen, what? Over the course of more than two hours at Berklee last Wednesday night (May 10) with her longtime backing trio Buick Six, Williams covered a lot of ground – musically and personally, in moods, grooves, and mixes of genres. There was country and rockabilly, a bit of dub, even some metal brawn, all in their own way giving wing to her story-songs, thumbnail portraits and self-portraits, her many lover's laments — songs where disappointment and existential despair were inseparable from lusty affirmation and hope.
Williams, now 64, has been an acclaimed star since her breakthrough Car Wheels on a Gravel Road in 1998. That album established her as a major songwriter – someone who knew her way around sounds and forms and could shape them to finely crafted lyrics. (Her father was the poet Miller Williams, whom she credits as a mentor.) The title song is basically the story of a family car trip — images, sounds, and smells: coffee brewing, a slamming screen door, the views from the road of "broken down shacks, engine parts," and "cotton fields stretching for miles and miles." It's all as seen and felt by a child in the backseat, " 'bout four or five years /Lookin' out the window/Little bit of dirt mixed with tears."
Though basically a romantic (there's a lot of Southern goth lurking in these songs), Williams is resolutely unsentimental. Car Wheels on a Gravel Road ends with those tears, but without comment, the final close-up part of a montage of fragmentary images, the title-line chorus clicking rhythmically with chanking guitar chords, marking the passage of time on that road trip.
At Berklee (where she also received an honorary doctorate, on Friday), Williams didn't sing "Car Wheels on a Gravel Road," but she did sing "The Ghosts of Highway 20," which she described as the adult self looking back at that little girl. Highway 20, she pointed out goes through the cities were her siblings were born – Vicksburg, Macon – and talked about a landscape dotted with billboards that said "Repent Now" and "Get Right with God." The song didn't mention those things, just casually stating: "I know this road like the back of my hand/Same with the stations on the FM band/Farms and truckstops and fireworks stands." And she comes to the conclusion: "Who I am now/is who I was then."
The sense of place, the passage of time, the death-haunted imagery, the coolly rhythmic verse — it's all part of what gives Williams's songs their traction. There was one after another like that at Berklee: indelible characters and images, like "Drunken Angel," her elegy for the musician Blaze Foley, "a rough and tumble kind of character" who's become somewhat legendary (a movie about him is being directed by Ethan Hawke, she told us), and who was eventually shot to death. Here he was, a street character, someone people would mock behind his back while wishing him well to his face. "Why'd you let go of your guitar?" Williams sang, while drummer Butch Norton rattled a tambourine behind her. "Why'd you let it go that far?"
The people and place names rolled by – the man who "was born in Nacogdoches" but "liked to tell everybody he was from Lake Charles"; Slidell, West Memphis (which popped up in two songs, one of them about the West Memphis Three).
The show was a road trip, beginning with Williams playing acoustic guitar over the electric trio, then a middle section that began with Williams playing solo acoustic guitar (on "The Ghosts of Highway 20") before being joined by second guitar, acoustic bass, and finally drums, and then a final electric set that got into the true rockers.
There were of course, somewhat less complicated tales of desperate love — "Passionate Kisses" (a hit for Mary Chapin Carpenter and Williams's first Grammy, for songwriting) or "Righteously." But there's never anything simple in a Williams song. The lust of the slow-grooving "Righteously" mixes desire with recrimination ("Why you wanna dis me/after the way you been kissin' me") and "Passionate Kisses" is about what the singer wants rather than gets ("Do I want too much? Am I going overboard to want that touch?"). At times the frustrations of love turned truly desperate ("You took my joy/I want it back," from "Joy"), almost to the point of wish for self-obliteration, in "Unsuffer Me," with its dark, looming, metal chords ("Undo my logic, undo my fear").
Williams delivered these in her distinctive fine-grained drawl, with a slight vibrato quaver on the held notes (and vocal harmonies from the band), engaging the audience with graciousness and good-humored self-deprecation ("Now I'm embarrassed," she said to laughter, after bassist David Sutton told her it was Hawke, not Ewan McGregor, who was directing the Foley movie). The band fit her like a glove (Stuart Mathis is Buick 6's outstanding guitarist), whether it was the double-time gospel coda of "Get Right with God" or the hypnotic Tejano-reggae groove of "Are You Down" ("Rain turns the dirt into mud/warm and messy like your love").
By the end, the personal had become political (as if the political weren't implied throughout). Williams thanked the crowd for offering the "gift" of their presence and enthusiasm, and talked about being "angry and sad" about "what's going on." And the litany of "wants" at the end of "Joy" included love, peace, and freedom. It was an earned conclusion to a show that had dug deep into every corner of American life.
---
Jon Garelick is a member of The Boston Globe editorial board. A former arts editor at the Boston Phoenix, he writes frequently about jazz for the Globe, The Arts Fuse, and other publications.