Lester Bangs insisted that, at its best, rock was an act of pure rebellion, a liberation from the prison of respectability.
How to Be a Rock Critic: Based on the Writing of Lester Bangs by Jessica Blank and Erik Jensen. Directed by Blank. Staged at the Emerson Paramount Center, Jackie Liebergott Black Box Theatre, Boston, MA, through May 21.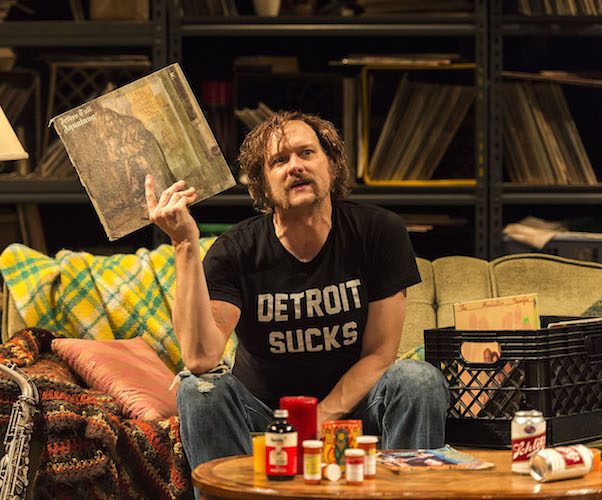 By Bill Marx
When critics pop up in plays and movies they inevitably come off as villains or cynics, so I was looking forward to writing about How to Be a Rock Critic. For once, the critic is the hero — a gadfly fighting the good fight against the nefarious forces of oppressive conservatism, polite liberalism, and rapacious capitalism. Hallelujah! Granted, rock critic Lester Bangs (1948-1982) does not sit at the top of my honor roll of the period's rock critics, which would include Greil Marcus, Robert Christgau, and Ellen Willis. Compared to them, Bangs was a potty-mouthed, drug-addled, apolitical, misogynistic primitive. But he took the stream of consciousness approach of the Beats and applied it, at times brilliantly, to writing about rock music: his 'anything goes' prose style (and sensibility) was as anarchistic as the music he admired. He gleefully pissed off readers, musicians, and advertisers by countering the 'official' counterculture – expanding the expressive boundaries of arts criticism in the process.
If only more of Bangs's go-for-broke dissidence was front and center in this entertaining but neatened up one-man portrait of the critic. Yes, the womanizing, drug-taking, narcissistic iconoclast is here, as are the put downs of the Beatles, Bob Dylan, and the sell-out critics. There's his assaults on the supposed mythic power of stardom and his yearning to be a musician rather than a critic, even though he was never more than a mediocre performer. But there are also homages to the wonder of life that don't ring convincingly true. Or, if true, they have been overemphasized in the script for the sake of reassuring faint-hearted theatergoers that Bangs was an outlaw with a big heart. But I doubt that, and I have been reading and teaching his criticism for years.
Granted, Bangs was anything but consistent, but underneath most of his writing is a dedication to music that reflected the truth, which he saw as inescapably tragic. His targets were reviewers and listeners who accepted that rock was primarily about escapism and pleasure. Bangs insisted that, at its best, rock was an act of pure rebellion, liberation from the prison of respectability. One of my favorite Bangs reviews is his wild take on Lou Reed's Metal Machine Music – a double album made up of guitar feedback. The piece is entitled "The Greatest Rock Album Ever Made." Bangs plays a game with his readers – is the title meant to be ironic? Or does Bangs really mean it? I think he does – what could be more in-yer-face, more insulting to all, more commercially unpalatable, than pure noise? MMM was rock album as Warhol-inspired conceptual art (or radical gesture), a finger to those who thought rock was about music rather than a gleefully destructive attitude. [Distressing note: when I mention Lou Reed to my students at Boston University, most don't know who he was. I did have one student who said he listened to MMM — regularly.]
Also, though the show includes chucks of Bang's prose, its excursions into dizzying incoherence are excluded, probably sacrificed (alas) in the name of good taste. For example, the "Greatest Rock Album Ever Made" review contains lots of delightful ad hoc weirdness: "Just imagine Gerald Ford on speed – he might manifest some glimmer of personality. Or Ronald Reagan – a blood vessel in his snapping–turtle lips would immediately burst, perhaps ridding us of that cocksucker. …. I am the toughest, baddest, most well-hung stud in show business, which actually is only because in 1973 I went to Sweden and had a transplant so now instead of a cock I got a horse doctor's syringe …" That adolescent self-indulgence – free association brimming over into obscene surrealism — is what makes reading Bangs so exhilarating, maddening, and irritating. It is criticism as self-infatuated comic confession, a slam-bangs performance.
That said, sometimes Bang's sentences can stumble to the level of poetry. For example, in another of my favorite reviews, "Otis Rush Mugged by an Iceberg," the critic bring impressionistic panache to his praise of the bluesman's album: "It sounds like giant bloody icebergs shuddering up to crunch together in the deepest, longest night of typically endless Midwestern winter, and if you don't think there's icebergs in the Midwest you have never been there." The record is a masterpiece, he argues, because "it has nothing to do with anything but pain and hate and exorcism and impossibility …" Bangs's vision of art boils down to this redemptive demand for honesty — for him, searing revelations of nihilism — and this unAmerican attraction to darkness isn't powerfully dramatized in How to Be a Rock Critic. [Note: one of Bangs' (many) limitations as a critic is glaringly evident in this piece — he doesn't connect the agony in Rush's songs with the singer's experiences as an African-American. Bangs' despair takes the form of a native existentialism.]
As Bangs, Erik Jensen doesn't convey the critic's crippling blues, but he supplies plenty of grungy charm. And for those of us who were young in the '70s and '80s, there's plenty of nostalgic gratification at the mention of numerous guitar heroes and dullards. (For me, Jethro Tull's Locomotive Breath stands as the era's absurdist summing up: "I think God He stole the handle and/The train won't stop going/No way to slow down.") Structurally, the script fumbles about a bit: instead of looking for ways to bring in some of Bangs' hallucinogenic prattle (which would have been just fine), it fumbles around for excuses to elbow in a famous passages – such as a bit from the critic's celebrated elegy for Elvis.
Richard Hoover's set is vintage bohemian ramshackle, and How to be a Rock Critic contains some rousing hosannas to non-conformity. The latter serve a necessary purpose when, at far too many mainstream newspapers and NPR stations, critics are being cut out, dumbed down, or re-defined as publicists. Why be a critic?, Bangs asks. It is not to be a consumer guide or to supply 'constructive' criticism. And it is not so the reviewer won't be alone in his opinion-making. Bangs believed the critic must be a rebel judge, a resolutely dissenting voice; he or she invigorates the cultural conversation by asking uncomfortable questions that challenge the corporate-patrolled consensus. At this point, the cultural industrial complex Bangs complained about so bitterly is in confident control: the alternative press and the editors that supported Bangs' independence are long gone. Today, for many, the task of criticism is to keep a perpetually stiff thumbs up, to support the arts by serving as a cog in the media's non-stop happy talk/branding machinery. In other words, to reinforce 'the way things are.' Confronting such docile dedication to safe and profitable constipation, Bangs would scream a well-deserved "Fuck You!!!!" — Thank God. May other critics be inspired to take up the noble cause.
---
Bill Marx is the editor-in-chief of The Arts Fuse. For over three decades, he has written about arts and culture for print, broadcast, and online. He has regularly reviewed theater for National Public Radio Station WBUR and The Boston Globe. He created and edited WBUR Online Arts, a cultural webzine that in 2004 won an Online Journalism Award for Specialty Journalism. In 2007 he created The Arts Fuse, an online magazine dedicated to covering arts and culture in Boston and throughout New England.