Jason Anick, on violin and mandolin, and Jason Yeager, on piano, showed just how exhilarating it can be to kick down musical walls.
United, Jason Anick and Jason Yeager. Inner Circle Music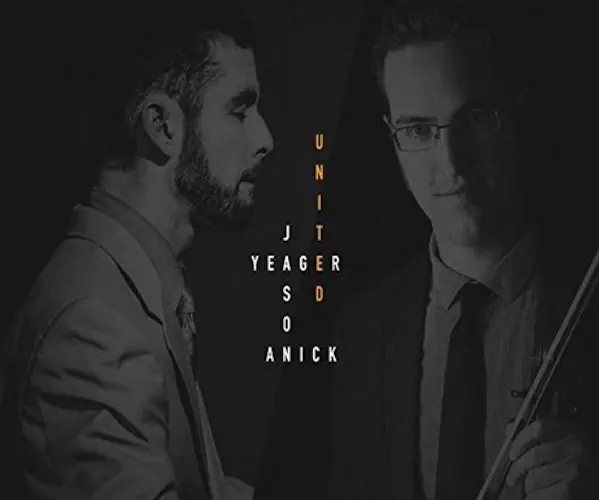 By Steve Feeney
Judging by the music played by Jason Anick and Jason Yeager, in the studio and live, the future of jazz is in extremely good hands. Yes, they are both young professors at the Berklee College of Music. But the two Jasons are far from your standard stuffy academics (though a faculty recording grant helped make their new disc possible). They've been collaborating since their high school days, and their ease with each other is evident.
On its new CD United, the duo impressively prove the value of their eclectic approach, which they call "jazz without borders." And, in an appearance at the Press Room in Portsmouth, New Hampshire on March 12 to celebrate the release of the disc, Anick, on violin and mandolin, and Yeager, on piano, showed just how exhilarating it can be to kick down musical walls.
Joined in Portsmouth by Greg Loughman on bass, Mike Connors on drums, and Clay Lyons on alto sax, the Anick/Yeager combine played an opening set largely drawn from the new disc. Tight interplay, advanced technique, and a palpable joy in performing marked the evening at the rough-hewn performance space just blocks away from the mouth of the Piscataqua River.
The first four numbers performed came from United, which features the same players as well as some notable guests. Elegant compositional structures — developed through sophisticated improvisational elaborations — highlighted the hour-plus set.
Yeager's "Achi" referenced sources in Israeli music, while its folk-tinged flights of fancy suggested one of Anick's (acknowledged) inspirations: the music of Stephane Grappelli. The violinist's "Bird's Eye View" floated in on an upbeat tempo; Connors provided rhythmic focus for solos by Anick and Lyons, who added boppish flourishes before a pointillistic interlude evolved into some nicely evocative counterpoint. The pianist's "Harlem Hoedown" recalled the nimble methodology of Herbie Hancock in his prime: a combination of funk with a modal surge. (The live version missed Jason Palmer's highly articulate trumpet solo on the disc, but Yeager's solo ably compensated).
Anick switched to electric mandolin for his "Well Red," a tribute to the music of Joshua Redman; once a young lion, he is now being cited by a new generation of musicians. Relentless momentum gave way to some lyrical piano lines, which then alternated with rock-like thunder chords. A little melodramatic, perhaps, but there was fun to be found amid all the fury.
George Harrison has been interesting a number of jazz artists lately (see Noah Preminger's new disc), and Anick is no exception. While on mandolin he performed the late Beatle's "Something." Initially making use of some countrified touches, this version of the song eventually evolved into a gentle pop groove, apropos of the material.
Departing from United, the performance then featured a pensive version of Horace Silver's "Peace," which settled into a lyrical groove once Anick's violin intro gave way to lilting solos from Yeager and Loughman.
The set finished hard and heavy with Yeager's "Blues for Billy P," a tune inspired by the everyman/ sad sack protagonist (Billy Pilgrim) in Kurt Vonnegut's novel Slaughterhouse Five. The piece was a sterling example of jazz/blues fusion: Lyons, in particular, was strong here when, testifying at length on alto, he enthusiastically channelled his inner Cannonball Adderley. Anick's violin solo drew grittiness from an instrument that is usually associated with refinement. The set's finale was Anick's "Stomped Out," a heavy on the downbeat romp which lurched the band toward a raucous finish that sparked a sincere ovation from the crowd.
Most likely the group's second set, not reviewed here, featured more cuts from United. Pieces such as "Turbulent Plover," a hard-charging modal piece featuring tenor sax man George Garzone in full Coltrane mode and "La Segunda," with percussion by Jerry Leake and a sterling bass solo by veteran John Lockwood, would lend themselves well to a live performance. The disc versions, though, are highly satisfying.
Miles Davis' "All Blues" finishes the disc on a transcendent note, with Anick carving out a compelling violin solo before settling into a playful duet conversation with Yeager. Davis no doubt serves as one of the models for these musicians: there is the same allegiance to renewing jazz through incorporating new musical influences while maintaining high musical standards.
---
Steve Feeney is a Maine native and attended schools in Maine, New Hampshire and Massachusetts. He has a Master of Arts Degree in American and New England Studies from the University of Southern Maine. He began reviewing music on a freelance basis for the Portland Press Herald/Maine Sunday Telegram in 1995. He was later asked to also review theater and dance. Recently, he has added BroadwayWorld.com as an outlet and is pleased to now contribute to Arts Fuse.