Saxophonist Noah Preminger serves up his visceral reaction to the post-election state of affairs.
Noah Preminger: Meditations on Freedom. Noah Preminger (Saxophone), Jason Palmer (Trumpet), Kim Cass (Bass) and Ian Froman (Drums). Dry Bridge Records, $15.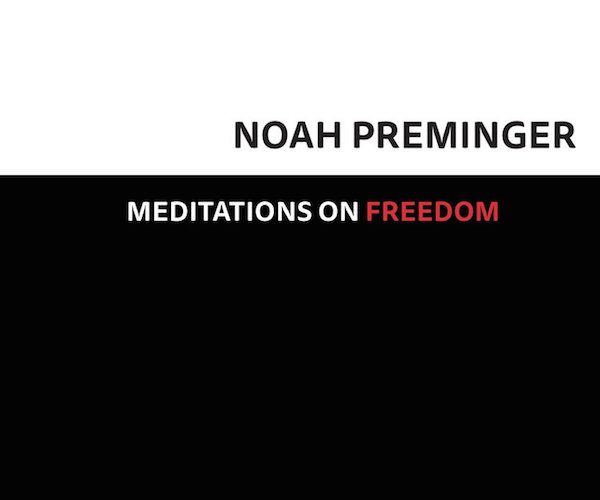 by Steve Feeney
Political art often tends to be more about the politics than the art. We may give it some critical latitude at first — if we agree with the positions it takes. But, as times passes, we file the ideological feel-good away and move on to the next political crisis.
Exceptions to this can be found in the history of instrumental jazz, where both secular sentiments and transcendent moments have sometimes powerfully converged without being overly specific to time and place. The catch is that the often cited examples (John Coltrane, Sonny Rollins, Max Roach, Charles Mingus) come from more than a half century ago. Have jazz musicians lost the knack?
Young tenor saxophonist and bandleader Noah Preminger, angered by the November election results, decided to record an album he hopes will suggest that "It's…[still] …important to care about something larger that yourself." The disc shows that he does care and he has come up with creative ways to express his idealism.
Meditations on Freedom, the 30 year-old Connecticut native's sixth album, features his working quartet in a program of Preminger originals and songs by popular luminaries who have favored socio-political messaging in their music. The language is free-leaning jazz — tough but not as abrasive as some found in that category.
It only takes a few minutes of the first cut, an anthemic lament based on Bob Dylan's "Only a Pawn in Their Game," to understand Preminger and company's approach; they are out to express a visceral reaction to the post-election state of affairs. Jason Palmer, on trumpet, and the leader share the thematic burden as Kim Cass, on bass, and Ian Froman, on drums, enter with the beginnings of a rhythmic rumble that will be an insistent presence throughout the music on the disc.
Bruce Hornsby's class conscious "Just the Way It Is," after a nod to the melody, is given a rapid run through, with Palmer skipping along over a hard walk by Cass. The horns later repeat a central refrain as Froman works out frantically underneath.
The group's take on Sam Cooke's "A Change Is Gonna Come" maintains the original's soulful sense of a weary — but still hopeful — attitude. Preminger's tenor work leaves space for the classic tune's emotions while he adds some original contours and just a bit of expressive commentary. Palmer's distinct but complementary instrumental voice comes through in a solo that answers and then amplifies the leader's passion.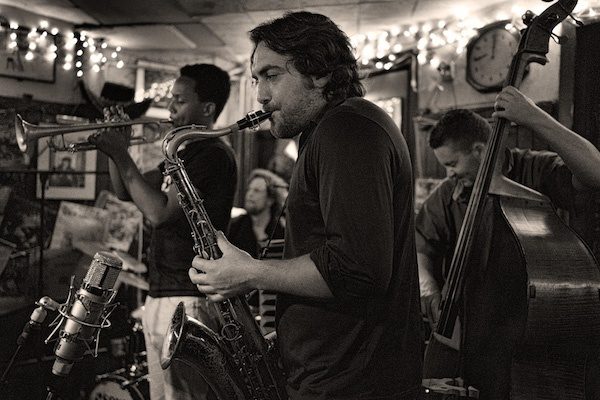 The final cover is of George Harrison's prayerful post-Beatle tune "Give Me Love (Give Me Peace On Earth)." It makes a worthy vehicle for the disc, though it does not quite convey enough of the original's strengths to honor the seminal source.
The five Preminger originals traffic in the kind of music-making that makes this young jazz man one of the most intriguing of his generation. Obvious references can be made to piano-less quartets of the past. But the highly-skilled players put new juice into forms that are all about energy and raw emotion, yet they always pay nimble attention to detail.
It feels as if the leader is channeling his solo on "We Have a Dream" from a deep internal source. "Mother Earth," likewise, unravels it's unison theme in ways that seem to reflect anxiety about the fix nature finds itself in. A Cass ostinato wraps around a brief Froman solo before Palmer tells his own story with high-cries and worried middle-range ruminations.
"Women's March," reminiscent of an Ornette Coleman theme, explores more turbulent territory, with the saxophonist, at times, reaching just beyond the range of his horn. "The 99 Percent" and "Broken Treaties" each suggest there's a long political long road ahead as the soloists muse in emotive fragments. The latter piece is a particularly somber lament that sets the listener's feet firmly back on the ground of realpolitik — though not without the hope these fine musicians will continue to keep us looking beyond the horizon.
---
Steve Feeney is a Maine native and attended schools in Maine, New Hampshire and Massachusetts. He has a Master of Arts Degree in American and New England Studies from the University of Southern Maine. He began reviewing music on a freelance basis for the Portland Press Herald/Maine Sunday Telegram in 1995. He was later asked to also review theater and dance. Recently, he has added BroadwayWorld.com as an outlet and is pleased to now contribute to Arts Fuse.