Fuse theater critics pick some of the outstanding productions of the year.
By The Arts Fuse Staff
Arts Fuse stage critics have come up with some standout productions, and it is a pleasingly expansive list that singles out productions from small, medium, and large companies. Feel free to write in and tell us about your favorites — and why they were so good.
Bill Marx
Editor
The Arts Fuse
---
Here are my five choices of the best shows that sparkled brightest on Boston-area stages:
The best shows of 2016 were those that melded stagecraft, directing, writing, and acting into indelible productions that shed light onto universal conflicts over property, love, longing, and loss. My selection:
Desire Under the Elms, by Eugene O'Neill. Directed by Fred Abrahamse. Staged by Abrahamse & Meyer Productions, Cape Town, South Africa, at the 11th Annual Tennessee Williams Theater Festival, Provincetown, MA.
O'Neill's Desire Under the Elms was banned in Boston in 1926; its thematic treatment of seduction, greed, and infanticide shocked audiences then, and can still jolt audiences. The plot revolves around a conflagration that engulfs Ephraim Cabot (Robin Smith) and his young son Eben (Marcel Meyer) when Ephraim marries Abbie Putnam (Mbali Bloom) and brings her to the family estate that she lusts to inherit, leading her to become in flagrante with her stepson. By transporting the locale from New England to South Africa, with an interracial cast (Bloom portrays a tribal Xhosa woman), the production laid bare the play's darkest layers with a transcultural intensity. This South African troupe deserves to be brought into a much larger venue in the future so more Boston audiences can experience their superb work.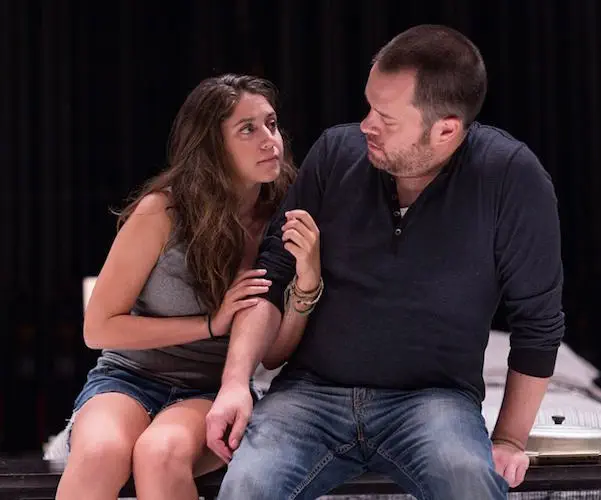 Blasted, by Sara Kane. Directed by John Kuntz. Staged by Off the Grid Theater Company, at the Calderwood Pavilion, Boston, MA.
The Off the Grid Theater production presented scenes of debasement, performed by three characters whose appetites are never sated despite gorging on food, booze, and violent sex. Director John Kuntz and the outstanding actress Alexis Scheer infused the production with brutal, visionary force.
The Plough and the Stars, by Sean O'Casey. Directed by Sean Holmes. Staged by the Abbey Theatre, Dublin, Ireland, at the American Repertory Theatre, Cambridge, MA.
There were problems aplenty with this production, particularly with the audience understanding the language: the Irish brogue was often difficult to decipher and dialogue was projected up to the rafters. Yet the problems did not outweigh the triumphs. A first-rate cast brought us into the very marrow of O'Casey's characters' obdurate humanity and revealed how, despite being swept into a bloody rebellion (the Easter Rising of 1916), these scrappy Dubliners refused to succumb to despair. One hundred years later, this theme remains strikingly relevant to the plight of many in our own time.
Mala, written and performed by Melinda Lopez. Directed by David Dower. Staged by ArtsEmerson, at the Paramount Theatre, Liebergott Black Box, Boston, MA.
In her one-woman autobiographical show, Melinda Lopez displayed a canny combination of intelligence and courage in scenes that exposed the physical, emotional, and psychological costs of caring for her elderly mother. She plumbed the depths and did not hold back.
Robert Israel writes about theater, travel, and the arts, and is a member of Independent Reviewers of New England (IRNE). He can be reached at risrael_97@yahoo.com.
---
As I mentioned in last year's end-of-year theater picks, Boston has launched a full-on Sondheim blitz, with long-term projects by two of the city's major companies, the Huntington and the Lyric Stage. For those who wish to delve even deeper into the work of one of musical theater's titans, the productions are also accompanied by talks and workshops that include local university theater experts. This year's Sondheim entries complemented one another by giving theatergoers an introduction to the man and his music (and lyrics), and an acknowledged masterwork. And, on the nonmusical side, I include a shout-out to a timely play about love across racial, ethnic, and gender lines in a diverse community.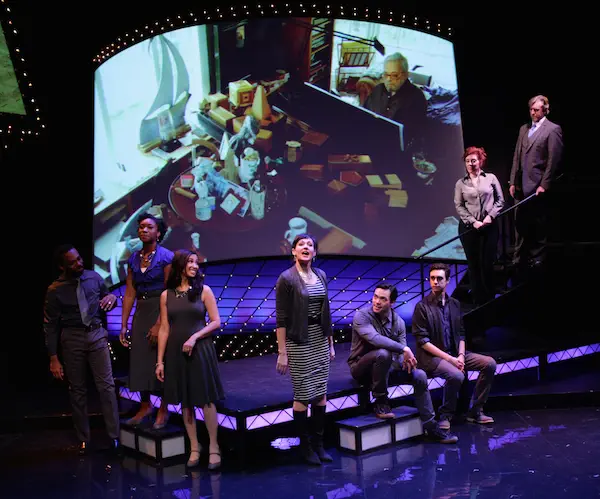 Sondheim on Sondheim. Music and lyrics by Stephen Sondheim. Conceived by James Lapine. Directed by Spiro Veloudos. Staged by the Lyric Stage Company of Boston.
Veloudos and the Lyric started it all off with the entertaining, witty, and moving Sondheim on Sondheim, a revue with songs from 19 shows tied together by on-screen reminiscences and comments from the man himself, gathered from interviews with his frequent collaborator James Lapine. An excellent eight-member cast, many of them veterans of earlier Boston Sondheim productions, showcased musical moments from successes like Sweeney Todd and Into the Woods as well as flops (with, nonetheless, great music), such as Merrily We Roll Along. There's even a song from Sondheim's least favorite, Do I Hear a Waltz, for which he wrote lyrics with Richard Rodgers as a favor to his friend and fellow composer Mary Rodgers (the composer's daughter). Standouts included the versatile Leigh Barrett and Christopher Chew, reprising dramatic numbers from earlier starring roles as the love-starved Fosca in Passion and the anguished title character in Sweeney Todd, and then delighting with a lighter, flirtatious song from Company. Most moving, perhaps, was Sondheim's revelations about his mother's neglect and his rescue by Broadway lyricist Oscar Hammerstein and his family. This production did a terrific job of integrating the music and the moments, and gave Boston audiences a sparkling preview of Sondheim productions to come.
Sunday in the Park with George. Music and lyrics by Stephen Sondheim. Book by James Lapine. Directed by Peter DuBois. Staged by Huntington Theatre Company.
After last year's splendid production of A Little Night Music, DuBois took on Sondheim's masterly "portrait of the artist," which imagines French painter Georges Seurat and the creation of his great work "A Sunday Afternoon on the Island of La Grande Jatte." A fine cast brought to life Sondheim and Lapine's intriguingly structured story—with a second act focusing on Seurat's great-grandson George, an artist in present-day New York. Jenni Barber stood out in the roles of Dot, the first George's mistress, and Marie, the second George's grandmother (and Seurat and Dot's daughter). Stunning technical design in all areas—light, sound, projection, sets, costume—underscored the show's theme of visual art and Seurat's own visions of light and color. Under DuBois's fluid direction, the proceedings delicately criss-crossed the lines between comedy and poignancy.
When January Feels Like Summer. By Cori Thomas. Directed by Benny Sato Ambush. Staged by Underground Railway Theater, Central Square Theater.
In an election season where issues of difference and "otherness" played a central role, this charming, funny, and moving look at the members of a diverse community and how they come to understand and love one another was a potent antidote. Set in Harlem, Cori Thomas's play followed five characters—three African American men and two Indian women (one of whom is transgender)—as they overcame prejudices and cultural obstacles on the way to love. Mesma Belsaré gave a compelling performance as Indira (formerly Ishan), conveying all the anxiety and hopefulness and joy of letting the world see her as she really is. Seth Hill provided many of the laughs as Devaun, a Burger King worker with big dreams and a way with women. And the scene where Indira reveals her true self to would-be lover Devaun should be required viewing for anyone who fears or doesn't understand transgenderism. Kudos to Benny Sato Ambush and company for bringing this vibrant production to us, just when we really needed it.
Evelyn Rosenthal is the former editor in chief and head of publications at the Harvard Art Museums. She is also a professional singer, specializing in jazz and Brazilian music. She writes about musical theater and music for the Arts Fuse.
---
Any "best of" list is going to be subjective. First, it's limited by what the critic sees over the course of year; second, no two critics or editors share the same criteria: Does the round-up have to include some arbitrary number of items? Five? Ten? Or is there simply a standard of success that a production clears, and however many (or few) meet or rise above that bar make the end of year list?
Finally, what shapes the critic's tastes? What constitutes excellence?
My list will no doubt be very different from those of other Arts Fuse theater critics. I have included performances that I judge to have reached a level of accomplishment that exceeds the standards the Boston theater community typically sets for itself. There is no shortage of competent theater, even good theater, but that which truly excels is rare, and that is what my list celebrates: those moments when writing, performance, design, and direction all come together to create a whole that is greater than its parts. I'll also offer a couple of honorable mentions; cases where, despite some noticeable flaws, something exceptional occurred.
Arcadia by Tom Stoppard. Directed by Lee Mikeska Gardner. Presented by The Nora Theatre Company.
Regarded by many as one of Stoppard's finest works, the script is also one of the leading exemplars in the diminutive genre of science plays. Director Lee Mikeska Gardner, her designers, dramaturg, and, most importantly, the production's large cast, ably navigated a work that is — in equal parts — an epic about a culture's shifting understanding of its place in the universe, sex farce, and pointed satire about academia and class.
Sumida River by Kanze Motomasa. Translated from the Japanese by Richard Emmert. Directed by Richard Emmert. Zahdi Dates and Poppies: A Warrior Play by Carrie J. Preston. Music by David Crandall. Directed by Jubilith Moore. Performed by Theatre Nohgaku.
America's (and Boston's) theatrical mainstream remains obsessed with naturalism and genre TV, so the opportunity to see work informed by a foreign idiom is welcome – and to see it done well is a rare treat. When Theatre Nohgaku came to town for a residency at Boston University, the troupe performed an English language translation of the classic Noh play Sumida River. The second show on the bill, however, Zahdi Dates and Poppies: A Warrior Play, offered something rarely found in new American plays: catharsis. (It's notable that the only new American play to deserve a spot on my list was written, developed, and staged outside the usual business-as-usual circuit.) Written by Carrie Preston, a professor of English at Boston University, Zahdi Dates incorporated the techniques of Noh performance to tell the tale of a U.S. Marine fighter pilot dealing with survivor's guilt after returning home from Iraq. Sadly, Nohgaku's residency was all too brief. Hopefully they will be able to bring this bill (or another as illuminating) back to Boston at some point in the future.
Note: In addition, Preston is also the author of the fascinating Learning To Kneel, a scholarly exploration of the intersection of Noh and modernism.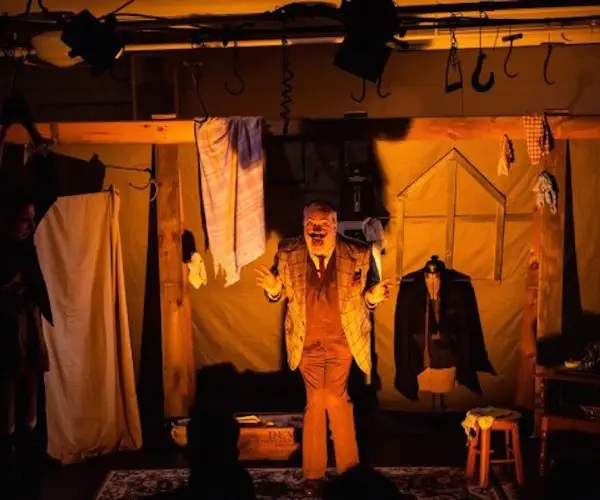 Wild Williams: Three Outrageous Plays by Tennessee Williams, directed by Davis Robinson. Presented by Beau Jest Moving Theater at the Charlestown Working Theater.
Tennessee Williams was a prolific writer of short plays throughout his career. When he died in 1983, many were still unproduced – and they remained unstaged for decades. Many critics – unwilling to see how a major dramatist's work can continue to evolve – dismissed these works (particularly those written in his later years) as the product of Williams's drug use. Perhaps becoming high made him less inhibited in his imagery; but with age his poetry became more precise. The three plays that Beau Jest selected (it is the first company to publicly perform two of these scripts) dispense with the naturalism of Williams's better known works for askew worlds that are grotesque, ribald, and absurdly violent. Director Davis Robinson, cast, and designers found ways to compellingly stage a work that the less imaginative (including critics) have dismissed as unstageable. Sadly, the production only ran for four performances, so too few people had an opportunity to see this powerful show. It is my sincere hope that Charlestown Working Theater will prevail upon Beau Jest to remount Wild Williams — soon.
The Merchant of Venice by William Shakespeare. Directed by Tina Packer. Presented by Shakespeare & Company in Lenox, MA.
I confess that The Merchant of Venice is one of my obsessions. I am rarely satisfied by what I see on stage: I walk away from a performance feeling, often loudly arguing, that something essential was missing. To be fair, it's a very difficult play: Shakespeare's audiences saw it as a romantic comedy – a staging impossibility four centuries later. Tina Packer's production plumbed both the text and the cultural contexts in such a manner that those familiar with the play could discern a running metacritical commentary on the Bard's narrative. The design elements created a cosmopolitan — yet highly stratified –Venice that reserved (in Belmont) an Arcadian space for the upper classes. This was a rich, complex production of The Merchant of Venice that I had long hoped for, but never expected to see.
Hamlet by William Shakespeare. Directed by Doug Lockwood. Presented by Actors' Shakespeare Project.
Doug Lockwood's conceit for this production, staged in the sanctuary of Boston's historic Church of the Covenant, is that Hamlet, via a virtuoso performance by Omar Robinson, realizes that he is a fictitious character, fated to replay his final days night after night, without variation, for eternity. The character is fully aware of how his author has deftly fused comic and tragic elements. Robinson was joined by a uniformly superb cast. The production is also notable for another reason: months after the fact, I still cannot get over the gorgeousness of Deb Sullivan's lighting design.
Honorable Mention: Apollinaire Theatre Company's outdoor staging of Hamlet was very different from the ASP's, but merits an end of the year nod for director Danielle Fauteux Jacques's processional, site-specific staging in PORT Park on Chelsea's waterfront. Also superlative: Brooks Reeves's near-Trumpian Hamlet; a Polonius, who, in an eccentric performance from Floyd Richardson, came off as a far more competent political operative than the fool he's usually seen as; and the dexterous Julee Antonellis as both the Player King and gravedigger.
Matchless by Gregory Maguire & The Happy Prince by Oscar Wilde. Directed by Debra Wise and presented by Underground Railway Theater at the Central Square Theater in Cambridge, MA, through December 31.
Debra Wise is a skilled director of both human actors and puppets. This time around she pulls off a challenging feat in theatrical alchemy, a show that manages to be both family-friendly and sophisticated at the same time. The production draws on the full texts of children's stories by Gregory Maguire and Oscar Wilde and boasts the wondrous scenic design of David Fichter. Note to the wise: the production is running through the end of the year.
Madame White Snake. Libretto by Cerise Lim Jacobs. Music by Zhou Long. Directed by Michael Counts. Conducted by Lan Shui.
I was of two minds as to whether to include this Pulitzer Prize-winning opera on my best of 2016 list. When it was restaged at ArtsEmerson's Cutler Majestic this past September, the production was part of a much-hyped Ouroboros Trilogy, which retells the Chinese legend of a mythical snake spirit as she is reincarnated again and again, seeking redemption.
Madame White Snake recounts the first part of this legend. Zhou's polyphonic and rhythmically varied score encouraged the singers to dig deep into the lyrics' emotional content and convey the character's internal conflicts. The spectacle (it is opera, after all) served the dramatic stakes — paired quests for love and enlightenment end in tragedy.
Unfortunately, librettist Cerise Lim Jacobs did not continue working with composer Zhou Long, and the two sequels were musically generic. Jacobs became bogged down in an attempt to syncretically catalogue every snake that appears in the world's mythologies; director Michael Counts spun his wheels by showing off what can be done with state-of-the-art video projection technology.
Ian Thal is a playwright, performer, and theater educator specializing in mime, commedia dell'arte, and puppetry, and has been known to act on Boston area stages from time to time, sometimes with Teatro delle Maschere. He has performed his one-man show, Arlecchino Am Ravenous, in numerous venues in Massachusetts and Rhode Island. One of his as-of-yet unproduced full-length plays was picketed by a Hamas supporter during a staged reading. He is looking for a home for his latest play, The Conversos of Venice, which is a thematic deconstruction of Shakespeare's The Merchant of Venice. Formerly the community editor at The Jewish Advocate, he blogs irregularly at the unimaginatively entitled The Journals of Ian Thal, and writes the "Nothing But Trouble" column for The Clyde Fitch Report.
---
For various reasons, I did not see as much theater in 2016 as I would have liked, and so the plays I offer below as my top picks of the year are woefully lacking in context, which I trust will be more than made up for by my fellow reviewers. I may also be cheating a bit: one is a three-play cycle, another is a set of two versions of the same play running in repertory. But, with that warning, I offer my top four (-ish, more like seven) Boston theatrical productions of 2016.
Dog Act, by Liz Duffy Adams, at Theatre on Fire / Charlestown Working Theater.
Could this work? A post-apocalyptic vaudeville show that draws on Shakespeare, Beckett, Steinbeck, and Mad Max? Why yes it does, thank you. This surprising and beautiful script follows a hardbitten storyteller and her Dog — a man who has decided to take a species downgrade as penance for an unspoken crime — across a ruined, could-be America where cannibal scavenger cults hunt down survivors. The only thing that keeps humanity alive is stories. Stark lighting, riveting performances, and hilariously mashed-up poetry made the whole experience a rare and poignant trip.
A Southern Victory, by Kevin Mullins, staged by Vagabond Theatre Company at Boston Playwrights' Theatre.
This new play by local playwright Mullins is a three-part monster that I saw in its entirety over the course of two days. It creates an alternate American history in which the South wins the Civil War; in response, a radical wing of abolitionists makes use of suicide bombers. The epic script explores the intersection of morality and extremity in divisive times. Each part was slightly less perfect and developed than the previous one. I look forward to seeing the plays again after some further revision; especially given the times we now live in. (Note: The trilogy would inspire a potentially excellent Netflix series.)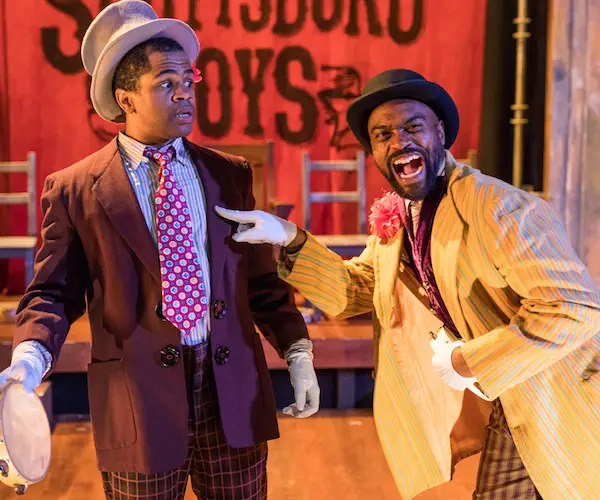 The Scottsboro Boys, music and Lyrics by John Kander & Fred Ebb, book by David Thompson, at Speakeasy Stage.
An unflinching look at the titular case of nine African-American boys in 1930s Alabama who were falsely accused of raping two white women. The musical uses the format of the minstrel show to viciously satirize white supremacy and the ongoing battle between black Americans and the broken criminal justice system. It also has some great songs. Note: it is still running.
Twelfth Night and What You Will, by William Shakespeare, staged by Bedlam at Central Square Theatre.
I go into great detail in my Arts Fuse review but, in short, these two wildly different productions of Shakespeare's classic comedy — each performed by the same cast of five — generated the most exciting theater experience I have seen in years. Sadly, Bedlam is a New York company; Boston needs more troupes as exciting as this.
Kamela Dolinova is a writer, actor, director, healer, and person with too many jobs. She loves the community and little theater scenes in Boston, and has recently enjoyed working with Flat Earth Theatre, Theatre@First, and Maiden Phoenix Theatre Company. She also blogs at Power In Your Hands.
---
Because I teach full-time at Boston University and edit The Arts Fuse, I can't see as much theater as I would like. I agree with Bob Israel's choice of Blasted (Off the Grid Theater), share Ian's admiration for Wild Williams (Beau Jest Moving Theater), second Ev's enthusiasm for Sunday in the Park with George (Huntington Theater Company), and concur with Kamela's choice of The Scottsboro Boys (SpeakEasy Stage Company).
I have a few productions to add, and can't help but toss in a couple of book selections, both focusing on Shakespeare, for theater mavens.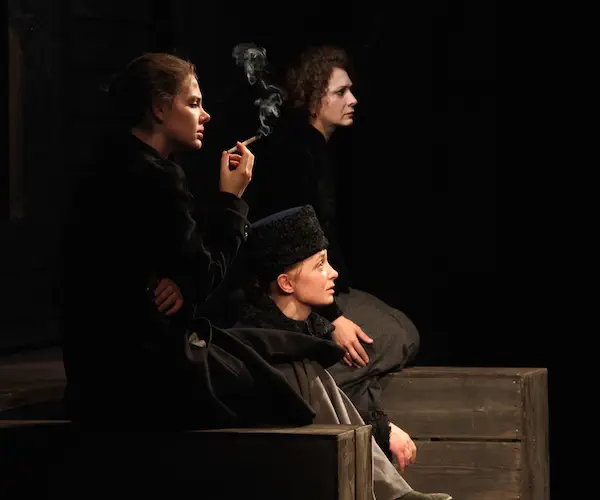 Three Sisters, by Anton Chekhov. The Maly Drama Theatre of St. Petersburg's staging, presented by Arts Emerson at the Emerson/Cutler Majestic Theatre, Boston
By bringing in this veteran Russian theater company, Arts Emerson presented Boston theatergoers with a rare treat: a chance to experience an evening of seamless ensemble acting, performances generated by actors who have been working together for years. This was a production of enormous psychological nuance and interpretative sophistication. As the Fuse's Helen Epstein wrote in her review, "each actor commands the stage in his or her turn yet blends effortlessly into the many relational tableaux that director Lev Dodin had conceived. Those beautifully posed and lit tableaux are like museum portraits that linger in the mind long after the production has ended." Yes, it was performed in Russian with subtitles, so it called for some extra effort from the viewer — but it was well worth it.
Red Noses, by Peter Barnes. A Boston Conservatory at Berklee production, directed by John Kuntz.
Yes, a student production, but of an exhilarating black comedy that I love: a troupe of inept vaudevillians (God's Zanies) travel through 14th-century France trying to crack up victims of the Black Death. The 1978 script (the 1985 Royal Shakespeare Company staging starring Anthony Sher won Barnes an Olivier Award for Best Play) calls for a huge cast, pretty well guaranteeing that it will not be produced professionally. This at times tender and always amusing production had plenty of high spirits, some fine punk music, and funky costuming. And it was moving at the end, though I missed the text's accents of nihilism (people are dropping like flies throughout) and the chilling horror of the howling wolves of power at the end of the play: once the chaos is over, it it back to exploitative business as usual. Curtailing humanity's freedom is no laughing matter.
A Beckett Trilogy: Not I/Footfalls/Rockaby by Samuel Beckett. Performed by Lisa Dwan. Directed by Walter Asmus. Presented by ArtsEmerson at the Paramount Mainstage, Boston.
Lisa Dwan's performance of these short Samuel Beckett plays in a totally darkened theater made for a take-no-prisoners confrontation with the absurd. A fabulously quicksilver rendition of Not I was easily the highlight. Amusing, frightening, confusing, bedeviling – this was a marvelous interpretation because it was accompanied with a wham-bam sense of fun, a frenzied linguistic frolic, that stagings of this masterpiece often lack.
Nice Fish by Mark Rylance & Louis Jenkins. Directed by Claire Van Kampen. Staged by the American Repertory Theater at the Loeb Drama Center, Cambridge.
This wryly amusing piece, created by Mark Rylance and prose poet Louis Jenkins (the script has been drawn from Jenkins's writing), has neither the bloody noir elements of the Coen brothers or the gaunt skeletal pessimism of Beckett. I was put in mind of the plaintive white bread universalism of Thornton Wilder's Our Town, though with a sardonic twist. The ice of existence wasn't so thin in Grover's Corner. Overall, a deliciously droll brand of American existentialism.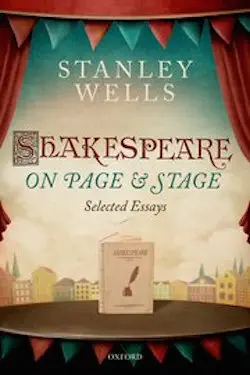 Shakespeare on Stage and Page: Selected Essays, by Stanley Wells. Edited by Paul Edmondson. (Oxford University Press, 300 pages, $29.95)
Now 86, Stanley Wells has been a giant of Shakespearean scholarship for decades, his writing inevitably marked by a bracing lucidity. This is a wonderful collection of his essays on a wide range of topics, from the textual to the thematic: he examines issues raised by individual scripts, explores how Shakespeare's ghosts have been depicted on stage, and digs into the role of money in the plays. I made a beeline to his pieces on Shakespeare in the theater criticism of Max Beerbohm, William Hazlitt, and Leigh Hunt. I was not disappointed with his thoughtful examinations, partly because he treats reviewing with curiosity and respect, rather than with academic condescension. His essay on seeing Laurence Olivier in Peter Hall's legendary 1959 production of Coriolanus is terrific: "I left the theater, on the first night, profoundly impressed, and walked the streets of Stratford for twenty minutes before feeling that I wanted to talk to anyone. That, I think, is what Aristotle meant by catharsis."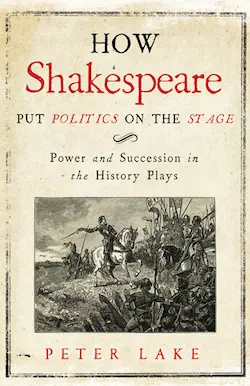 How Shakespeare Put Politics on Stage: Power and Succession in the History Plays by Peter Lake. (Yale University Press, 688 pages, $37.50)
I usually find books on Shakespeare's history plays impeccably scholarly but unreadably dry, often content to be irritatingly microscopic exposés of Elizabethan skullduggery. But Peter Lake's book is fabulous, a juicily written exploration/reconstruction of the politics of the era and what Shakespeare made of it in his plays. Lake's overall project is suitably dramatic: why, in 1601, did Shakespeare end up writing the acidic Trolius and Cressida? The answer is that it expresses the chagrin of a disgruntled idealist: "the fantasy figure of Hal/Henry V had finally split apart." "Shakespeare had got things spectacularly wrong and, having placed virtually all his eggs in the basket of Essexian virtu and Jacobean legitimacy, he now looked back, or rather perhaps allowed his audience to look back at the recent past and to confront the immediate future, through the showily self-conscious, determinedly illusionless pessimism and bitter irony that pervades Troilus and Cressida. But in so doing, at least at the level of practical political prognostication, he had got things wrong again, for, as it turned out, it was the removal of Essex from the scene that paved the way for the triumphantly unopposed and wholly peaceful accession of a new monarch and the successful conclusion of the war with Spain."
Bill Marx is the editor-in-chief of The Arts Fuse. For over three decades, he has written about arts and culture for print, broadcast, and online. He has regularly reviewed theater for National Public Radio Station WBUR and The Boston Globe. He created and edited WBUR Online Arts, a cultural webzine that in 2004 won an Online Journalism Award for Specialty Journalism. In 2007 he created The Arts Fuse, an online magazine dedicated to covering arts and culture in Boston and throughout New England.
---
For me, 2016 began with the opportunity to see Mark Rylance's new play, Nice Fish at the American Repertory Theater. The script, based on the poetry of Louis Jenkins (who is listed as a co-writer and also appeared in the production), was a somewhat silly meditation on life that stuck with me for the entire year. As the play ended, Rylance and co-star Jim Lichtscheidl became an older couple doddering across the stage. "Some people exit life like old people leaving the theater," they confess, "there wasn't much of a plot and there was too much sex and violence." I was lucky enough to attend one of the performances with a post-show discussion, and the creative team – Rylance, Jenkins, Lichtscheidl, and director Claire van Kampen – were candid and thoughtful about the piece. Finally Rylance declared that, in his view, the audience is the soul of the play. "You all want it to be good, even the most critical of you; you want something to chew on." I feel that way every time I walk into a theater. I don't hold television or film to that high a standard, it seems, but I am constantly looking forward to theater that can move me. Several times this year I found it:
Sō Percussion's A Gun Show, which previewed for two nights in Brattleboro, Vermont thanks to the Vermont Performance Lab, is a meditation on our complicated and often contradictory relationship with guns. This company of highly talented collaborators ask about our elemental appetite: "What is it about our collective psyche that fastens us so tightly to guns?" They landed on the phrase "well regulated" that appears in the second amendment. At the time, Maine was in the midst of a heated discussion about universal background checks; it was a question on the November ballot. The battle lines were drawn. On the "no" side was the concept that the background checks proposal was being forced on Maine from some rich guys from New York. The "yes" side claimed, simply, that background checks work. Ironically, the "no" side prevailed in part thanks to the provincial rejection of moneybags from New York.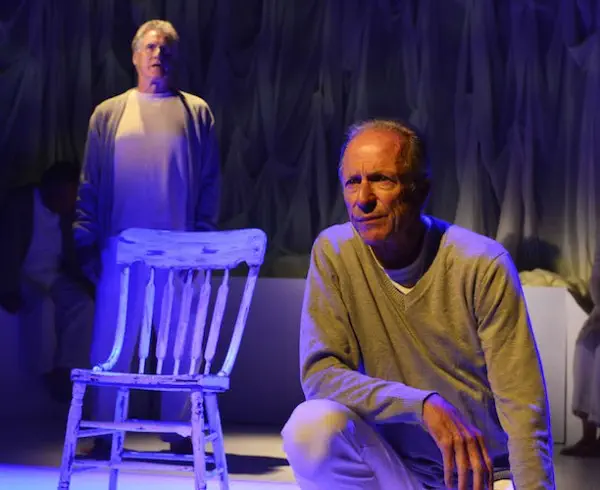 Gloucester Stage Company premiered Israel Horovitz's new play Man In Snow. There were several treats: memorable performances by Will Lyman, Ron Nakahara, and Sandra Shipley along with Horovitz's moving meditation on existence and the staging's excellent set, lighting, and sound. It was, from top to bottom, the most well-constructed and unified piece of theater I saw all year. In the corner of the audience was Horovitz, taking a few notes and thoughtfully listening and reacting. I love theater because no matter how long you do it, each show poses new challenges and risks. Man in Snow sees life as fleeting — we should make the most of it.
Just over 30 years ago I sat in a theater at Syracuse University and drank some beers with Paul Zaloom – just the two of us talking about the stage, being poor, and figuring out how to be creative despite the odds. He was in town as part of a remarkable tour called 'Performers and Artists for Nuclear Disarmament.' The PAND gathering featured Mabou Mine's seminal production Dead End Kids, The Talking Band, Bread & Puppet, a couple of dance collectives, and Zaloom's one-man show. I was hired to coordinate the week-long  Syracuse Stage performances, and it was an influential experience. But that evening with Zaloom really stood out: his attitude was that you should just do the work you do and not worry about all the other crap. Two years later I was in Maine with a group of friends and we were running our own repertory company, though nobody involved knew why.
So it was wonderful this year to have the chance to see  Zaloom perform again, this time in his latest show White Like Me: A Honky Dory Puppet Show. As he'd done in 1984, he skewered us right where we were. He shined a bright light on our hypocrisies in a way that made us laugh and cringe at the same time. And all the while he commented on how the show was going, whether the jokes were landing, and his own hypocrisy. It was absurdity as a head-spinning good time, and I'd jump at the chance to see it again to enjoy all the stuff I missed the first time.
I was one of the few people who ventured out to the University of Maine At Farmington in the fall to see the Sandy River Players (a community theater in rural western Maine) perform Lanford Wilson's Rimers of Eldrich. Yeah, you read that correctly. A cast of nearly 20 community actors passionately performed Wilson's complicated and challenging play, and made for a thoughtful and compelling production. It was a very helpful reminder that good theater can happen anywhere, and be performed by anyone. Sometimes we get too high on the horse to notice.
Further afield, early last summer I saw an all-male The Taming of the Shrew at the Shakespeare Theater in Washington DC. As you would expect, it was a lively if a little over-produced production that included songs by Spring Awakening composer Duncan Sheik. Give the Shakespeare Theater credit for taking on a play whose sexual politics are 'sticky,' to say the least. In 2016, Kate's (Maulik Pancholy) final speech swearing unquestioning obedience to hubby is hard to pull off, especially when delivered by a female. Performed by a male (as it was in Elizabethan days), it should shed light on the endemic sexism of our society. After a raucous production — punctuated with an outstanding performance by Oliver Thornton (Bianca) — this Shrew lost its nerve. Maybe it was a sign that rightward momentum against equality was gaining strength.
I don't know whether or not this was a great year for theater, but I suspect/hope it was a year the will encourage theater artists to re-double their efforts to be relevant. "If you're like me – and I know I am" (from Nice Fish, it's my favorite line of the year), you're hoping that engaged theater is on the verge of a resurgence. At the very least, there should be some scathing soul-searching after the triumph of Trump. In the sprit of our new-found respect for Russian governance, let's end with words of wisdom from the great actor, director, and producer Vsevolod Meyerhold: "I want to burn with the spirit of the times. I want all servants of the stage to recognize their lofty destiny. I am disturbed at my comrades' failure to rise above narrow caste interests which are alien to the interests of society at large. Yes, the theatre can play an enormous part in the transformation of the whole of existence." Of course, he was eventually killed by a Soviet firing squad — but dissent in American should be treated differently. We hope.
David Greenham is an adjunct professor of Drama at the University of Maine at Augusta, and is the Program Director for the Holocaust and Human Rights Center of Maine. He spent 14 years leading the Theater at Monmouth, and has been a theater artist and arts administrator in Maine for more than 25 years.