Sondheim on Sondheim is an entertaining, moving, hilarious mixture of reminiscences and stories about Sondheim's life and a well-chosen sampler of musical numbers from 19 of his shows.
Sondheim on Sondheim. Music and lyrics by Stephen Sondheim. Conceived by James Lapine. Directed by Spiro Veloudos. Music director, Jonathan Goldberg. Choreography and musical staging by Ilyse Robbins. Scenic design, David Towlun. Produced by the Lyric Stage Company of Boston, 140 Clarendon Street, 2nd floor, Boston, MA., through February 21.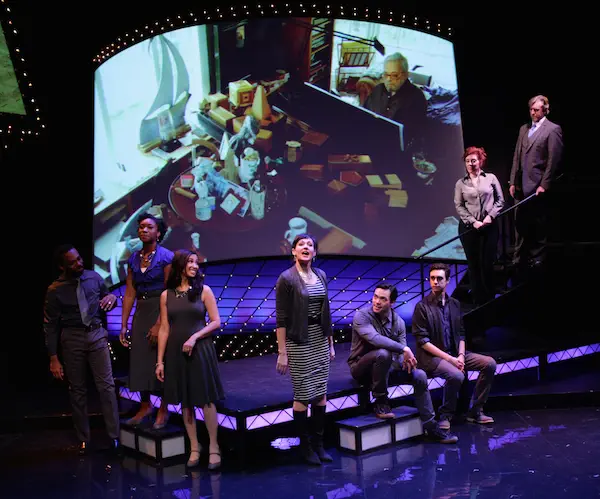 By Evelyn Rosenthal
A few months ago, Lyric Stage Company director Spiro Veloudos gave musical theater lovers in Boston some great news: over the next five years, the company plans to focus on the works of Stephen Sondheim, staging new productions of both well known and less familiar works. The show Veloudos chose to kick off this exciting initiative is Sondheim on Sondheim, the perfect appetizer before dipping into the individual musical entrees. Conceived by Sondheim's longtime collaborator James Lapine (who wrote the books for Sunday in the Park with George, Into the Woods, and Passion), the show is an entertaining, moving, hilarious mixture of Sondheim's reminiscences and stories about his life and a well-chosen sampler of musical numbers from 19 of his shows (including all the major ones except for, curiously, Pacific Overtures).
For those who know and love his work, Sondheim on Sondheim is a reminder of—and for newbies, an introduction to—what's so great about the man considered the leading musical theater composer and lyricist of our time. More than just a tuneful revue, the 2010 show is structured around video taken from interviews with the composer, projected on one main screen and two smaller screens set above the stage and framed with marquee lights. Sondheim looms (literally) over the proceedings, as highlights from his life and career punctuate the stream of songs. For anyone who has seen the wonderful 2013 HBO film Six by Sondheim (also conceived and directed by James Lapine), some of his stories will sound familiar—that's because Lapine used the same footage in that film. But Sondheim is such a wry and witty raconteur that it's a pleasure to hear him retell his anecdote about Ethel Merman scandalizing Loretta Young while working on the latter's show, or even the bittersweet tale of his mother's emotional abuse (the bitter) and his rescue at the hands of the great lyricist Oscar Hammerstein, his surrogate father and mentor.
The excellent eight-member cast Veloudos chose for this production is filled with Boston Sondheim regulars, some even reprising roles from recent productions. The overture—which, unlike most overtures, is sung—includes snippets from Into the Woods, including one by Maritza Bostic as Red Ridinghood, the role she played to delightful effect in Lyric's 2014 production, and from Sweeney Todd by last season's terrific Sweeney at the Lyric, Christopher Chew. Chew also gives a strong reading of the wrenching "Epiphany," the moment Sweeney's anguish at the loss of his family turns him into an avenging monster. And the always superb Leigh Barrett again conveys the powerfully needy, bitter, ultimately hopeful emotions of the drab, love-starved Fosca, whom she played in the Speakeasy Theatre's 2002 production of Passion. The versatility of both Chew and Barrett is on full display, as they shuttle between the two period musicals (done in period costume—an effective choice by Veloudos) and the modern day (and modern dress) in the zingy, flirtatious duet from Company, "You Could Drive a Person Crazy."
Aimee Doherty and Sam Simahk both earned Sondheim cred with their strong turns as the Witch and Rapunzel's Prince in the Lyric's Into the Woods, and they continue to impress here. In the number "Franklin Shepard, Inc." Simahk conveys the bitterness, frustration, and sadness of Charley, the lyricist in Merrily We Roll Along whose songwriting partner has abandoned him and become a Hollywood hack. Doherty gives us an affecting version of the gorgeous, rueful "Good Thing Going," and she and Barrett soar on the paired love laments, "Losing My Mind" (from Follies) and "Not a Day Goes By," also from Merrily. There are four numbers from that 1981 musical—a flop at the time, with a great score—giving Boston audiences an enticing preview of what we'll see in 2017–18, when Veloudos tackles the show for the first time during his 20th-anniversary season.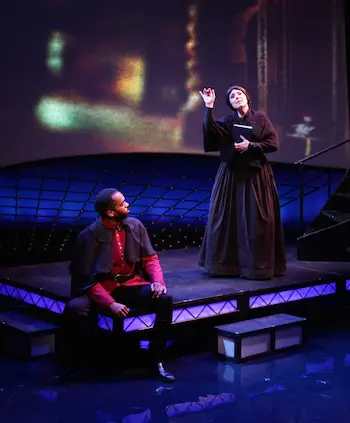 Other highlights: As the soldier Giorgio, the object of Fosca's obsession, Davron S. Monroe (another Sweeney veteran) has a fine moment with the impassioned "Is This What You Call Love?" Mala Bhattacharaya's sweet soprano is perfect for "Do I Hear a Waltz," the lilting title tune of a show Sondheim wrote with Richard Rodgers after Hammerstein's death. And Simahk, Bostic, and Patrick Varner deftly handle the careening line swapping of Merrily's energetic "Opening Doors"—which Sondheim calls his only autobiographical song, about him, and Hal Prince, Mary Rodgers, Sheldon Harnick, and Jerry Bock: "It's about all of us in the '50s, knocking on the doors of producers and trying to get heard."
And then there's "God." Riffing on a New York magazine story that asks "Is Stephen Sondheim God?," the composer wrote a witty, tongue-firmly-in-cheek paean to his purported genius. Sung by the full cast, the song is interspersed with video of Sondheim making wry comments on his work habits, from why he writes lying down (the better to take naps) to his favorite kind of pencils (very soft lead in need of constant sharpening).
On the technical side, the precise timing of the video segments throughout is especially impressive. The minimalist set and good use of the split level stage and multiple entrances all contribute to smooth transitions between numbers—particularly important in a show of this length (around 2 hours and 40 minutes).
Toward the end, the show moves deeper into the heart and the humanity of Sondheim and his music. Following the story of his mother's harsh, unloving treatment of him, the ensemble sings "Children Will Listen," from Into the Woods, and it's hard not to see a connection between that painful aspect of his life and this moving, beautiful song. Whatever the sources of his art, the Lyric's terrific Sondheim on Sondheim reveals a lot about the man behind the musicals, and makes it clear why he and his brilliant words and music matter.
---
Evelyn Rosenthal is the former editor in chief and head of publications at the Harvard Art Museums. She is also a professional singer, specializing in jazz and Brazilian music. She writes about musical theater, music, and books for the Arts Fuse.