‌The success of Patti Smith's memoir Just Kids, and its subsequent rocketing into bestsellerdom and the land of Major Literary Prizes has meant an uptick in the number of new rock n' roll books hitting the racks.
Clothes Clothes Clothes Music Music Music Boys Boys Boys by Viv Albertine. St. Martin's Press, 432 pages, $27.99.
Trouble Boys: The True Story Of The Replacements by Bob Mehr. Da Capo, 520 pages, $27.50.
The Pirate by Jón Gnarr. Deep Vellum Publishing, 256 pages, $14.95.
Chelsea Girls by Eileen Myles. Black Sparrow Press 1994 (reissued Ecco Books 2015), 288 pages, $16.99.
Girl In A Band by Kim Gordon. Dey Street Books (paperback), 288 pages, $14.99.
Riot On Sunset Strip: Rock n' Roll's Last Stand In Hollywood by Dominic Priore. Jawbone Press (revised edition), 408 pages, $19.95.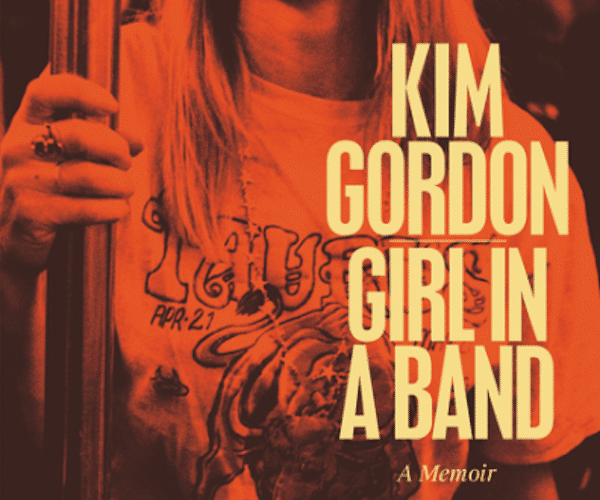 By Tim Barry
With the arrival a few years ago of Patti Smith's memoir Just Kids, and its subsequent rocketing into bestsellerdom and the land of Major Literary Prizes, there seems to have been an uptick in the number, and in some cases the quality, of new rock n' roll books hitting the racks. As someone who has never not read any book on rock music that crossed his path — yes, I can discuss the finer points of Bobby Sherman's career development as nimbly as I can that of James Brown, having read both of their bios — this is good news indeed.
Two of the books we'll be looking into are not rock books per se; that is, neither of the authors are musicians, have cut records, nor can probably even carry a tune. But both books are so imbued with the spirit of rock n' roll, and are about the performative life, that they are recommended reading for rock-book readers.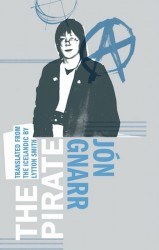 From Iceland comes former mayor of Reykjavik's laugh-out-loud/fight-back-tears memoir of a fractured adolescence, The Pirate. A self-described "unfortunate, neurotic, red-headed, ridiculous half-wit in glasses," he relates his tale of  teen woe with disarming frankness. He comes of age obsessed with punk — the only problem is that he doesn't quite know just what punk is. He does know, however, that it's for him.
So we follow him around through school, where he steadfastly refuses to learn mathematics. We follow him into the convenience store that seems to be the center of his world, where he finally meets his role-model, Siggi The Punk. When Siggi invites him home, he follows him into his bedroom.  Siggi promptly spits on the floor. Gnarr thinks this is the coolest act of defiance he has ever seen: "Spat on the floor in his own room! I made a mental note of that. This is what I was going to try."
Gnarr decides he's an anarchist, and decides to drop the name Bakunin in conversations after glossing it from an entry in an encyclopedia. "Then they will stop looking at me like a half-wit," he enthuses proudly, "but rather as a mentally-disturbed genius." And so on and on. When he finally gets into a band, as the lead singer….well….a must-read. Think Holden Caulfield Meets Borat.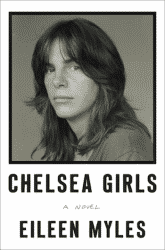 Eileen Myles Chelsea Girls has something in common with Gnarr's The Pirate, in that both protagonists hail from modest, suburban households (Myles from Arlington, MA) and both vow to shake off the artistic death-sentence that middle class existence seems to ensure. Both have one disfunctional parent and one who holds it together. But there the comparison diverges. Myles resolves eventually to move to New York, and echoing Eugene O'Neill's self-promise to "become a poet or nothing," she almost becomes nothing.
However, she has a lot of wild fun along the way. Allen Ginsburg, James Schuyler's copy of the novels of Ronald Firbank, Vespa scooters, drugs, rape, Hiram Walker, work-shirts, tuna fish sandwiches. The book cascades along in a headlong vision of what makes a poet a poet. "I guess I'm fascinated by anyone's history," writes Myles in her purposely plain-Jane prose.
A Girl In A Band ought to be a stand-out rock volume, but somehow it falls short. Can't exactly outline why. Slightly heavy on the navel-gazing and a little too little about "the band." As the cooler-than-cool co-founder and bass-player of uber-hip post-punk noise-band Sonic Youth, Kim Gordon's book should have been up there on the interesting scale. It isn't.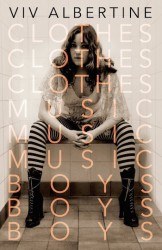 Viv Albertine's memoir arrives as one of the best books ever about the problems of being a woman artist in a man's world. Also one of the best books about being a woman, a wife, a mother, a daughter. Think Coal-Miner's Daughter in a North London squat.
A matter-of-fact prose stylist, Albertine dated Mick Jones of The Clash, slept in the same bed as Sid Vicious (non-sexually), ran with punk-rock bad-boy Johnny Thunders, and counted both Malcolm McLaren and, later, film-maker Vincent Gallo as close friends. Somehow, though, she comes off as utterly not all that impressed with herself.
Her gripping account of joining pioneering girl-reggae/punk band The Slits — before she could actually play her guitar — makes for rapid page-turning. And her sheer will to re-invent herself after a decade of a suffocating marriage stands as a testament to feminine self-empowerment.
It was with decided interest that I opened Bob Mehr's book on cult-rockers The Replacements; though I was never a fan, I knew plenty who revered 'The 'Mats.' Even knew two girls who moved from Boston to Minneapolis — just to be near the band.
As a case-study of how not to succeed in show business, this is a valuable document. Put plainly, The Replacement's co-founder, chief songwriter, and frontman Paul Westerberg was a horse's ass. Which is an observation he'd probably not contest.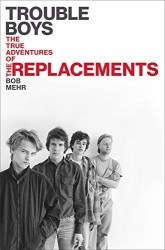 He did everything you could think of to sabotage his band's progress, from ridiculing record executives and alienating the press to dissing influential DJs and insulting other bands….the list of self-destruction is long and inglorious.
The key problem, no surprise, is alcohol. Lots and lots of it, all the time. And as the band makes its way up the touring ladder, the booze becomes a daily, no, an hourly thing. Soon enough, they are all blithering on stage, slurring lyrics or just not bothering to sing them.
Scoring an enviable opening slot on Tom Petty's arena-tour, the band members proceed to destroy dressing-rooms, vandalize the tour-bus, even insult Petty from the stage. (Petty took the high road here, announcing "since the opener didn't play very long, we're going to play an extra-long show tonight!")
Mehr gets particularly interesting when he details the beginnings of Twin-Tone Records. His discussion of the career of the man who discovered The Replacements and brought them out of the basement, Peter Jesperson, is fascinatingly told. This behind-the-music stuff always delights me, perhaps even more than the musicians' stories, which generally involve the same predictable tropes.
Westerberg is in the end characterized as a likely sufferer of some form of bi-polar disorder, the booze his self-medication. To his credit he sobered up and crafted a decent solo career — but the victims he left in the wake of his carnage are many. And it is unclear whether Westerberg ever came to terms with his undisguised bitterness toward the music industry, which he seemed to blame for his failure to become as big as his pals in R.E.M.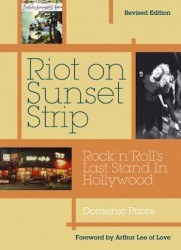 Riot On Sunset Strip: Rock N' Roll's Last Stand In Hollywood might well be a great book. Certainly the period in rock history that's covered, LA circa 1960-1967, has all the potential for compelling music history. All the elements are there, especially stars: Brian Wilson, Harry Nilsson when he worked in a bank in Van Nuys, Jackie DeShannon when she was an unknown country-singer, The Byrds, Warren Zevon, Linda Ronstadt, Phil Spector, a young Cheryl Sarkisian in hip-huggers. There is the rise of ultra-cool venues, like the Whiskey A-Go-Go, The Trip, Gold Star Recording Studios, maybe a bowling alley or skating rink out in Pico Rivera. And then there are the songs: "La Bamba," "Eight Miles High," "Help Me Rhonda," "Dead Man's Curve," "Magic Carpet Ride," "These Boots Are Made For Walkin'."
Dominic Priore narrates the rise of the scene in minute detail; how the songs were produced, how the bands' members met and got together, who made what scene, what they wore, who slept with who, who's talked what.
So, all the raw materials for a riveting, epoch-making account of rock music are in place. The catch is that he tells it all in … such … a … breathless … manner, stuffing each paragraph with names, places, dates, names of record-labels, radio DJs, and song-titles. What' more, his headlong zeal as a fan badly needs to be reined-in — the term 'genius' is thrown around much too easily.
Ultimately, I really liked the book, but I also wanted to throw it across the room.
---
Tim Barry studied English literature at Framingham State College and art history at the University of Massachusetts-Dartmouth. He has written for Take-It Magazine, The New Musical Express, The Noise, and The Boston Globe. He owns Tim's Used Books, Hyannis, and Provincetown, and TB Projects, a contemporary art space, in Provincetown.