"People need some lightness in their lives."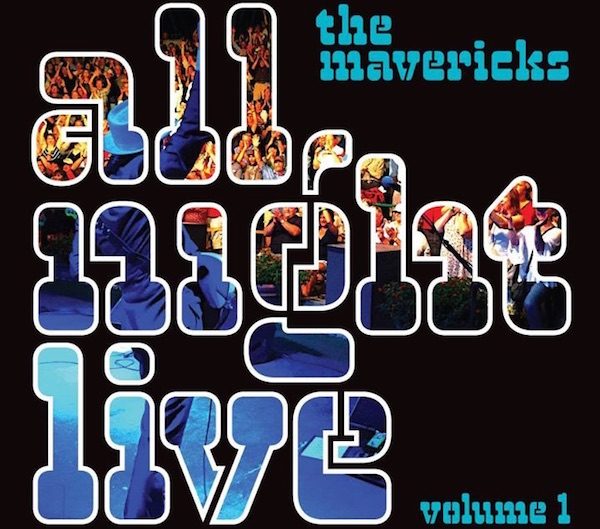 By Scott McLennan
Bring someone who has never seen the Mavericks in concert to one of the band's live shows, and then just wait and watch. Smiling will give way to swaying, which then typically evolves into full on dancing — solo or with the nearest person in a similar thrall. Soon, by all appearances, it'll seem that the neophyte has been digging the Mavericks for decades.
The Mavericks may be unrivaled in their ability to turn the uninitiated into diehard converts.
"Fans say the band is like medicine" Mavericks guitarist Eddie Perez claimed during a recent interview when reached in Billings, Montana, during a tour stop. The Mavericks are heading here, with a show at 7 p.m. on Sunday, December 4 at the Lynn Auditorium.
The Mavericks are enjoying a second coming that began in 2012 after an 8-year layoff. The resurrected band routinely plays 120 shows a year, has released two critically acclaimed and commercially successful studio albums, and most recently has released All Night Live, Volume 1, a concert album released on Mono Mundo Recordings, an imprint created by the group when it decided to take control of its own business affairs.
All Night Live, Volume 1 draws mainly from those two comeback albums — In Time and Mono — but infuses that material with the crackling energy the band generates with ease in concert.
"It was very intentional to focus on the last two records. We have a lot of fans who are part of the new chapter in this band's history, and it was our goal to capture their experience as well. This band has been around a long time, but we have fans who never knew we existed before. So we said, 'Let's focus on the last few years and plant a flag in that dirt,'" Perez explained.
The Mavericks were born in 1989 with singer, songwriter, and guitarist Raul Malo, bassist Robert Reynolds, drummer Paul Deakin and, eventually, guitarist Nick Kane, who had a couple of early predecessors.
The Mavericks started out playing around Florida, confounding purists of all stripes by incorporating such wide-ranging influences as traditional country, Tex-Mex flavored rock 'n' roll, rockabilly, Latin American folk music, and smooth pop balladry. The band concocted a unique sound that was part progressive, part retro, discovering that there was a commercial appetite (culminating in radio hits) for their firebrand country music. The troupe's 1995 album Music For All Occasions earned the Mavericks a Grammy award for the song "Here Comes the Rain" and spawned the hit "All You Ever Do is Bring Me Down, which featured accordion great Flaco Jiminez.
Perez came on board toward the end of the band's first go-round, appearing on the eponymously titled album released in 2003. But things fizzled by the following year.
The band members scattered into different projects, with Malo establishing the highest profile as a solo artist.
Perez, a versatile guitarist who strikes the perfect balance between flash and chops, performed with a variety of artists, most notably Dwight Yoakam, and was in the process of helping Wynona Judd build a new group when he got antsy about the possibility of playing with the Mavericks again.
"I love the flavor of all things, and that's what the Mavericks do so well," Perez recalled. "And I just missed playing with my friends."
The Mavericks returned with a core lineup of Perez, Malo, Deakin, Reynolds, and keyboard player Jerry Dale McFadden, who came on board as a utility player in the mid-90s but ultimately earned full band membership.
In Time was a triumphant return to form, showcasing how efficiently the Mavericks could maneuver through genre changes while forging a sturdy, recognizable style all its own.
And that combustible mixture of eclecticism and accessibility translated into pure joy on the concert stage; these were musicians who are obviously having a blast and transmitting that exhilaration straight into the crowd.
Mix-and-match is the guiding concept for this group. Cuts included on All Night Live range from the hard-driving ska beat of "I Said I Love You" and cinematic sweep of "Come Unto Me" to the delicate touch given a cover of Neil Young's" Harvest Moon."

Accordingly, the band members are hardly a uniform bunch. Perez favors sharkskin suits and rock 'n' roll length hair; McFadden is an explosion of sartorial color and wild dance moves. Deakin is as stoic sitting behind the kit as the guitarist and keyboard player are flamboyant.
And then there is Malo, the center of the Mavericks' universe. His voice is a natural gift. But he's put in the time — and taken on such an array of projects — that he has the vocal smarts to slip all sorts of trap doors and quick turns into the group's performances. Malo can maneuver through a lovely ballad, follow that up by blasting right into a roadhouse frenzy, and then swerve into a bit of swing-era jazz. Perez calls Malo the band's "Tom Brady."
"His accomplishments speak for themselves," Perez said.
The only setback in the band's resurgence came in 2014, when the Mavericks parted ways with founding member Reynolds because of his addiction to painkillers. Perez said that the chemistry among the group members is the best it has ever been. The four main members travel with four auxiliary players who flesh out the sound live.
While the live record is the first offering on the band's own imprint, fans can expect a new studio record as soon as March, Perez said, explaining that the amount of traveling both in the U.S. and abroad inspired the songwriting.
"Some songs have a very pointed message, and we offer honest commentary, but it's wrapped up in the joy that comes from doing what we love," Perez insisted. "People need some lightness in their lives."
---
Scott McLennan covered music for the Worcester Telegram & Gazette from 1993 to 2008. He then contributed music reviews and features to The Boston Globe, The Providence Journal, The Portland Press Herald and WGBH, as well as to the Arts Fuse. He also operated the NE Metal blog to provide in-depth coverage of the region's heavy metal scene.